A Return To Krabi - Part 2
*Continue from part 1:
http://ihengbok.blogspot.sg/2012/07/return-to-krabi-part-1.html
26th May - 1st June 2012 ~ What was the first thing I did after checking in at the resort? Run down to the beach to say a big Hello! Oh, I really missed the sand, the waves & Andaman Sea.
Hello To Andaman Sea!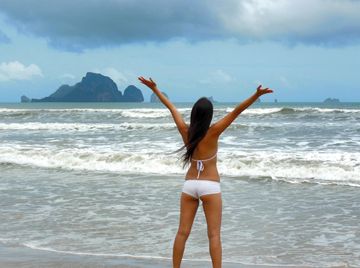 Beaches @Ao Nang
As mentioned in my entry of my visit last year:
http://ihengbok.blogspot.sg/2011/06/ao-nang-krabi-thailand.html
AoNang has 2 beaches, Ao Nang Beach & NopparatThara Beach. One different from last year is, boats are not longer allowed at these beaches. Instead, all boardings are at the pier/jetty over at the far Western end of Nopparat Thara Beach, near the river mouth. I still preferred Nopparat Thara Beach. The sand is much finer & still less crowded than Aonang Beach.
AoNang Beach & Nopparatthara Beach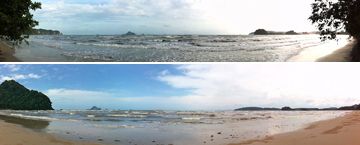 Beach Scenes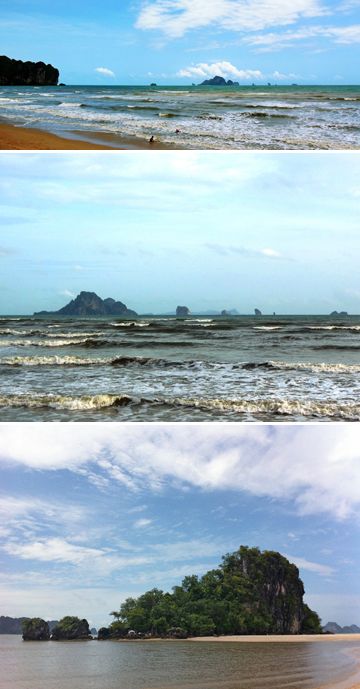 This year, we arrived at a later period than last year & encountered a couple of days of stormy weather during our stay.
Stormy Sea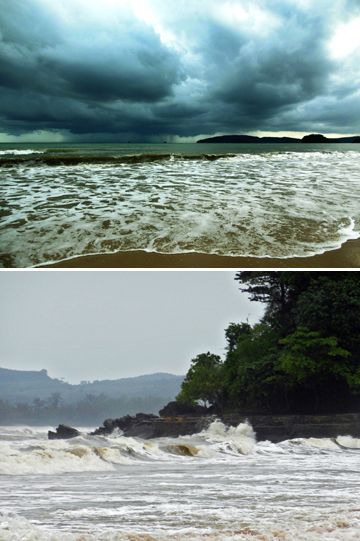 However, Krabi's weather is a little unpredictable. I'd learned that weather forecast cannot be relied on most of the time. Rain sweep in when no rain is predicted & sunny day when rain is forecasted. As we had arrived at the beginning of the monsoon, the sea was a little rougher than our last visit. Nonetheless, the beaches are still as lovely. When we had nothing to do, we took long slow walk on the beach. The sight & sound of incoming waves is so soothing.
Hamster @AoNang Beach & Nopparatthara Beach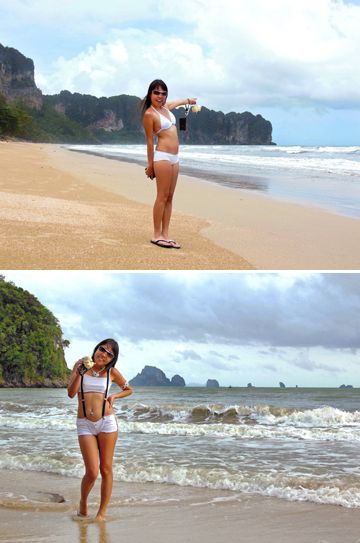 Fine Sand & Clear Water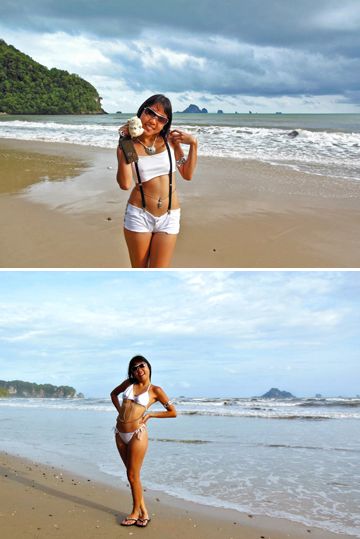 Exploring The Beach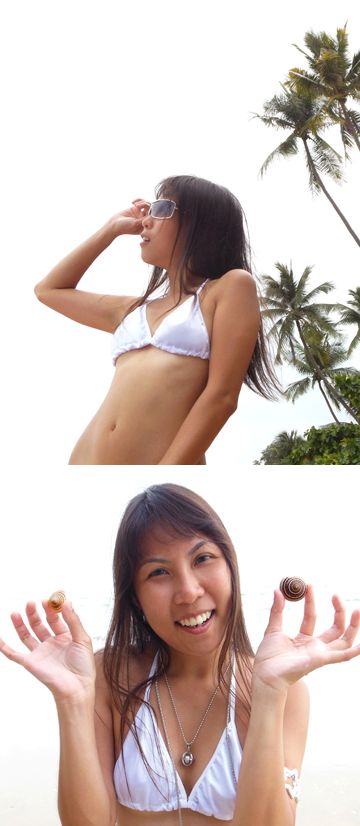 Encountered 2 little boy scouts playing with their self-made toy boats. So delightful & full of life, unlike no-lifer, dull city kids with their hi-tech gadgets living an online virtual existence.
Fun With Self-made Toys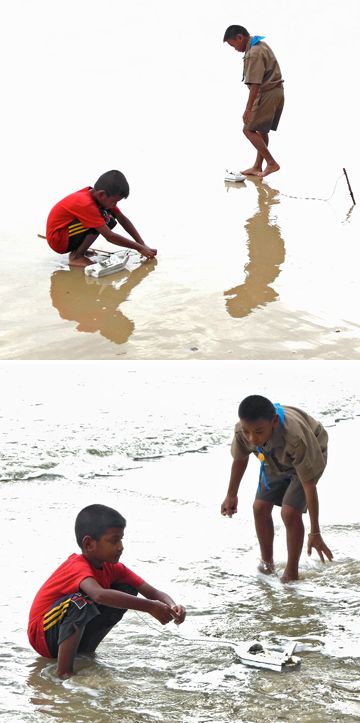 Beach Arts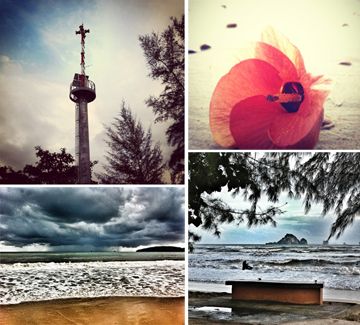 Every time I visited a beach resort, I would try on new bikini & how many bikinis do I have? Hmmm... lets just say, many! LOL! =P
I Love Beach Vacation!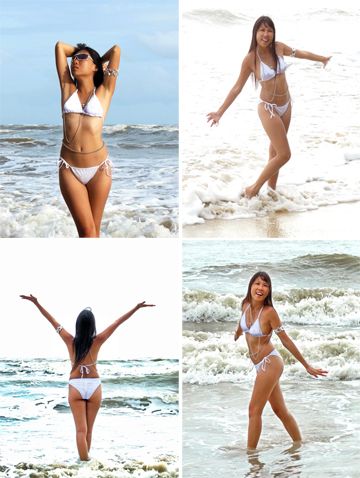 Bikini Photo Shoot
High Priestess of Krabi =P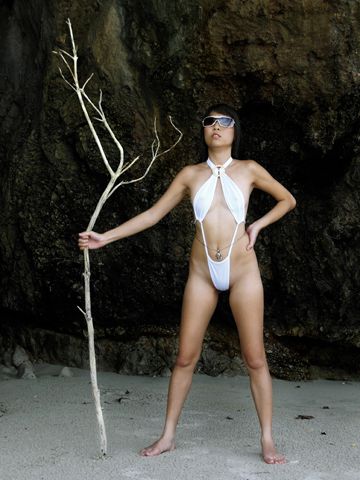 Morning To Evening Beach Fun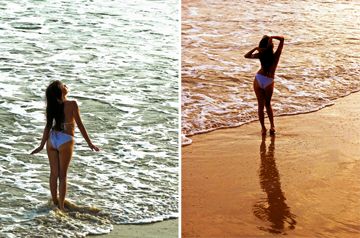 Natural Beauty
As a nature lover, can you blame me if I take pics of wildlife even on my vacation & showing them off in my blog? =P
Beach Life: 2 crabs, 2 Sundial shells(1 alive & 1 empty) & a stranded Jellyfish.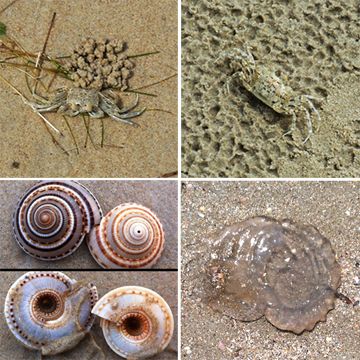 Butterflies & Cricket

Wild birds are my favorites!
From left to right, top to bottom: Female Oriental Magpie Robin, Pied Fantail, White-collared Kingfisher which had caught a crab & Eurasian Tree Sparrow.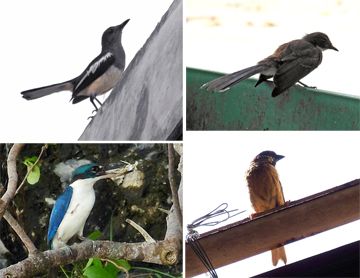 And not a wildlife, but someone's pet, a big fat tabby cat which looks like Garfield. =P
Garfield @Krabi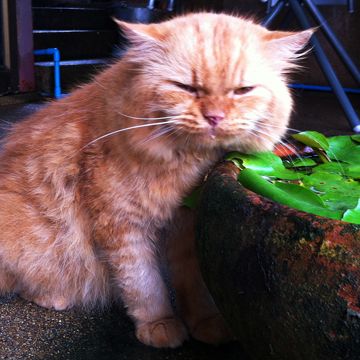 Sea Tour
Love going out to sea, snorkeling or visiting beautiful islands & their beaches? Available from various tour agencies around Ao Nang town are about 3 ~ 5 most popular sea or island tours. Done the 4 Islands & Hong Island tours during our last visit. We booked Phi Phi Island this time round. I was so excited, full of anticipation. On the morning we are supposed to set out to sea, it rained & the trip was cancelled. I was truly PISSED! Grrrrr... I wanna kill somebody! My guy took it like a man. Anyway, what harm can a Hamster do to the guy she loves? Some scratches & bite marks. He's tough. LOL! =P
Rain, Rain, Go Away!
After getting over my disappointment, we went down to the agency to postpone our sea tour to the next day.
*Note: If you booked a sea/island tour & if it rain in the morning, about 7.30 ~ 8.30 am, of that day, the trip is usually cancelled. You can either postpone it or get a full refund.
Fortunately, it was bright & sunny the next day... fortunate for the rain god at Krabi or I will strangled it till it set the weather right! =P
Sea Tour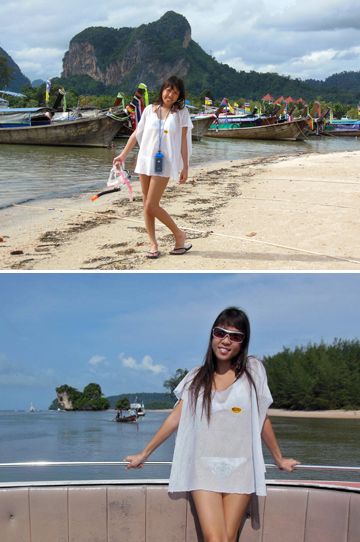 Happy At Sea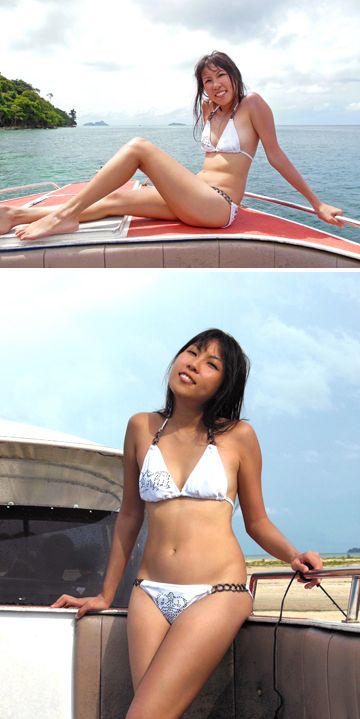 Our first stop was Bamboo Island for relaxing at the beach or snorkeling. The stop lasted only 40 minutes which is way too short for it to be truly enjoyable.
@Bamboo Island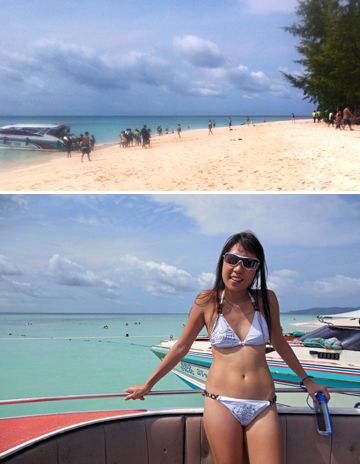 Crystal Clear Water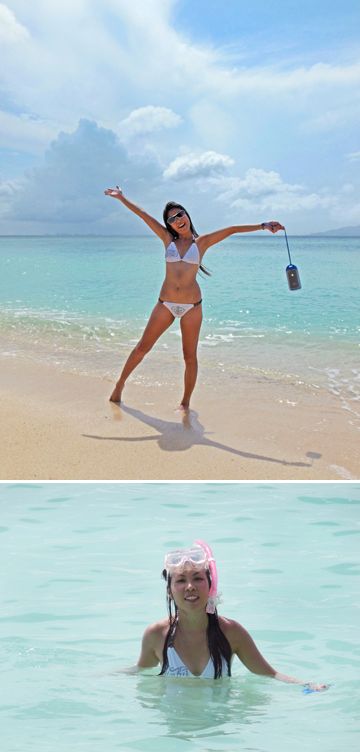 *Note: The blue casing on a strap attached to my wrist is a waterproof casing for my iPhone 4. It worked wonderfully & I took some underwater pics which are featured below.
The next 2 locations we visited were Pileh Bay & Viking Cave for sightseeing of soaring limestone formations.
Pileh Bay & Viking Cave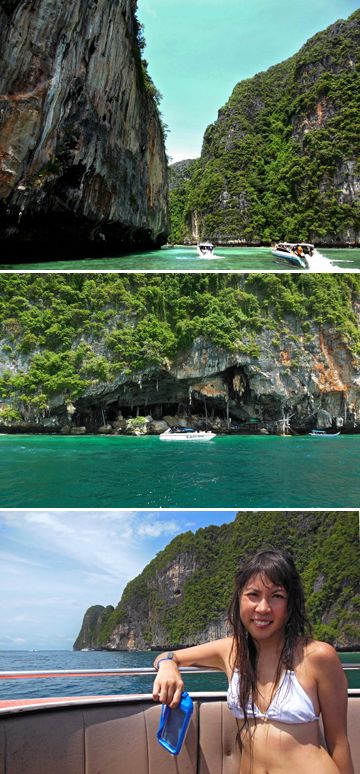 Limestone Formations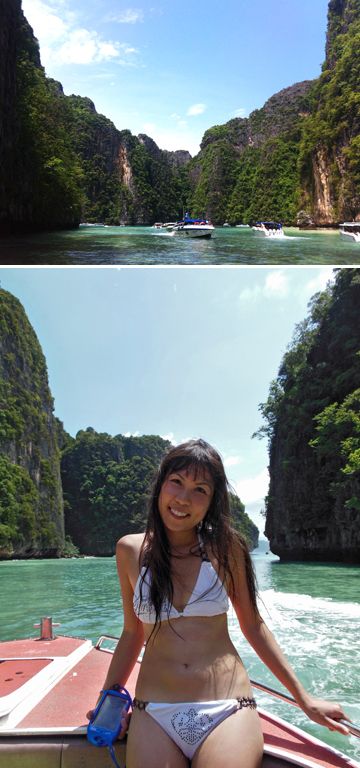 Next on the itinerary was Maya Bay, a beautiful cove which is the location where the movie, 'The Beach' was filmed. Maya Bay is a crescent shape white sandy beach surrounded by towering rock formations with only a narrow entrance to the sea.
Before reaching Maya Bay, our guide warned us that we may not be able to enter. She told us that for nearly 2 weeks, no boat could go into the cove due to very strong currents & rough water near the entrance. On the approach to Maya Bay, our guide let out a jubilant cry. Yes! We could enter the cove! Overjoy!
Landward & Seaward View of Maya Bay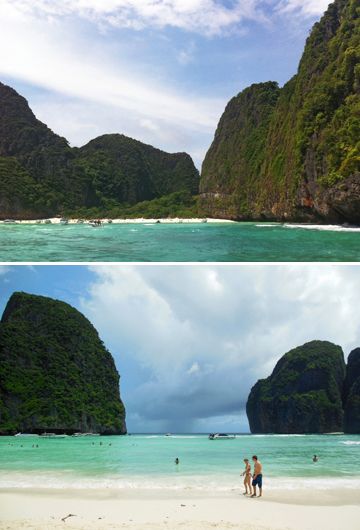 Panoramic View of Maya Bay

Who could resist the fine white sand & warm crystal clear water?
Bikini Hamster @Maya Bay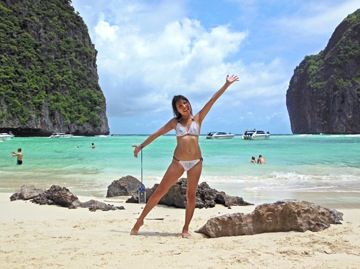 The Beach, The Movie! =P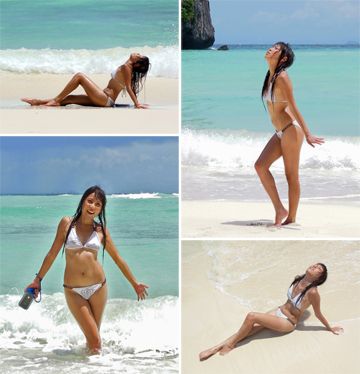 Rock The Rock!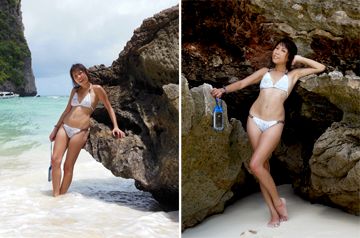 Leaving Maya Bay, we paid a short visit to Monkey Bay to gawk at the monkeys, Long-tailed Macaques to be precise.
@Monkey Bay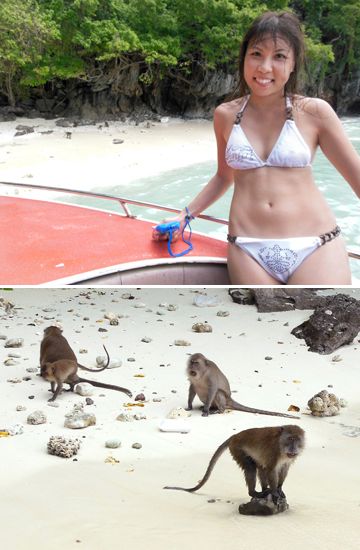 Suddenly, a very bold monkey, swam to the boat & climbed aboard. It was looking for handouts & after the guide gave it some bread, it still refused to leave. Even when our guide threatened it with a stick, it wouldn't budge. By its aggressiveness, I suspect it's an Alpha male, leader of the pack, bravest & strongest of the lot.
Pirate Monkey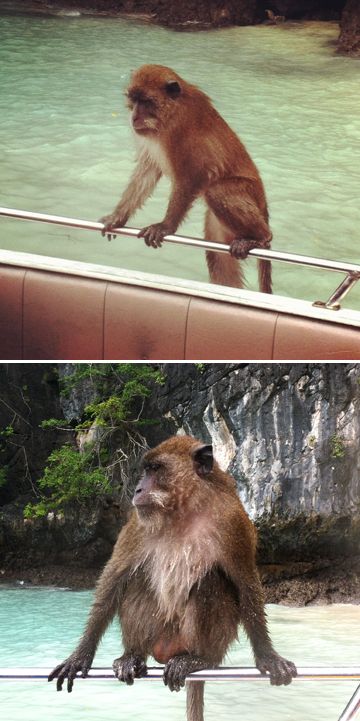 Our guide was getting frustrated after many failed attempts to get that monkey off the boat. No one dared go near it. Rogue Pirate Monkey was delaying our departure & messing up the schedule. What will frighten away an alpha male monkey? A bigger & more fearsome Alpha Male, of course! And that's my guy. Growling & showing teeth, he drove the pirate, cornered it at the bow where it jumped overboard & swam for the shore, back to safe haven.
Monkey Jump
After the Pirate Monkey episode, we sailed to Phi Phi Don for lunch.
Panoramic Views of Phi Phi Don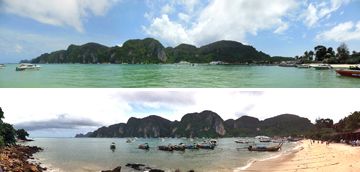 With some free time after a buffet lunch, we went around taking pics.
Welcome to Phi Phi Don!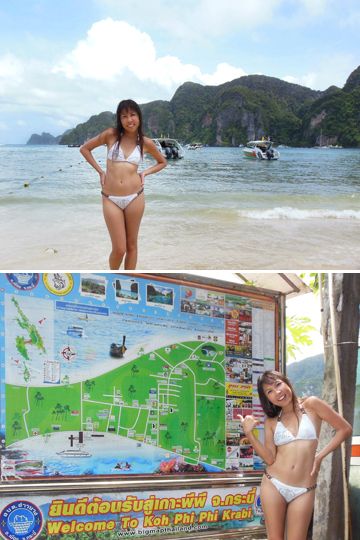 Beautiful Phi Phi Island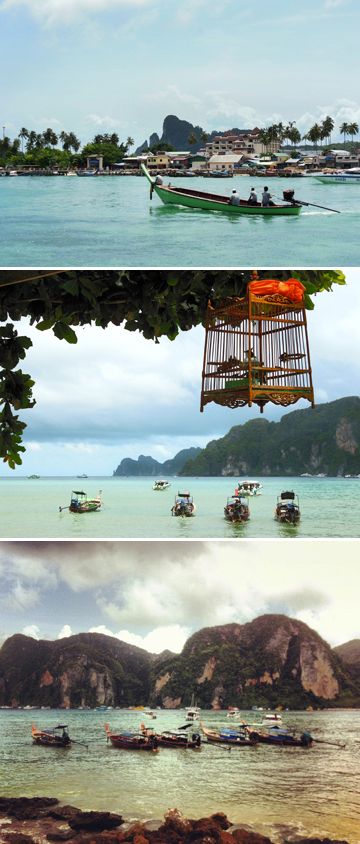 A Police Bike to Travel Destinations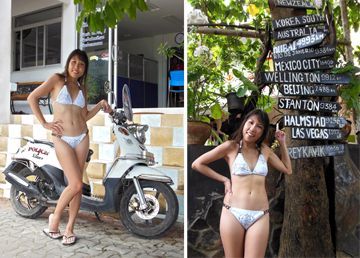 Long Tail Boats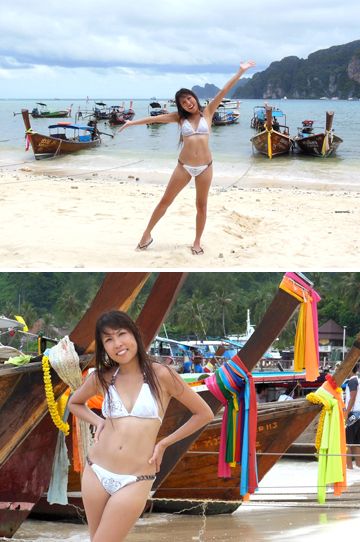 We left Phi Phi Don for some snorkeling at Lahsmah Bay & Hin Klang.
Hamster Loves Snorkeling! =P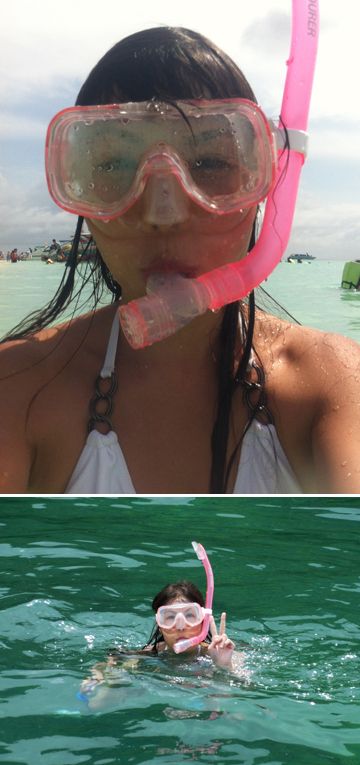 That was when I tried out underwater photography using my iPhone 4 enclosed in a waterproof casing. It worked, but the results ain't good due to an overcast sky & the slightly mucky water.
Underwater Photography By iPhone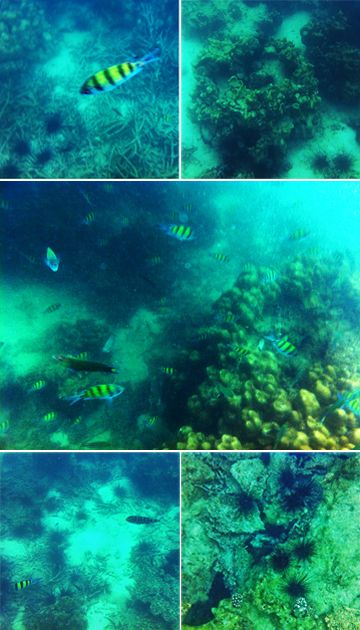 What I captured are mostly corals, sponges, plenty of Sea Urchins, reef fishes & my best shot is of a Giant Clam near a Sea Anemone with a Crown Fish among its tentacles. In the below pic, the Giant Clam with its distinctive electric blue patterned mantle can be seen on the left, between some corals or sponges. The Sea Anemone with its Crown Fish is on the right of the Giant Clam.
Giant Clam, Sea Anemone with Crown Fish & Sea Urchins.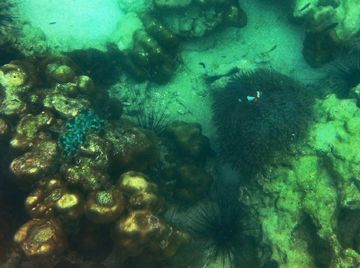 My guy visited Phi Phi Islands very many years ago, long before it is a 'marine reserve'. He told me that the corals at Phi Phi nowadays are a faded shadow of their former glory. Not surprising coz during the stops for snorkeling, I noticed the casual way the boat crew tossed the anchor overboard, onto the bed of corals IN A MARINE RESERVE! Coral reef can't take this kind of constant abuse. At Tioman Island, a marine sanctuary in Malaysia we had visited, there are buoys anchored to the sea floor for boats to tie to. No dropping of anchor is allowed. This should be the practice in any marine sanctuary or reserve. I hope the authorities of Phi Phi Islands will take some preservative action soon or there won't be anything left.
After snorkeling, we return to Aonang. Below are more sceneries taken during my sea/island hopping trip.
Lovely Seascapes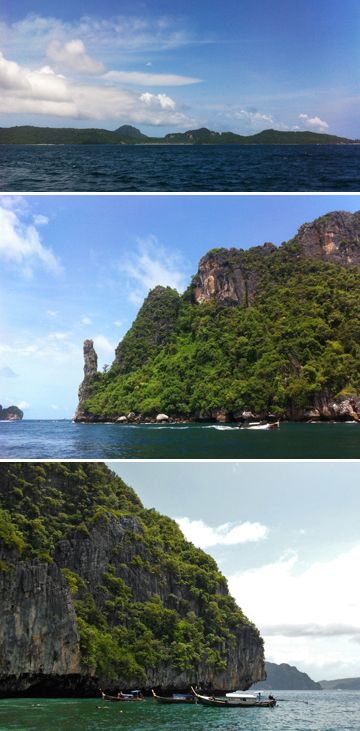 Strange Rock Formations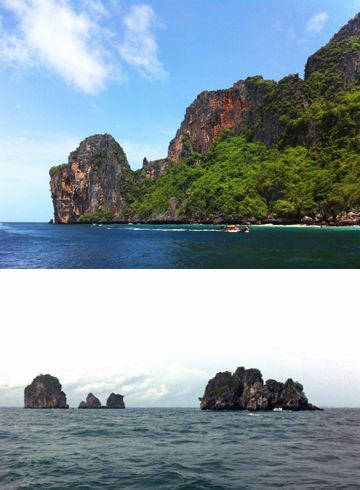 After having experienced a total of 3 sea tours during my 2 visits to Krabi, the advantage is, it's a cheap way to visit many islands/locations in a single day, but the disadvantage is, too little time at any location. The usual 30 ~ 45 minutes stop is not enough time to enjoy or explore the surrounding properly.
Now, lets move on, traveling in a power-stereo equipped taxi, actually a converted pick-up with...
Boom Boom Sound All Da Way! xD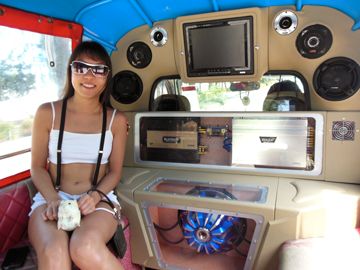 to our next adventure at an...
Elephant Camp
Alright, before any purist come blasting at us for being insensitive & contributing to the demand of these tourist attractions which leads to the abuse of elephants, STOP. We have our reasons which I'm not gonna explain here. When we visited Krabi last year, we didn't want or rather, my guy did not want to visit an elephant camp. This time, after a lengthy discussion, we gave way to curiosity.
The Elephant Camp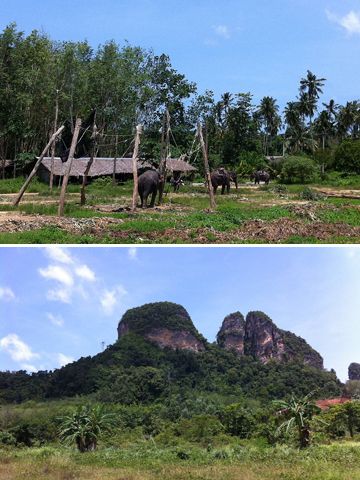 We knew we had arrived when we saw 2 elephants by the road side which raise their trunk in welcome when our vehicle apporached. The elephants by the roadside were chained, but not immobilized. We are glad to note that their chains are long enough for them to wander about for short distance which allow them to forage.
Elephants @The Camp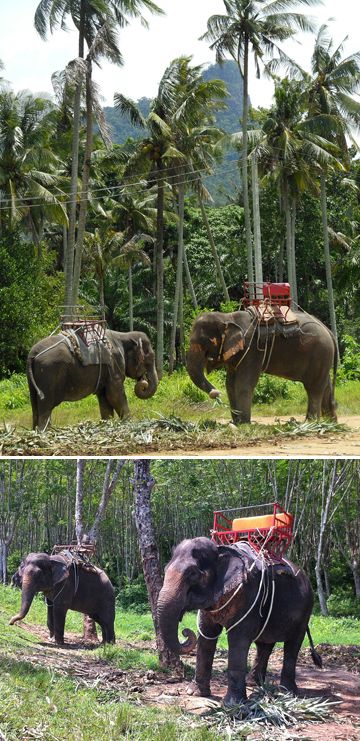 Alighting from our vehicle, we noticed there were 3 other elephants further in, where the camp compound is & 2 were wandering about freely. Seem they were unchained. Glad to see that there's no head bobbing or side to side swaying from the elephants. Those 2 actions indicate mental distress in elephants.
The standard minimum duration for a trek + show is 1 hour, but we didn't want to do that. We are only willing to endure half-an-hour of animal entertainment. My guy bargained. They agreed to 15 minutes of elephant riding/trekking & 15 minutes of baby elephant performance at almost half the price.
Elephants For Trekking

According to the 15 years old little mahout, the elephant that we rode on is a 35 years old female. She must be 1 of those working elephants which were laid off when the Thai government ban logging in 1989. Had never ridden on any beast of burden before & felt very guilty that this elephant has to carry us. Fortunately, it was only a short trek & afterward, we bought a basket of bananas for her. I was suppose to hand her the bananas, but when she reached out with her trunk, I ran from her! Dunno what went through my mind. Perhaps I was thinking that she might be angry at me for riding on her. She will punish me by spraying water in my face or grab & toss me into the air or something nasty! What a timid & silly Hamster I am! Hahaha... =P
Everyone who saw me fled from the elephant laughed at my silliness. The young mahout, the girl attendant & my guy, all laughed at me! I bet the only 1 not laughing is the elephant whose food I ran away with! But the gentle giant was not complaining, calmly plucking grass to eat & patiently waiting for me to come back with the bananas. I think she is quite forgiving too. Feeling so stupid & guilty about running away with her treat, shamefaced, I went to feed her.
Little Timid Hamster Feeding Gentle Giant Elephant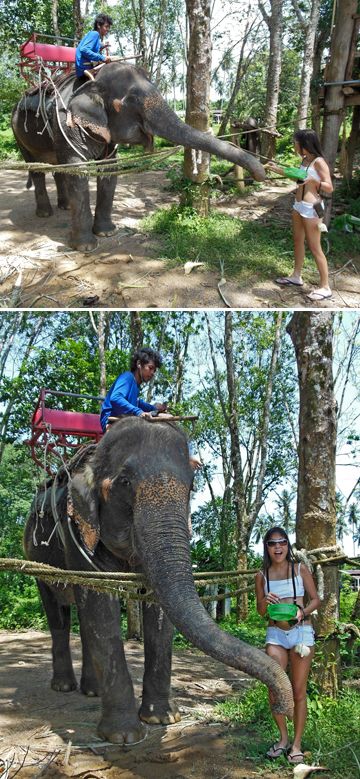 After the ride, came the performance & the star of the show is a very cute baby elephant.
Cute Baby Elephant Star Performer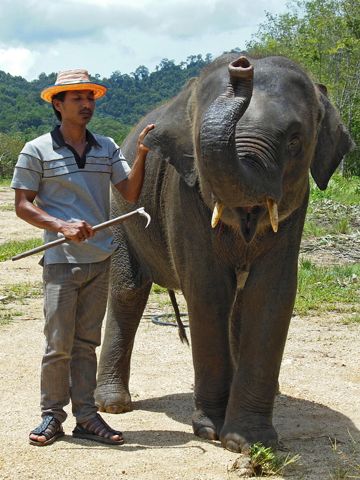 I'll just let the photos do the talking...
Doing Tricks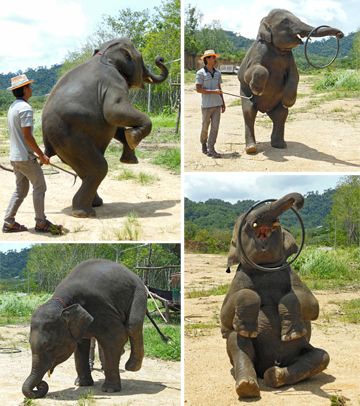 Football & Basketball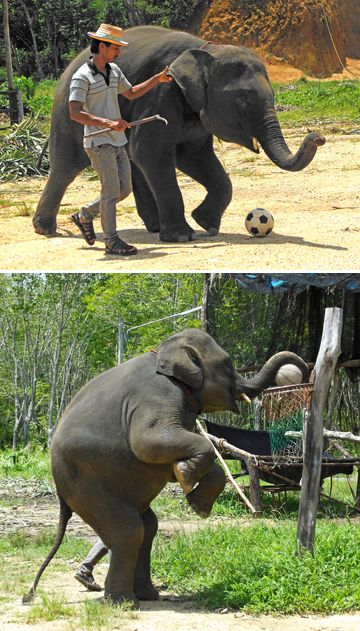 Dancing & Playing The Harmonica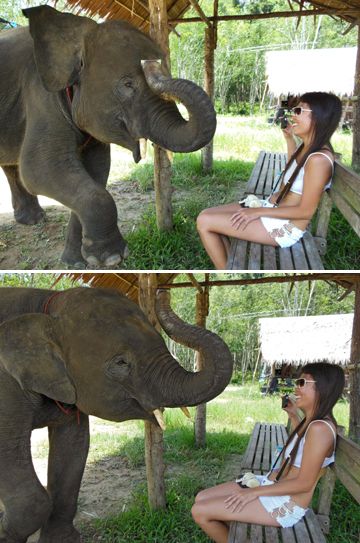 Saying Goodbye To Baby Elephant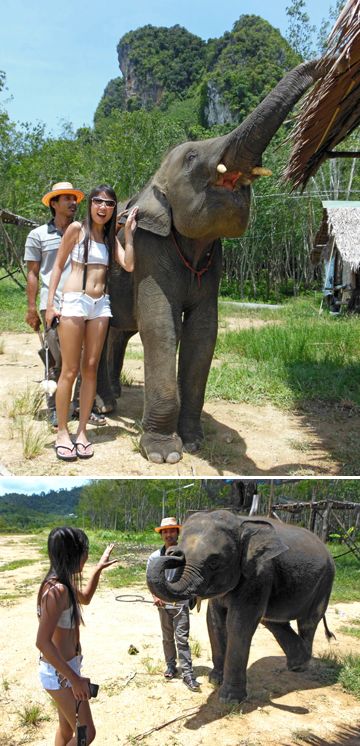 Time to bid farewell to the elephants. Fare you well, gentle giants. Hope you are well-taken care of. Even though this might be a long shot, but wishing that all of you can be freed.
The Elephants & Me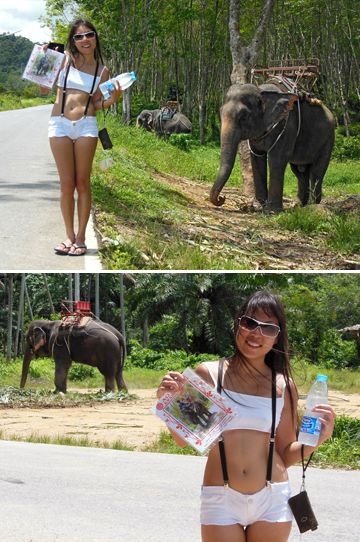 *Note: After this, we wouldn't be going to any more elephant camp except those that do not offer ride & show. It's very difficult to change centuries of culture & habits. Much education is needed, especially the people involved in this trade & the government MUST be completely committed to the cause. According to some sources, it is estimated that if all of the domestic elephants are to be freed & under full/proper protection, less than half will survive. I think that is better than the current situation for the elephants.
Ao Nang Shooting Range
I love guns & my statement may sounds contradictory, but I've no desire to shoot at anything other than a target board. My guy who is a former army sergeant, felt that since I like guns, I better know something about them or at least, try firing one to feel what it is like. So, he brought me to a shooting range.
AoNang Shooting Range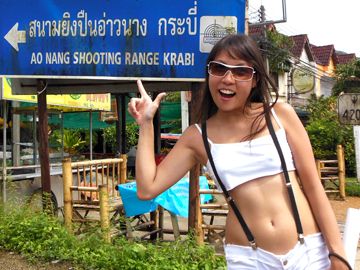 They have a small selection of guns to choose from. A few .38 or .45 caliber pistols & the rifles are .22 replicas of military weapons. I choose the AK-47. Fierce Rebel Hamster! =P
Weapon Selection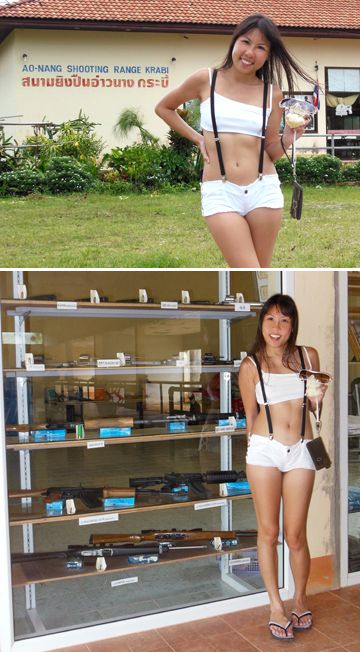 Long before this, using replica/model guns which were used during my cos-play events, my guy had taught me about gun safety & how to hold 1 correctly. The first 2 lessons he drilled into my head are, NEVER, NEVER point the gun at anyone, be it loaded or not & NEVER, NEVER put your finger on the trigger when holding a gun. Always practice trigger discipline by resting your finger on the trigger guard instead of on the trigger itself. He told me these: Guns don't kill, people do. Guns don't caused accident, stupidity does!
Hamster & Gun =P
I'd never fired a real gun & dunno what to expect. In view of that, my guy bought just 10 rounds for fear that I will be frightened & refused to shoot after the first round went off. Before the rifle was loaded, My marksman sergeant briefed me on the basics of shooting. How to aim, the correct way to hold the weapon, push the butt firmly against the soft part of my shoulder, stable myself, take a breath, slowly let it out before squeezing, don't jerk, the trigger.
Alright, it's rock & roll time! Looking at the target through my gun sights, my mind went blank. I froze! LOL! =P
My guy had positioned himself close behind me, ready to grab the rifle, just in case I panicked. I timidly asked him to squeeze the trigger for my first shot. He replied a gentle no. At 25 meters, the black circle of the target looked so small. I cringed, pulled the trigger, flinched & closed my eyes! See the round that landed out of the black? Yeah, what a scaredy-cat I was! Scolded myself, collected my wits, this time determined NOT to shut my eyes! Fired off 3 more rounds & was stopped by my guy. He was concentrating on me & wasn't looking at my hits. After checking the target, he told me to aim a little lower & commence firing. Was told later that he noticed the AK-47 was shooting a little high. In weapon language, it wasn't zeroed. In layman terms, it means the bullets wasn't hitting where you aimed them. Well, it's expected. Highly unlikely that a tourist shooting range will do much guns maintenance. Nevertheless, my guy told me that I shoot good for a novice, first-time shooter. It would be a shame if a soul mate to a sharpshooter couldn't shoot well. =P
Result of My Novice Shooting Skill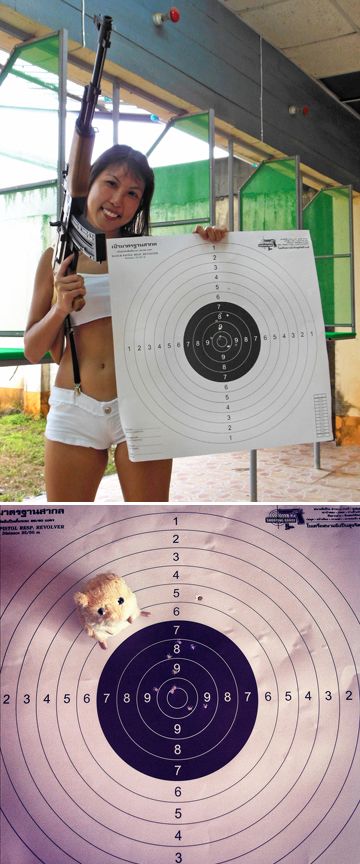 Farewell To Krabi
On the second last day of our stay, we went buying souvenirs for family, friends & for myself. I wanna somethings to remind me of my delightful time spend in paradise.
In Memory of Krabi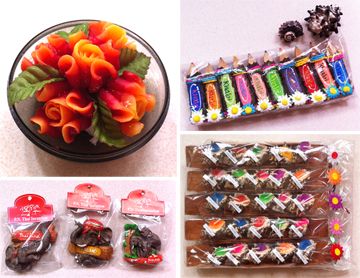 Later in the afternoon, we walked the beach again, saying our goodbye. I was sad we had to leave. Left a message on the sand.
Message In The Sand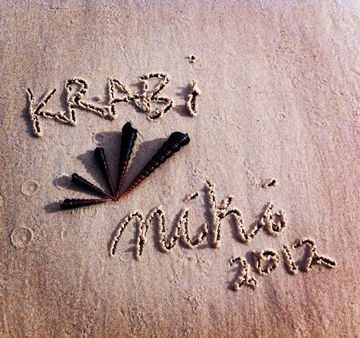 I will miss you, beautiful Krabi. I will miss the warm smiling sun, the bright blue sky, the soft fine sand, the soothing gentle waves & the clear emerald sea. Farewell, Krabi, till I return again.
Farewell To Krabi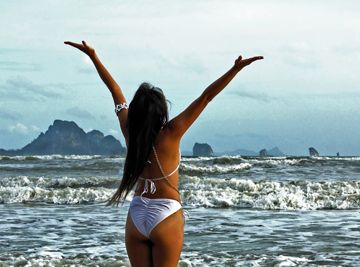 Labels: Beach Holiday, Beach Resort, Krabi, Thailand, Vacation