My vacation at the popular and famous Boracay
Backdate way back to 17th - 21st April 2017: On an impulse based on an discussion, we (my SiaoMouse and I) decided to have our vacation at the popular and famous Boracay in the Philippines. Am not going to write much. Instead, I will just post pics.
Onward to Boracay!
Our flight took off from Singapore Changi Airport.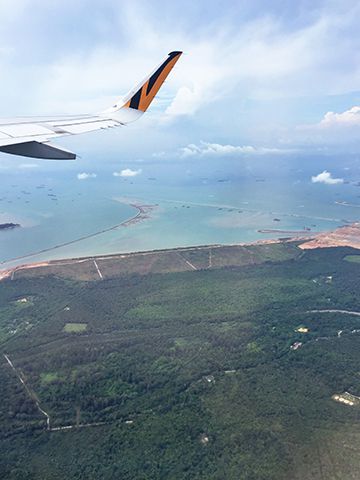 Selfie Onboard! =P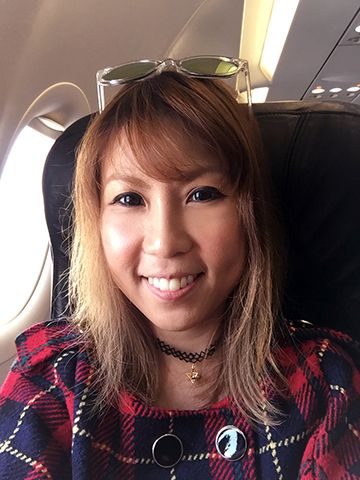 A Cold Blue Sky!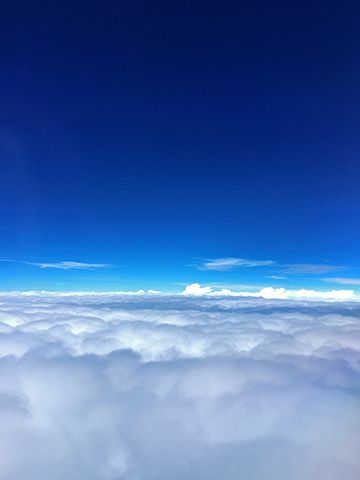 Miri, Sarawak, Malaysia, meander of Baram River at Marudi, Sarawak, Malaysia and Brunei Bay.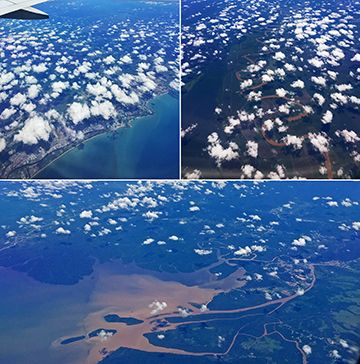 Top: Membakut and Kuala Penyu. Bottom: Kota Kinabalu, Sabah, Malaysia.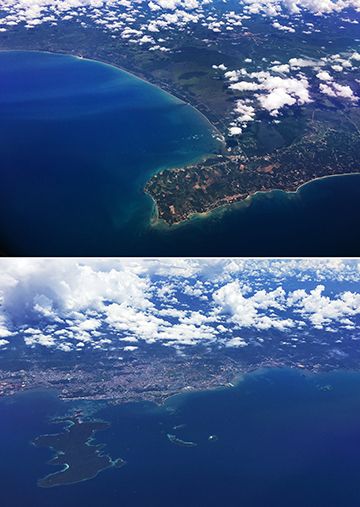 Jamindan, Capiz, Philippines and Kalibo Airport, Philippines.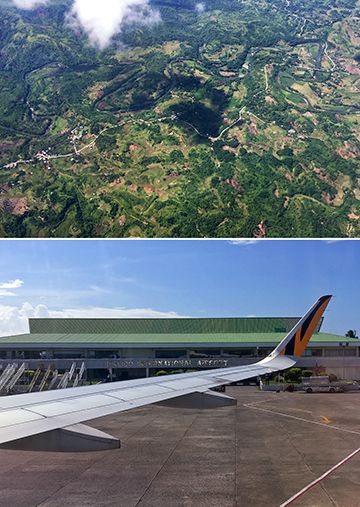 Southwest
To save trouble, we booked Southwest as our transport to and from resort and airport. They proved to be very reliable.
Leaving Kalibo.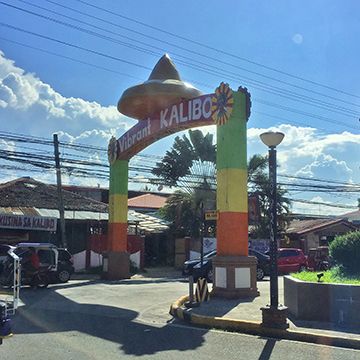 Paddy Fields.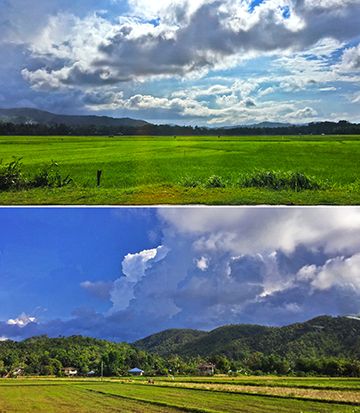 Rest Area.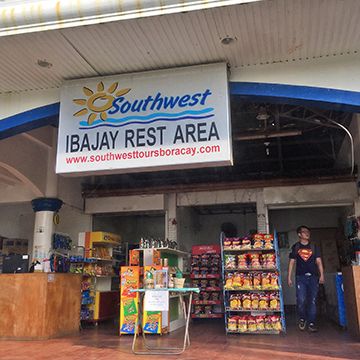 Small Town Shops.
Ferry at Caticlan jetty port and a short sea journey.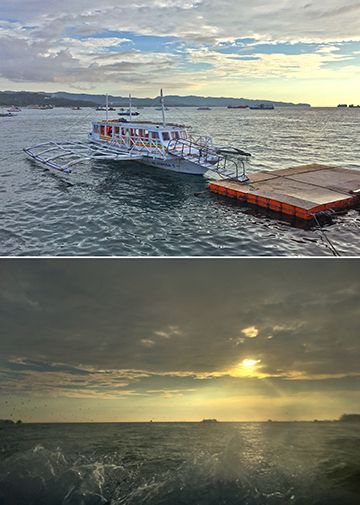 Reached the Cagban jetty port at Boracay.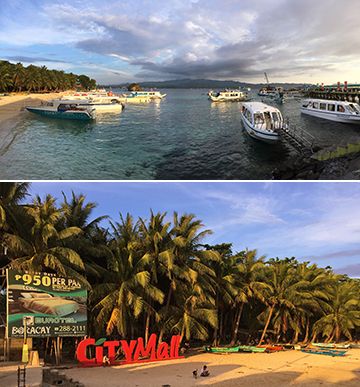 From Boracay Main Road to the resort.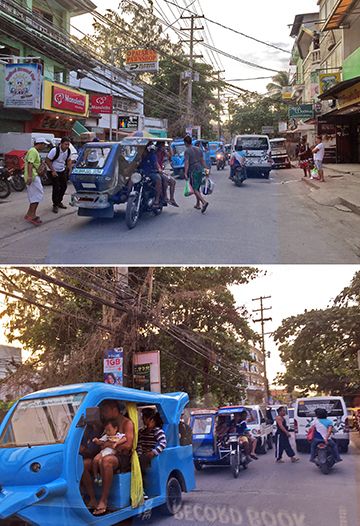 Red Coconut Beach Hotel
The Red Coconut Beach Hotel is a popular 4.5 stars beachfront resort located in the heart of the famous White Beach at Boracay. It was one of earliest resorts established when Boracay was just beginning to gain fame as the most beautiful beach in the Philippines. Today, the Red Coconut Beach Hotel is one of the icons of Boracay. Their rooms are clean, tidy and comfortable with modern facilities including free internet. It has a small pool, a well-stock bar and a great restaurant. Staffs are friendly and offering great services. Conveniently located, the resort is very accessible to many popular eateries and shops.
The Red Coconut Beach Hotel.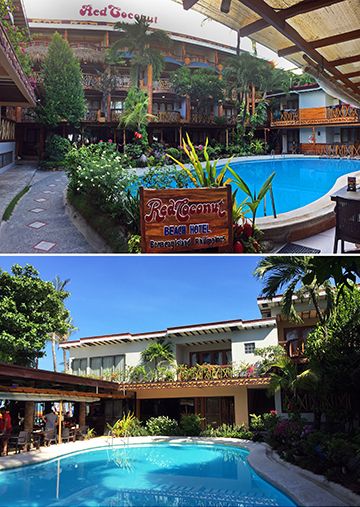 Restaurant and Bar.
Me at the Red Coconut.
Some nice deco of the Red Coconut.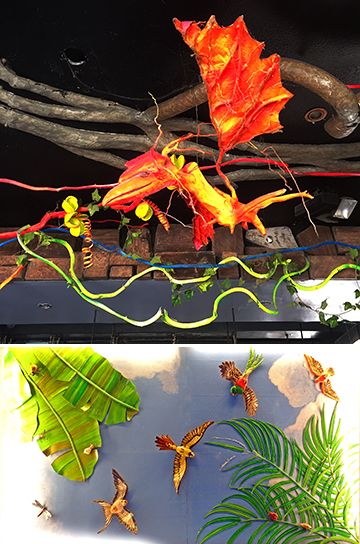 Weather Forecast. LOLZ!

Beer = Salad! =P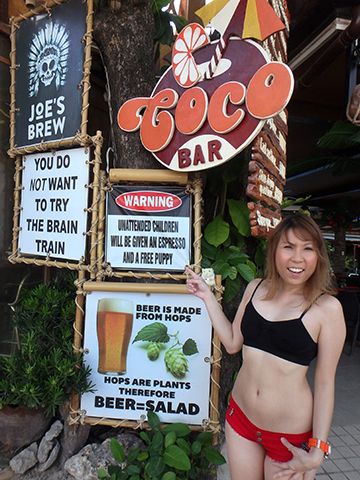 The restaurant and its lovely breakfast buffet.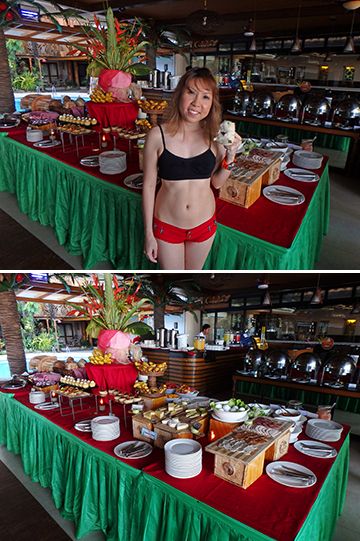 Our complimentary breakfast every morning.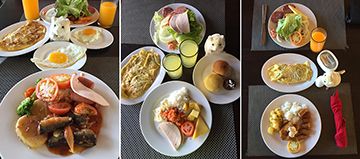 Breakfast and Me!

And on some mornings, the restaurant staff even set up breakfast for my Hamster! LOLZ! =P
Hamster's Breakfast. =P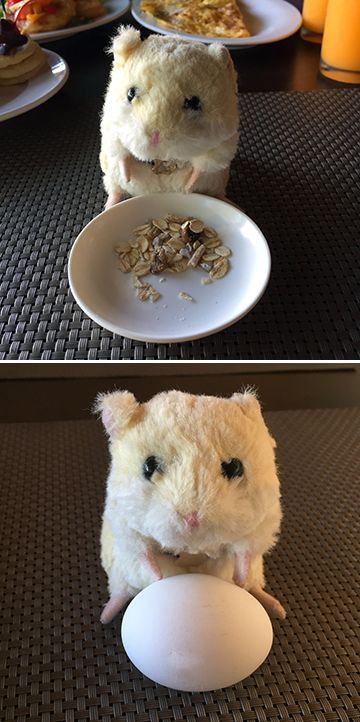 The Luckiest Hamster in Boracay! =P

White Beach
The Red Coconut Beach Hotel is located nearly at the center of White Beach, between Station 1 and 2. White Beach is the largest and most popular beach of Boracay. With many shops and services around White Beach, it is also the commercial center of Boracay. This beach is supposed to be the most beautiful beach on the island. However, every year, the water in most part of White Beach appears dark green during the months of February to May due to the seasonal bloom of green algae. This occurrence happened even before Boracay was discovered as a prime tourist destination. Anyway, it is still safe for swimming.
Welcome to Boracay!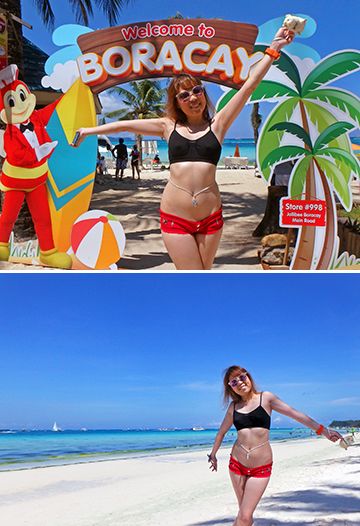 White Beach.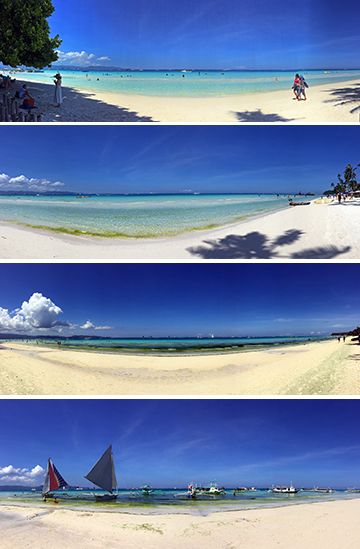 Walking towards Willy's Rock.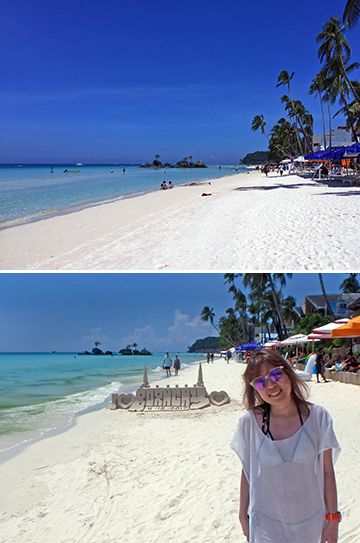 Willy's Rock.
Deco and Signboard.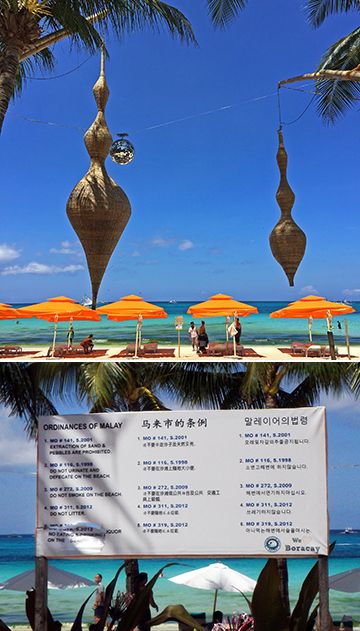 Me walking the White Beach.
Boats at the White Beach.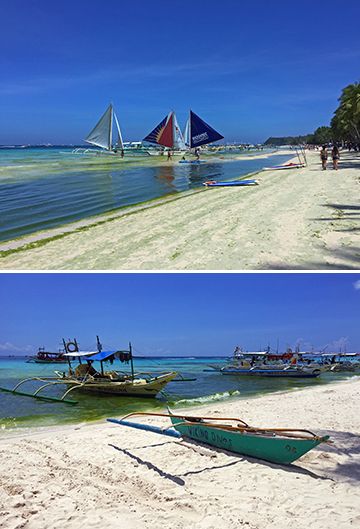 Dragon Boats and Banana Boats.
Swimming in Da Morning!
Seasonal Bloom of Green Algae.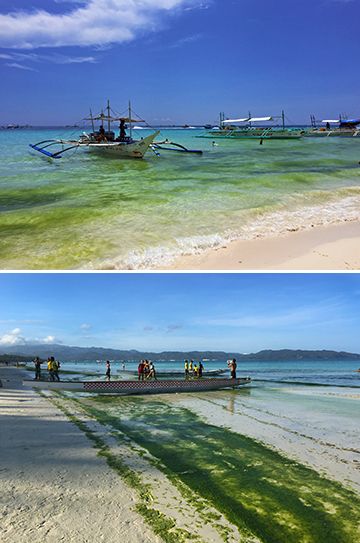 The Green Water of Boracay! =P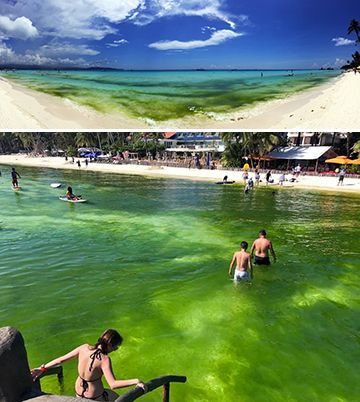 Stalls and T-shirt painting.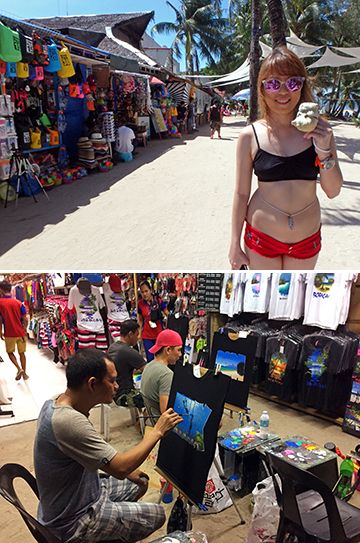 Popular Cafe and Restaurant.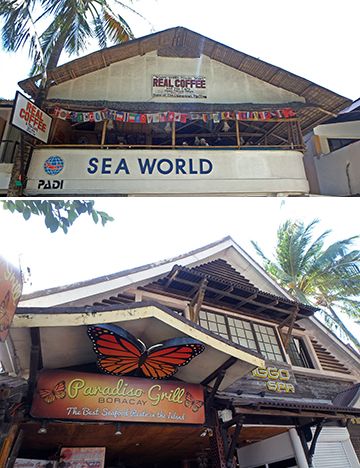 How Far to White Beach.

White Beach is also a place to view great sunsets.
Sunset Cruise.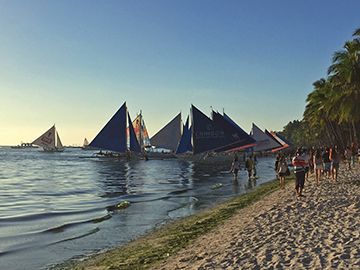 Sunset at Boracay.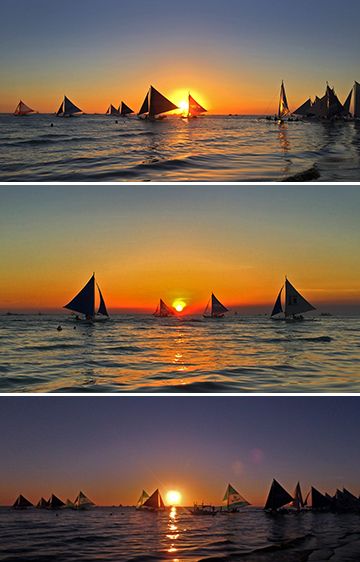 Beautiful Sights.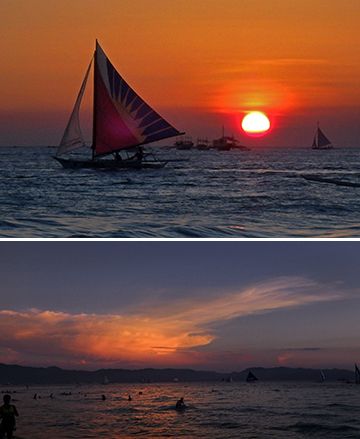 Bulabog Beach
By walking a small lane and across the Main Road to at the Eastern side of Boracay, you will arrive at the Bulabog Beach. It's not a beach for swimming. Rather, it is a beach for kite surfing, a popular sport at Boracay. The Bulabog Beach Kite Surfing School is a prominent feature there.
Small lane with a bakery.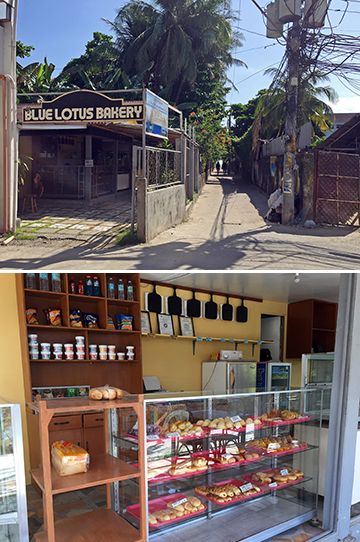 Bulabog Beach.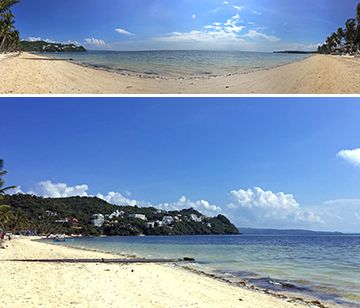 Structures of natural materials like wood, bamboos and rattan.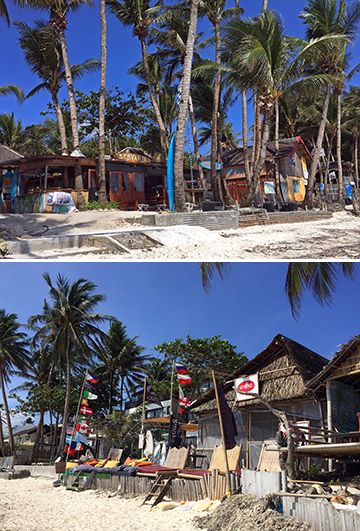 Me at Bulabog Beach.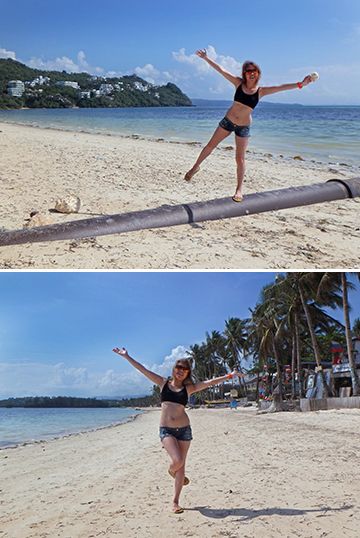 Pinas International.
Buildings and Boats.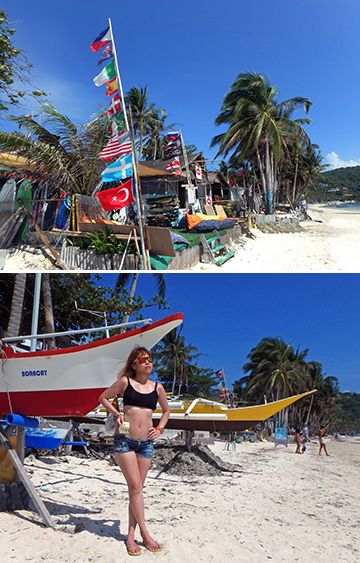 Puka Beach
To the North of Boracay is Puka Beach. There's no green algae there and to us, a much more beautiful beach than White Beach.
Welcome to Puka Beach.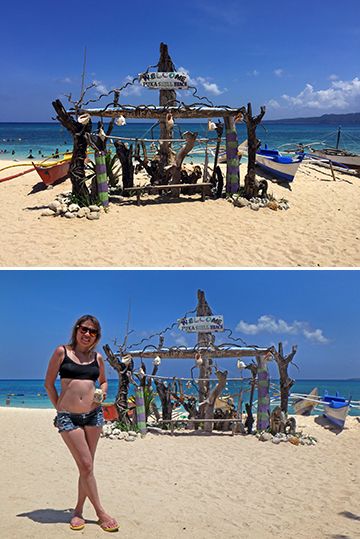 Beautiful Puka Beach.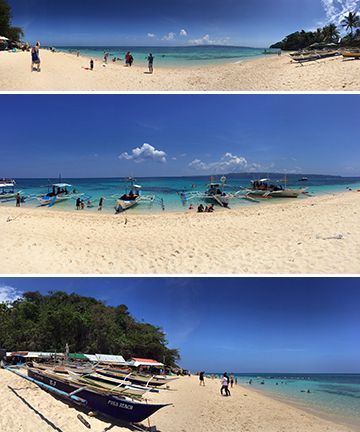 Me at Puka Beach.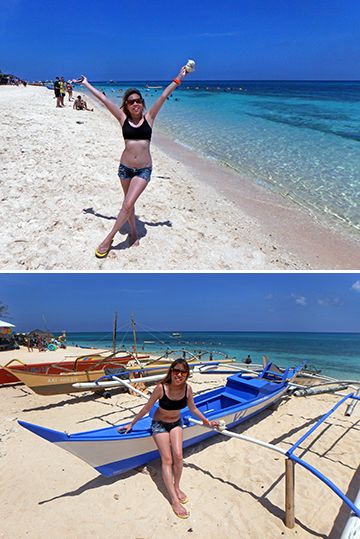 Food and drinks stall.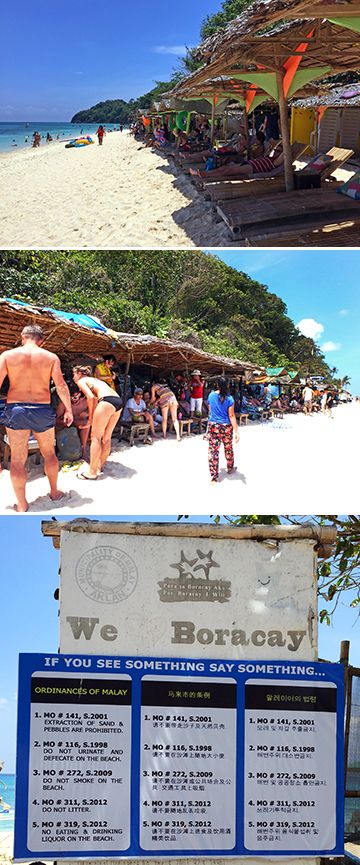 Some of these stalls have nice and colorful floats for their guests. Their customers are allowed to play with their floats.
Nice and Colorful Floats.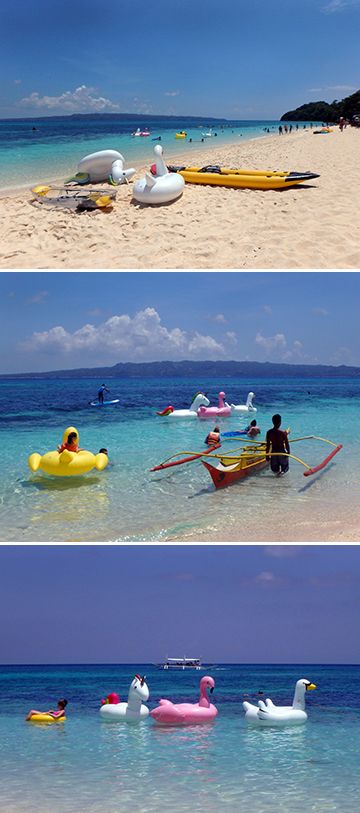 Playing with Floats.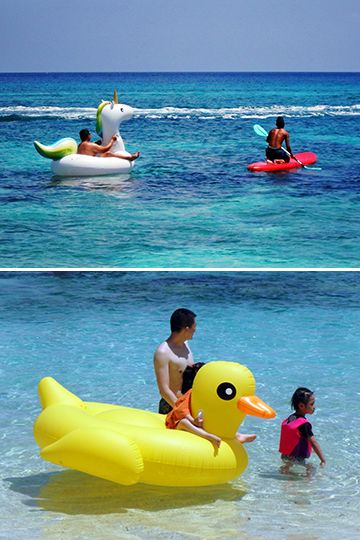 Souvenir Shops.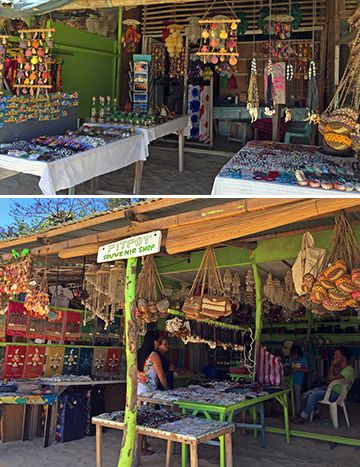 D'Talipapa Market
When in Boracay, a visit to the famous D'Talipapa is a must! Located at Station 2 of White Beach, the D'Talipapa wet market is a mecca for seafood lovers. There, you can purchase fresh and live seafood. Proceed to the many cooking services or restaurants at the perimeter and for a small fee, have your seafood prepared whichever way you want. There is also a local products section where you can buy vegetables to have them cook it up too. D'Talipapa offers a large array of seafood such as lobsters, prawns, crabs, squids, oysters, scallops, sea urchins and a wide selection of fishes. In Boracay, it is impossible to get seafood fresher than D'Talipapa, but be prepared to drive a hard bargain. Most vendors speak little English. Simply choose the seafood you want and the vendor will type an amount into a calculator which he will hand to you. This is when you start the haggling process. D'Talipapa is definitely the most unique dining experiences on Boracay and really worth a visit.
D'Talipapa Market.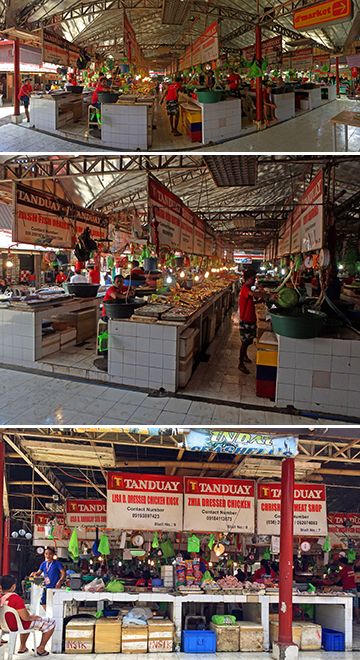 Me with Shellfish and Fishes.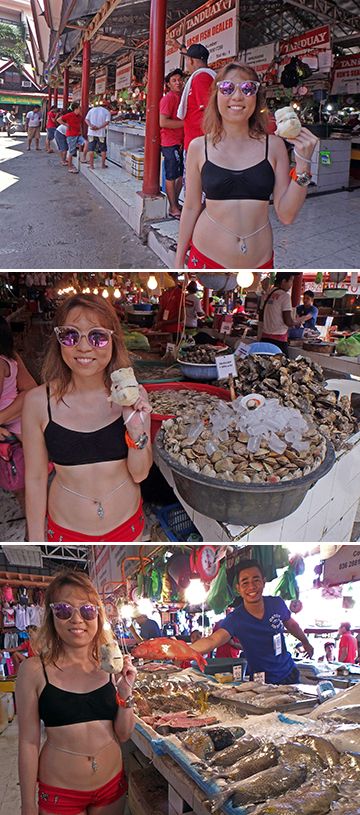 Giant Prawns and Lobsters.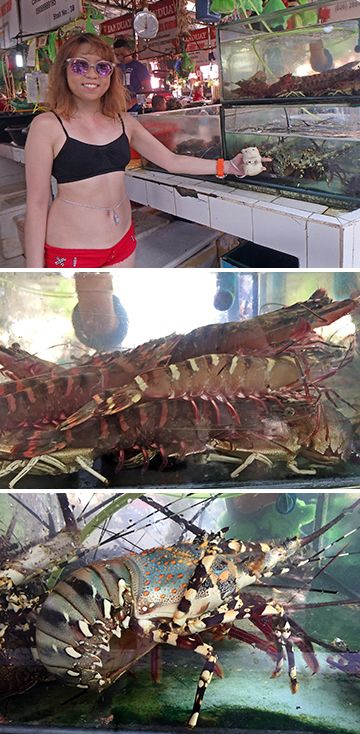 Local Products Stalls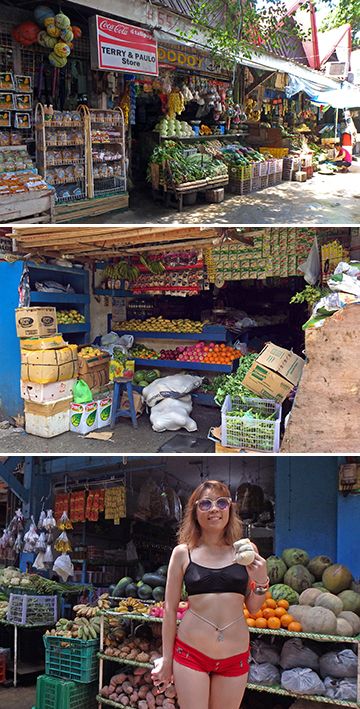 A lane to D'Talipapa Market.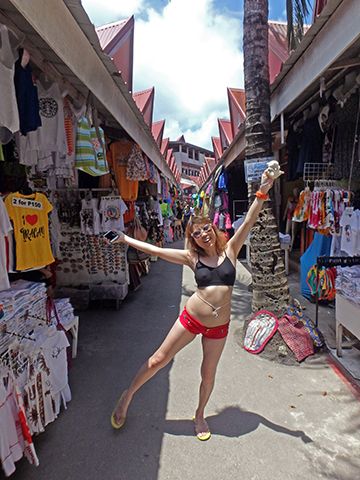 Other Stalls AroundD'Talipapa.
Love the Turtle Float! =P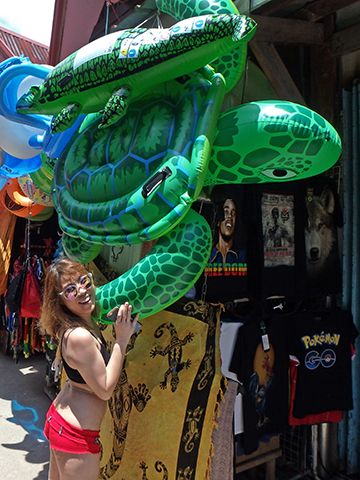 d*Mall
If you are looking for some shopping or in need of daily items or if you are hungry, d*Mall is where you should go. Located at Station 2 of White Beach, just next to our resort, d*Mall is like a one-stop-shop. This is where you will find money changers, spa, pharmacies, internet cafes, flight ticketing offices, optical shop and ATMs. There are also number of souvenir shops and a supermarket (Budget Mart) near the road. d*Mall is also home to various restaurants and cafes serving local, Asian and Western cuisines. In the heart of d*Mall, is a mini amusement park and a wall climbing facility. And there are toilets in there. A trip to Boracay is definitely incomplete without a visit to d*Mall.
Welcome to d*Mall.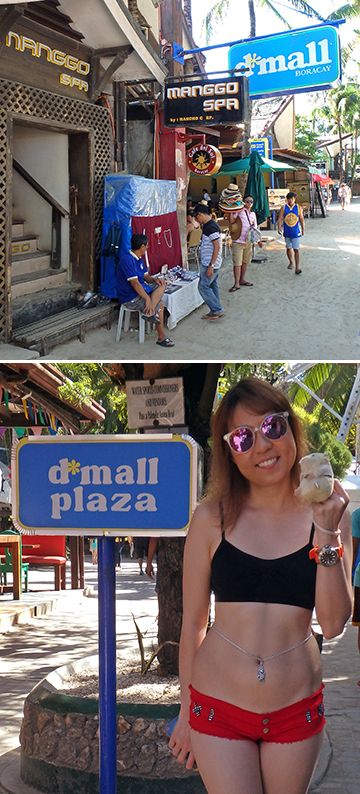 The Toilets in d*Mall.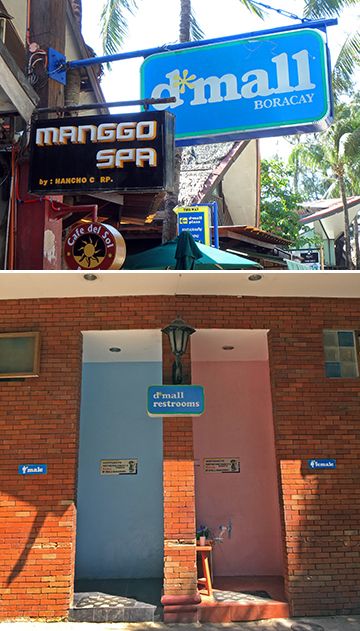 Shops of d*Mall.

More Shops of d*Mall.

Notices.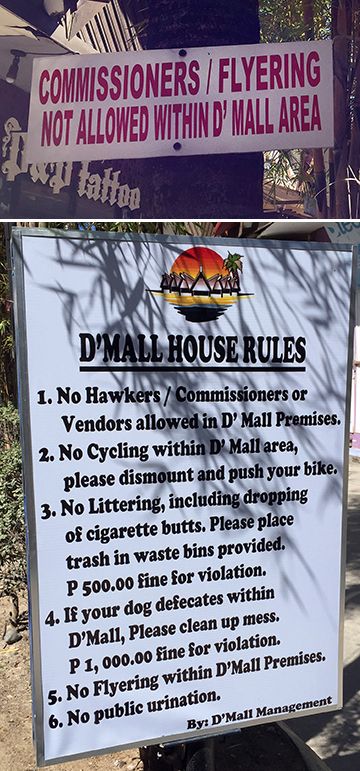 Security of d*Mall.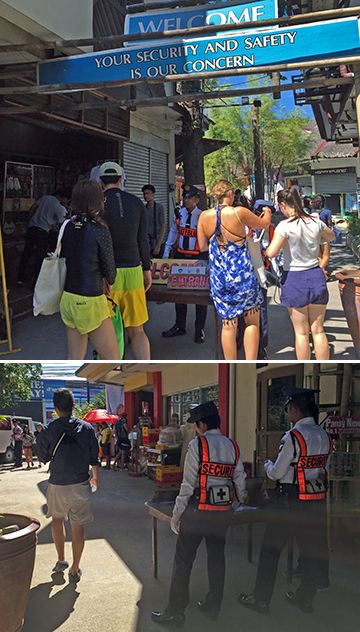 Portrait Sketching and Photo Booth.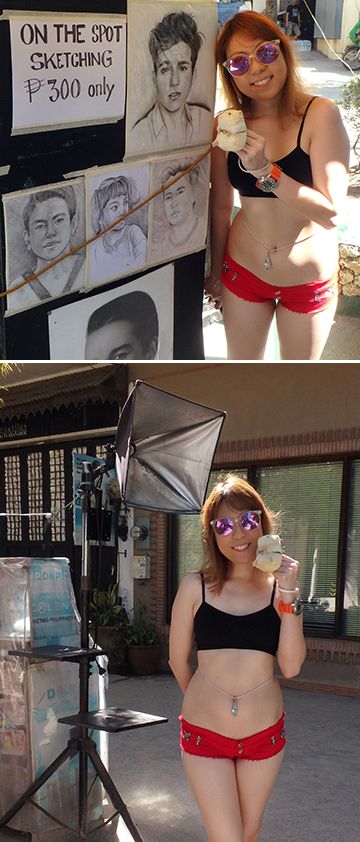 Rides and Wall Climbing.

Wokeria Crab Pasta House and Bistro Valhalla.
Big Mouth and Hungry Monkey.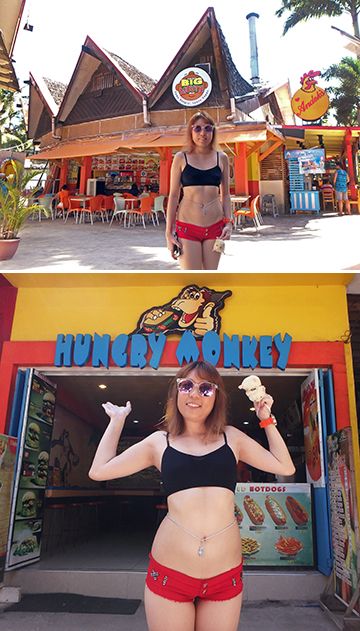 Crazy Crepes and Super Sub.
Ice Monster and Pinoy Halo-Halo.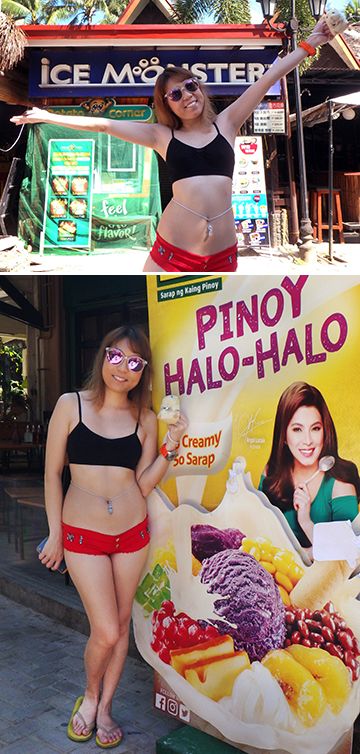 Jeepney Stop.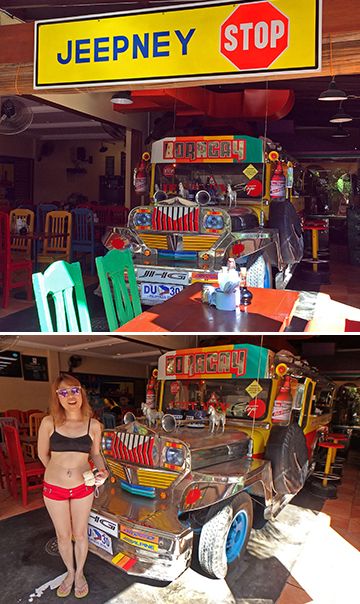 My friends and me had our meals quite often at d*Mall.
Delicious!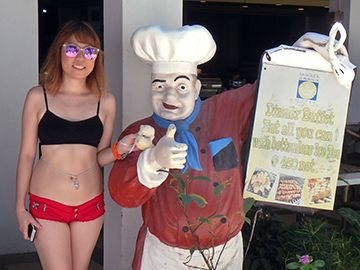 Friends and me with a coconut.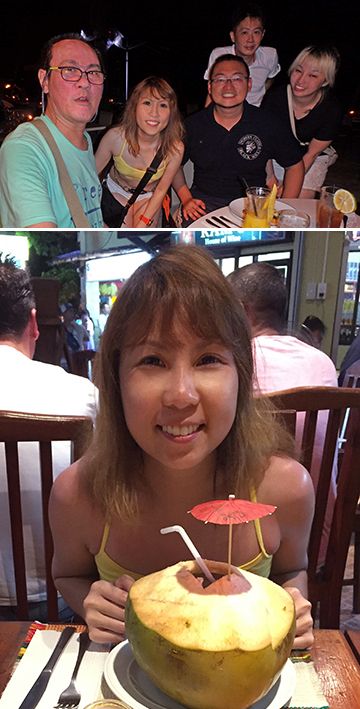 From left to right, top to bottom: Roasted Chicken in special sauce, Pork Chop with mashed potato, Beef Steak and Buttered Shrimps.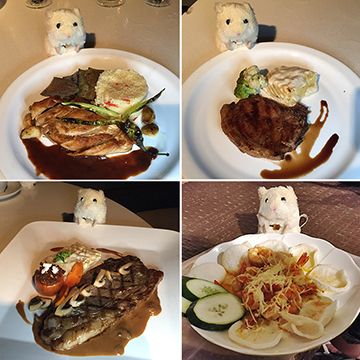 Grilled Squid with yellow rice and Chicken Tostadas.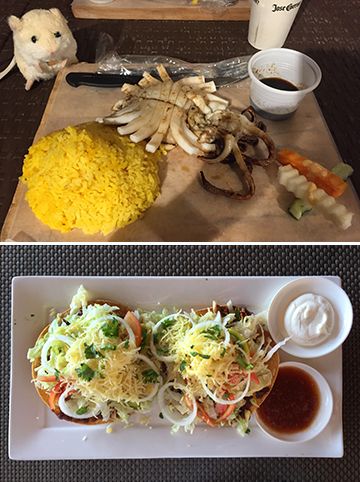 From left to right, top to bottom: Tres Amigos Tortilla combo, Chimichanga, Quesadillas and Mexican Ceviche.
Souvenir Stalls at d*Mall.

Lovely Goods.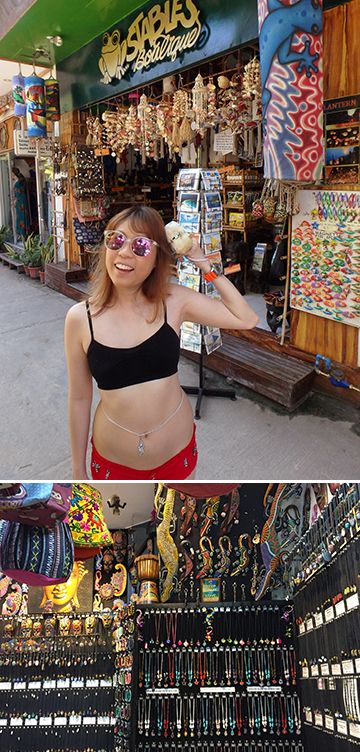 Beautiful Items.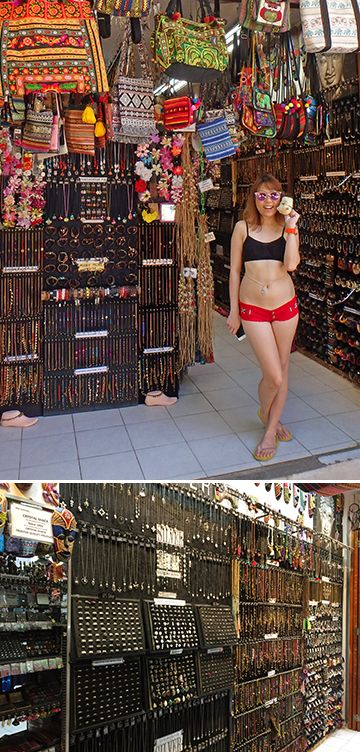 Wonderful Displays.
Nothing But a Jukebox.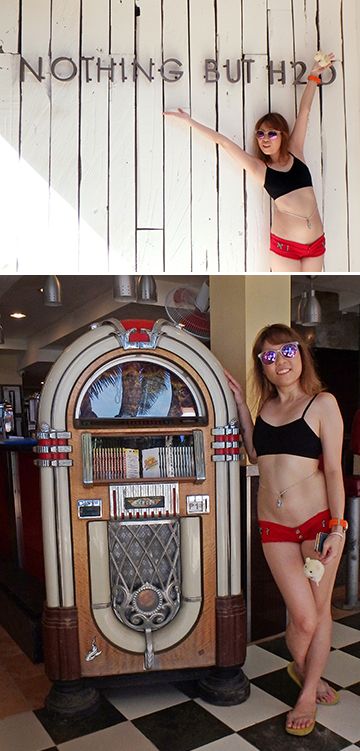 d*Mall near the Main Road.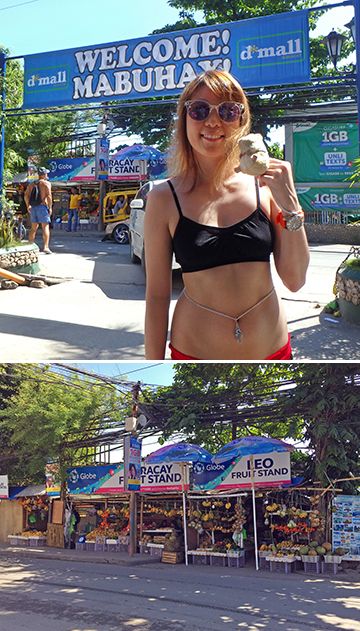 There is also a Bamboo Market nearby, but we didn't explore.
Bamboo Market.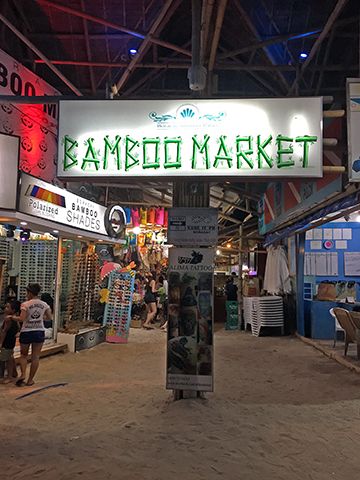 Ariel's Point
For sea trip, Ariel's Point is a must! Lots of activities at Ariel's Point. Cliff jumping, snorkelling, kayaking, etc. Food and drinks are included in the fee. To book this excursion, go to Ariel's Point cafe at White Beach Station 1.
On the way to Ariel's Point.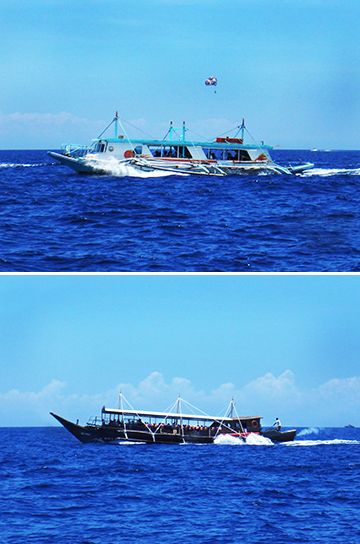 Passed by some Para Sailing with my friends (Joy and Winston) onboard.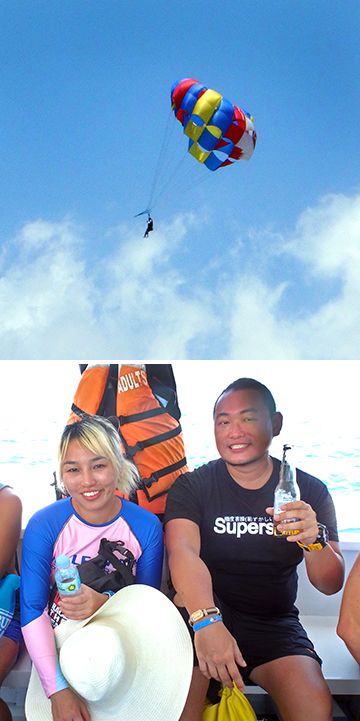 Some scenes before reaching Ariel's Point.
We have arrived!
Ariel's Point, with the 15 meters cliff jumping board.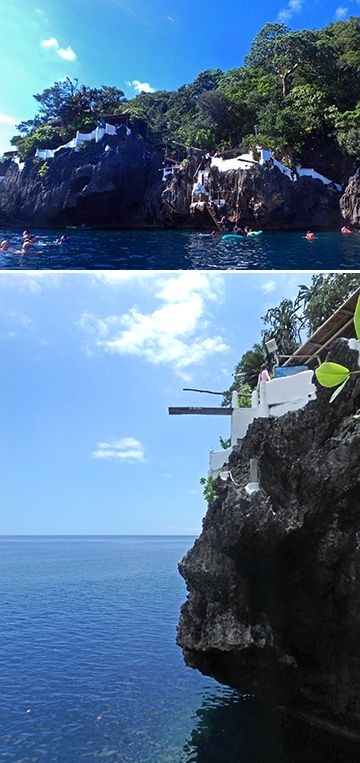 For cliff jumping, there are a few heights. From 3 meters to 5 meters, 8 meters and 15 meters. Highest my friends and me dare to jump from is 8 meters. We went up to the 15 meter platform and our legs turn to jelly! Perhaps, next time… =P
Cliff Jumper
Platform for water activities.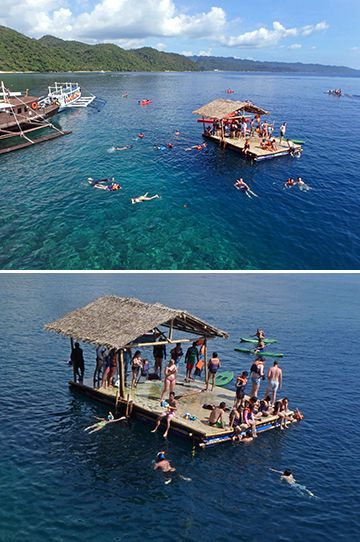 Kayaking and Board Paddling.

A Traditional Native Boat.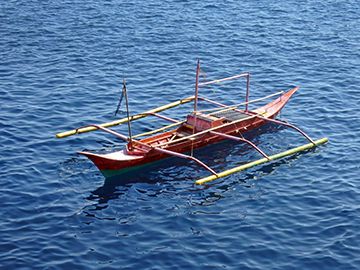 Snorkelling Me.
Small Fishes and Sea Urchins.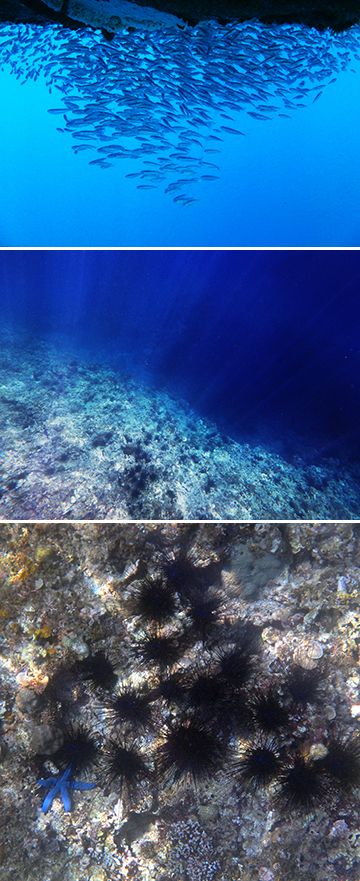 Cute Starfish with a small fish and an Eel.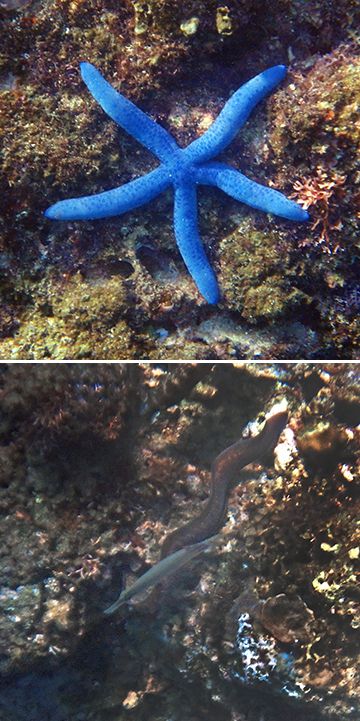 I Love Snorkelling!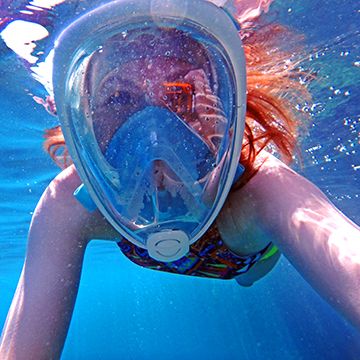 Sea Creatures and perhaps a Sea Cucumber?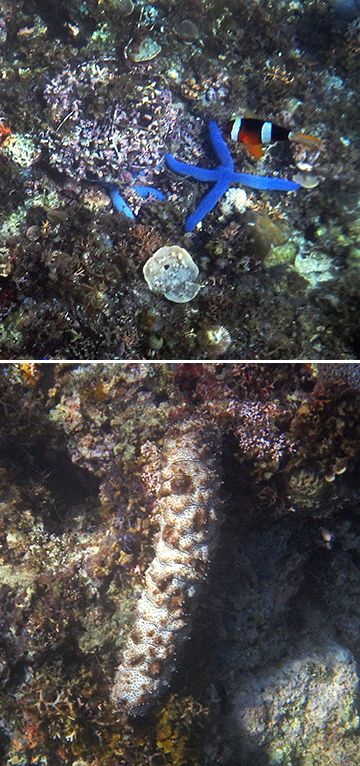 Sea Urchins, Blue Starfishes and a Thorny Starfish.

It was great fun at Ariel's Point. Top: With Joy, SiaoMouse and Winston. Bottom: Other guests of Ariel's Point.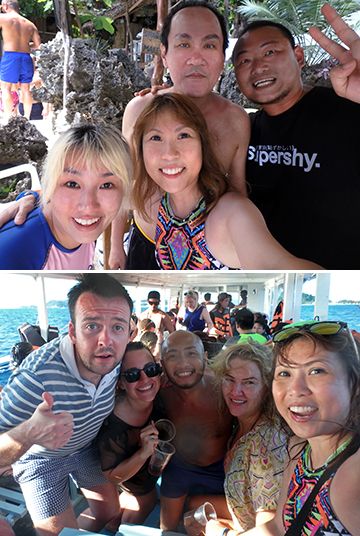 Ocean Tower View Point
To see Boracay in 360 degrees panoramic view, visit the Ocean Tower View Point. It is an observation deck located on top of Mt. Luho, the highest point in Boracay. Entrance fee is Php120.00. After the payment booth, there is a climb of about 200 steps and some of those concrete steps are quite tall for normal steps. At the viewing deck, you will have an overview of Boracay Island.
Dirt Bikes below the observation deck.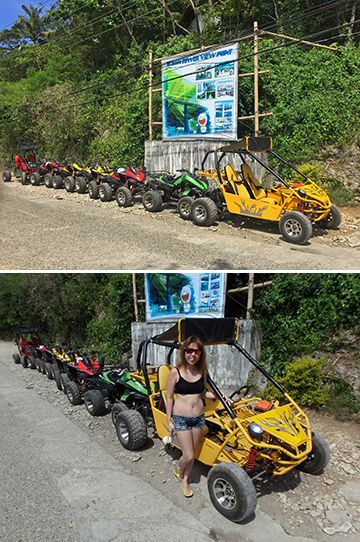 Payment Booth and the way up.
Love Point below the observation deck and the toilet is at the mid section of the other stairway.
Posing with a Penguin and a Doraemon.

At the Observation Deck.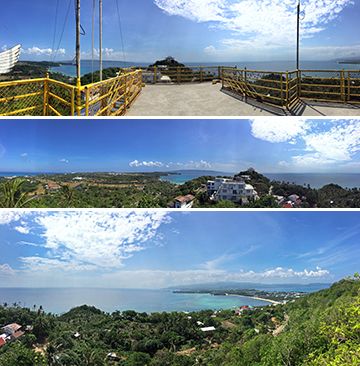 Me overlooking Lapuz Lapuz Beach and Bulabog Beach.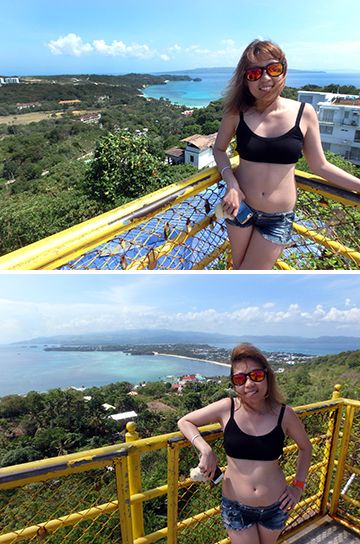 An Angel On The Deck! =P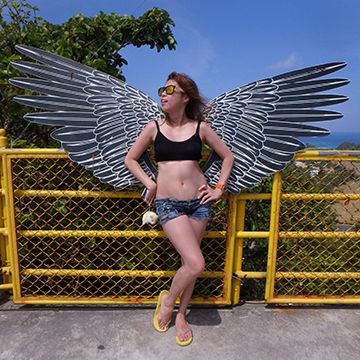 And some interesting scenes…
A Sleeping Cat and a Fighting Cock.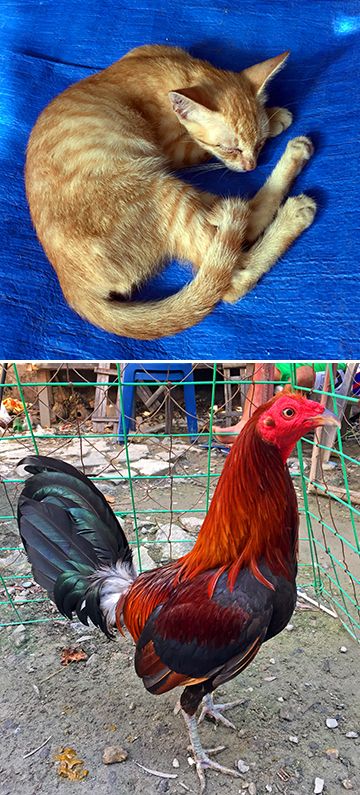 Gypsea and deco from another stall.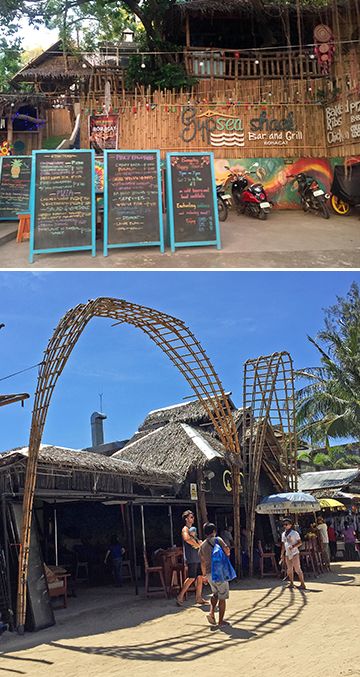 Pat Creek Bar, Facebook Resort and a Painted Door.

Return Flight
Boracay is a great and interesting experience. Wish we had stayed longer. I wanna swim and play with the floats at Puka Beach! Next time maybe…
Transport Interchange.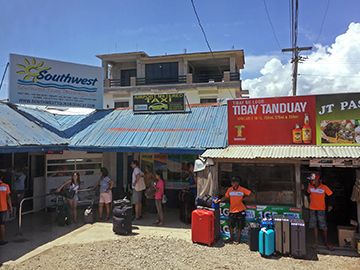 Flying High Above The Clouds.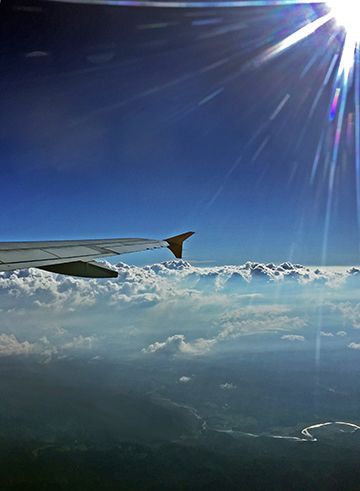 Some destroyed patches of forest in Malaysia.
Sunset In The Air.
A Bridge and Some Oil Rigs in Malaysia.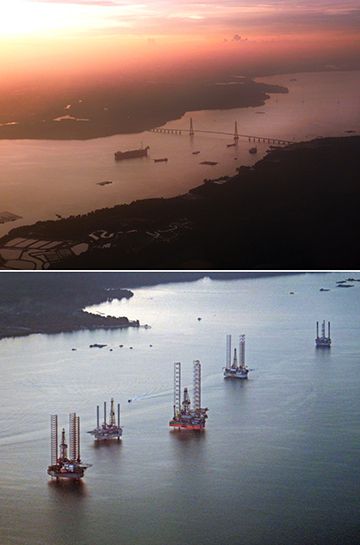 Return To Singapore.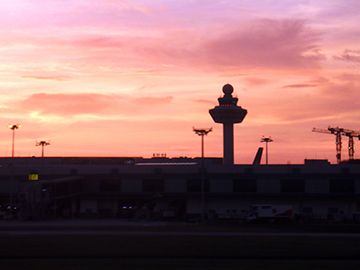 Labels: Ariel's Point, Beach Holiday, Beach Resort, Boracay, Cliff Jumping, Corals, Marine, Marine Animals, Marine Creatures, Nature, Paradise, Philippines, Puka Beach, Snorkel, Snorkeling, White Beach, Wildlife Photography