Singapore Toy, Games & Comic Convention 2009
Sunday, 16th Aug, 2009 ~ Here it comes again, The Singapore Toy, Games & Comic Convention! This is the second year it was held as a combined event. Last year, it was just toy & comic. Before that, each of the different category was held as an event individually. In any case, I'm going to attend! xD
On Sunday afternoon, arrived at SunTec City where the convention was being held. As it was a Sunday & most locals take that as a family day, it was more crowded than usual, but wasn't as crowded as last year anyway.
Usually, whenever I attend such event, I'm in my normal going out clothes. This time, I went as a Japanese CatSchoolGirl. =P
Singapore Toy, Games & Comic Convention 2009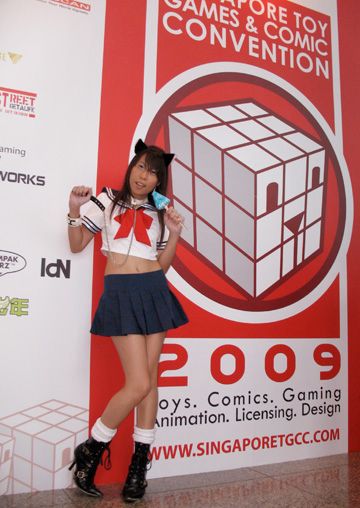 Without lingering, we went straight into the convention hall. Booths selling toys are everywhere, small operators & big name companies. In between them are designs, comics & games stalls. I didn't paid much attention to those anyway. I'm more interested in the toys than games or comics.
Small toy booths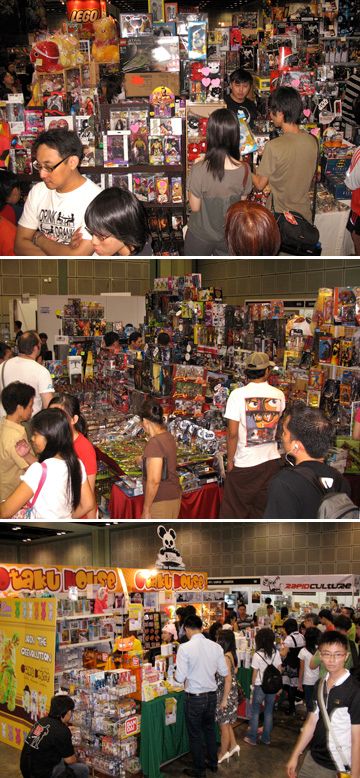 Big toy companies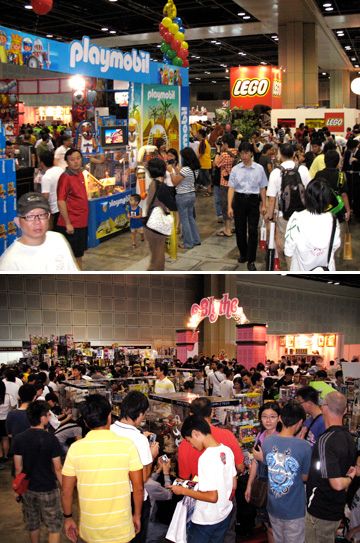 And what's a toy show without Bandai?
The Bandai Booth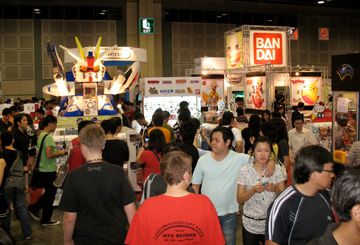 Then again, what's Bandai without Gundam? xD
Serious Gundam & Cute Gundam =P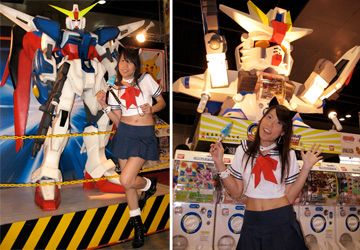 Of all the comic booths there, only one caught my attention. Why? Brian Bolland, creator of Wonder Woman, Judge Dredd & TankGirl was there signing autograph! At first, I dunno who Brian Bolland is & I'm not into comic, but I know who is Wonder Woman & Judge Dredd. I didn't have anything for the famous artist to sign. Thought of asking him to sign on my arm just for the fun of it, but the queue was a little too long. xD
Brian Bolland autograph signing session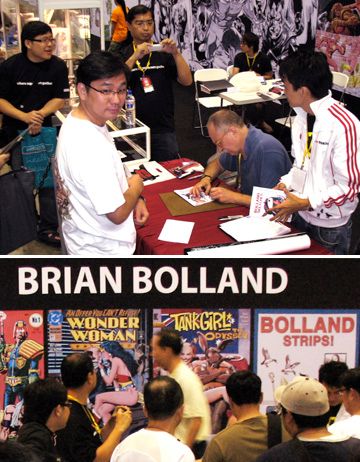 Even though I have no interest in comics, there are also some other artists at the convention whom caught my attention with their arts.
Artists at work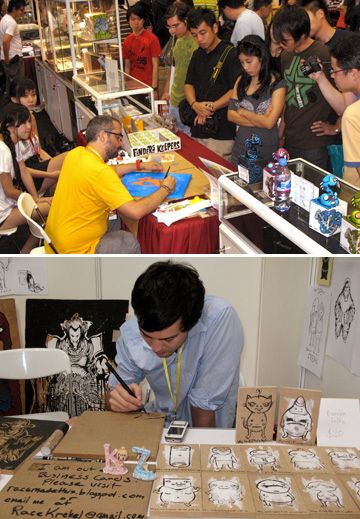 Now, lets get on with the toys & displays! =P
Some I'm familiar with, but mostly not. So don't ask me what they are coz I'm clueless as well. I just like to admire or play with them. xD
Mr. Monopoly, Ugly Dolls & Pervert Dolls?!? =P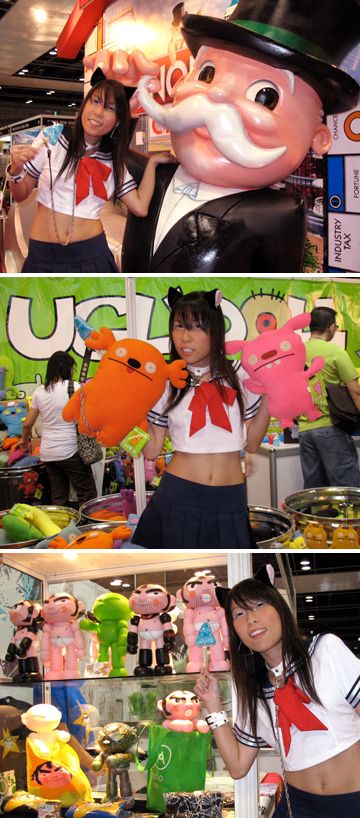 A wonderful display of Big Eyes Dolls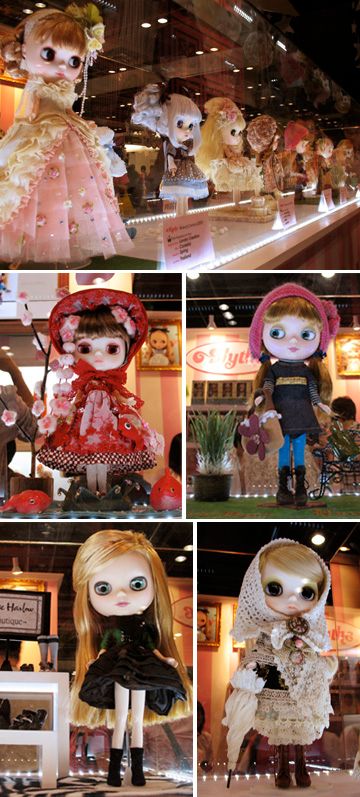 Came across some which intrigued me, but I dunno what's their names.
Some Intriguing Toys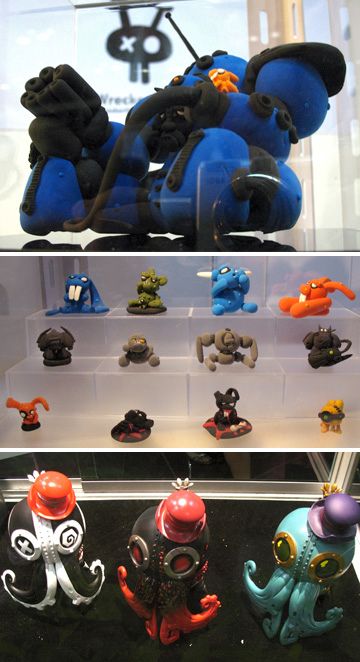 Playmobil's Egyptian & Unknown Heroine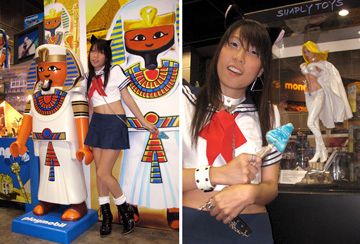 Soft Toys? Did you said 'soft toys' I love only certain soft toys! =P
Pikachu! Tiger & Lion, Unknown & PuffyFish! xD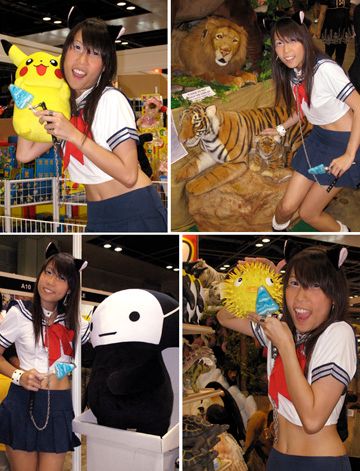 Then come the super heros, heroines & villains to save or destroy!
Terminator, 1 of my favorite movie & Batman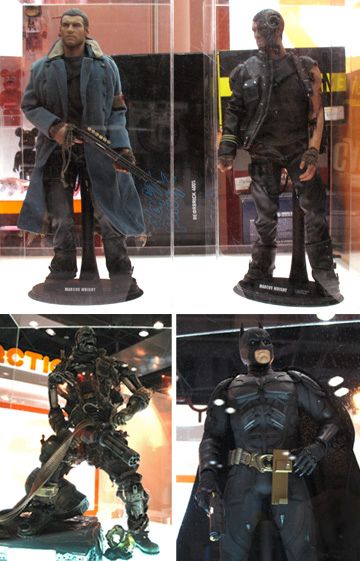 Too many to name & I dunno many of them! =P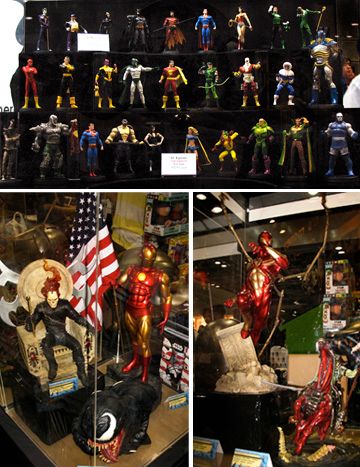 HellBoy, Spartan, Predator & Alien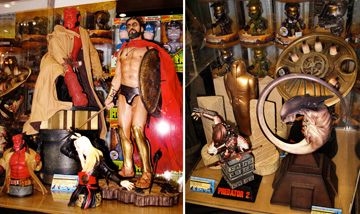 What? And a Barbarian screaming "Simply Toys!" =P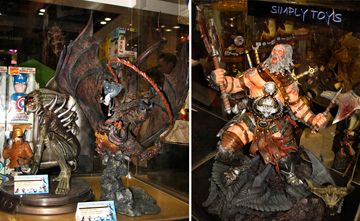 Aha! At last! I came across something which I'm more familiar with...
Full size helmets of Star Wars characters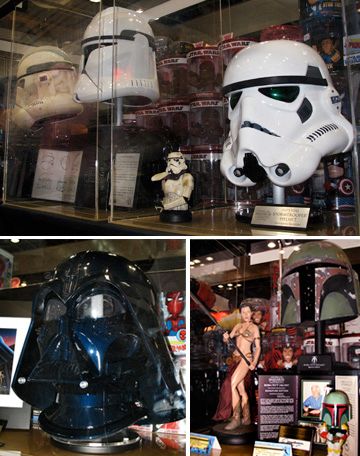 X-Wing & Light Sabers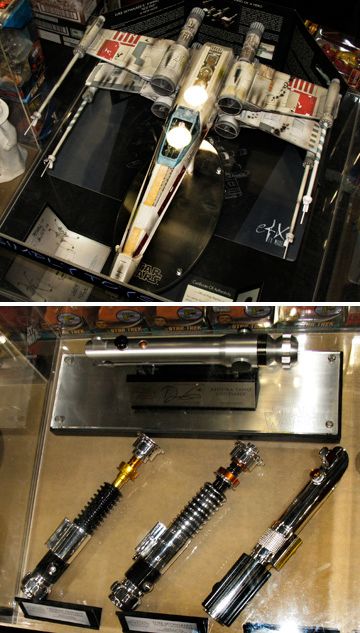 Many of the toys don't fancy me, but I simply love their posters! xD
Good CatGirl or Bad CatGirl? =P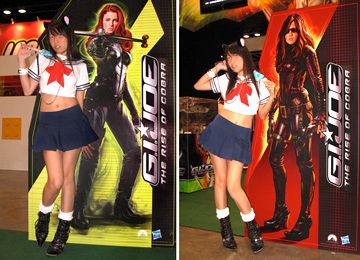 Transformed into a CatGirl! Hahaha... xD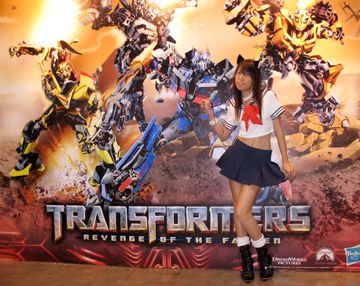 Hot Rocking Pretties!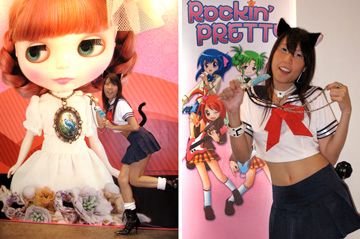 During my wandering, I got bitten by 2 rabid rabbits! To get my revenge on them, I joined the G-Force & kicked their butts! Take That! xD
Rabid Rabbits & G-Force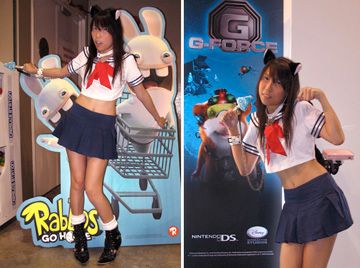 And who could help, but not pose with some of the costumers there? I'm a cam-hog, remember? LOL! =P
Game Girls & a baker with fake breads! xD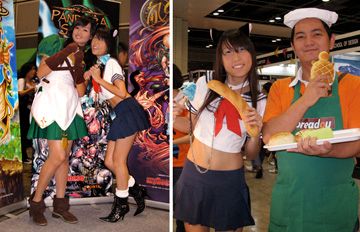 Some of my favorites are Star Wars characters!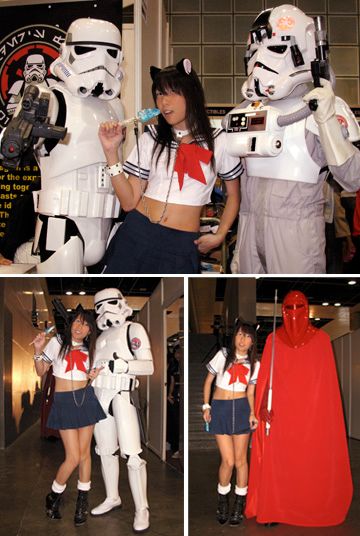 One of the places with lots of awesome costumes were at the
Movie Mania's
booth. They are the local producer of many fantastic sci-fi movies costumes & props. Movie Mania is also the co-organizer of this convention. Some of their members are my friends & as I'm a member of their online forum, I visited them to show support for their event.
@Movie Mania's booth with 1 of their display, Ironman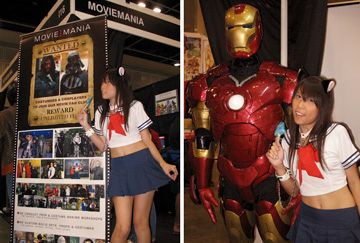 Karma Riders! The tallest 1 is Reno, founder of Movie Mania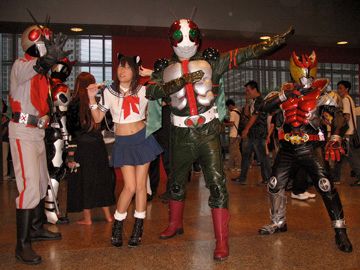 MM's Wolverine & I love Bumble Bee! xD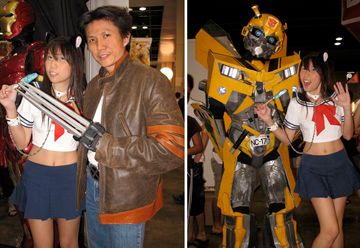 Some of those nice people at Movie Mania are Tim & Eugene who posed with me in their costume. Tim as Master Chief exchanged his weapon for my candy & Eugene as Storm Shadow stole my candy! Threatened a chop chop with a katana to make him give it back! LOL! xD
Master Candy Chief & Storm Candy-stealing Shadow =P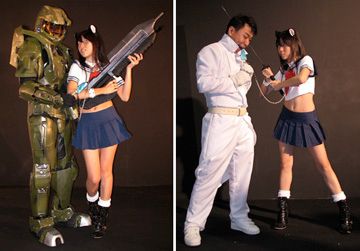 At the convention, there was also a cos-play contest going on. An array of cos-players got on stage to do their stunt before the judges. As I'm not much into anime, I dunno many of the characters portrayed. Still, some of those contestants put up quite an impressive performance.
Cos-play Contest

Individual category contestants on stage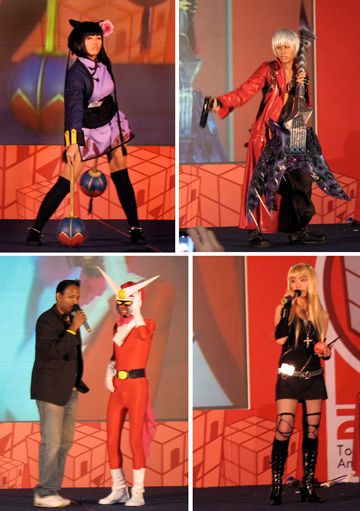 Some gorgeous costumes & even a Pikachu! xD


Team category's effort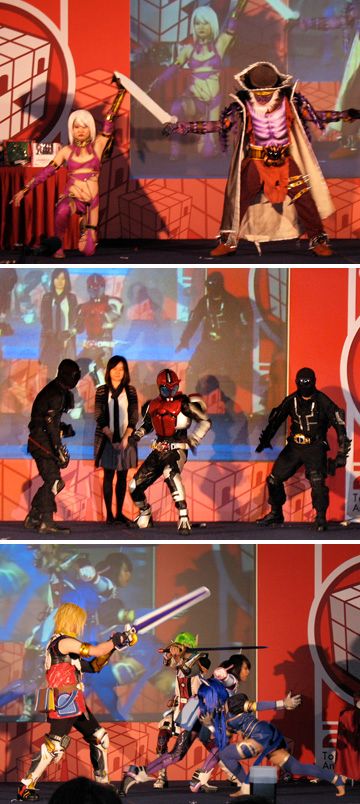 Finally, it's time to judge the winners. It's not easy as many of the contestants really had very elaborate costume & some with outstanding performance.
A line-up of cos-play contestants & the judges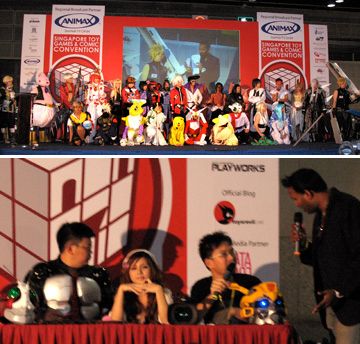 And the winners were...
Freedom Gundam took the the 1st prize.
Queen character from Blood Trinity walks away with the 2nd prize.
Dragonball bounced off with the 3rd prize.

Freedom Gundam, Queen from Blood Trinity & Dragonball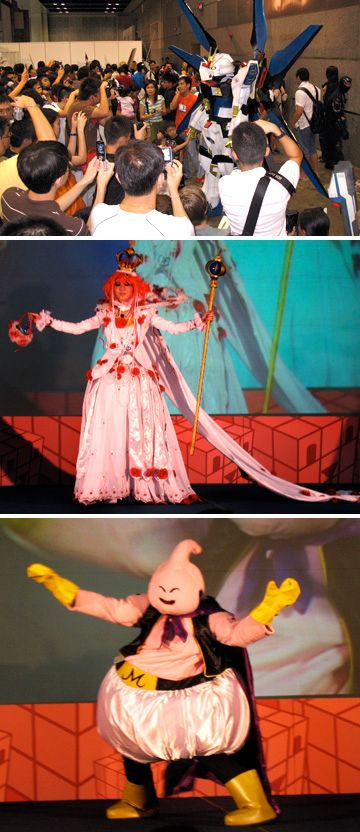 In my opinion, Freedom Gundam deserved the win. That remarkable costume must had weighs a ton & cost the owner a bomb! He couldn't even walk it up onto the stage! The Freedom Gundam was immensely popular with the crowd. You could hear the roar of approval even he was below the stage. The attention he got was amazing!
Speaking of which, the event organizers had set up an area with either black or white backdrop for photoshoot of cosplayers. I think it's a great idea! Attention seekers can pose to their heart content. I had my fair share too. =P
Photoshoots & me too! LOL! xD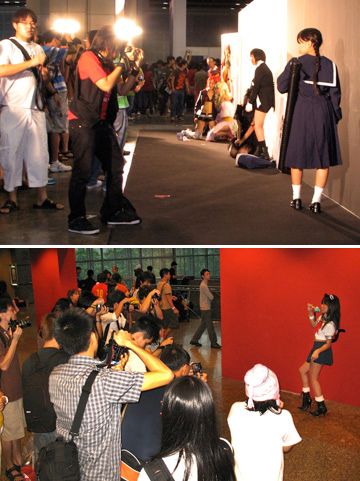 And I was also filmed by
klik.tv
, the official coverage of the convention.
My 2 seconds of fame @ 2:42 by klik.tv =P
After all those sexcitement, I'm feeling hungry & we went for a Japanese dinner. My favorite food to complete a fabulous day!
CatGirl Loves Japanese Food! xD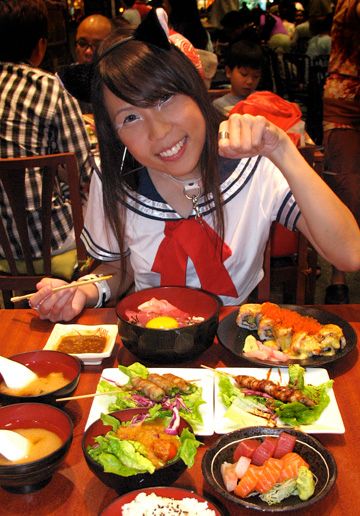 Labels: Event