CosFest 08
6th July 2008 ~ Cosfest is here again! Was in eager anticipation & excited for a whole week before the event. It was held at the same location as last year - DownTown East. So to the East of the island I went.
CosFest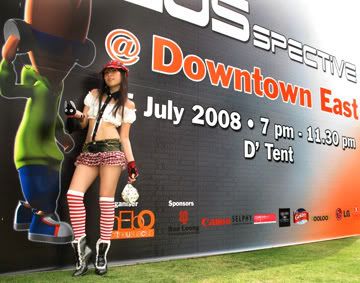 This time, I went with a long time buddy & his foreigner colleagues, all whom have never seen cos-playing before. They don't know much about cos-playing & are keen to experience what's it's about. It's quite an eyes opening occurrence for them on that day.

Me with my friends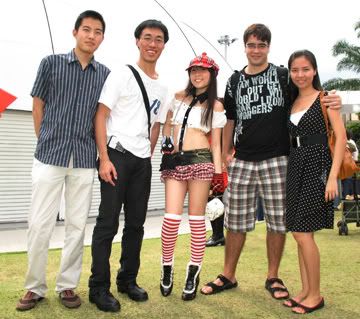 With these tall guys, I look so short! xD
From left to right: Jun Zheng from China, James my buddy, me, Ivan from Spain & his Vietnamese wife. They are all IT programmers working in Singapore. A bit geeky, but very nice people. =P
We arrived at the venue at about 3pm. This year, the event was held inside just one hall instead of two as of last year. As expected, it was people mountain, people sea.

The inside crowd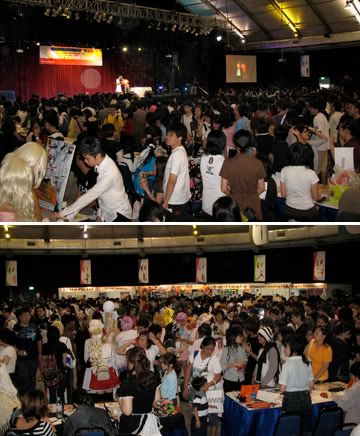 Items for sale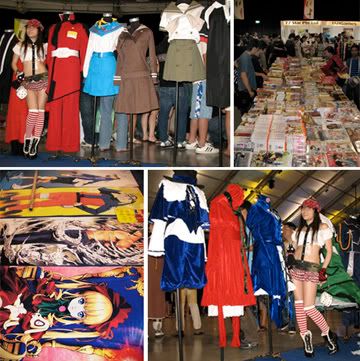 Outside, it's less crowded. However, it was no better as the weather was freaking hot! Pity those cos-players with heavy, thick costumes!

The outside crowd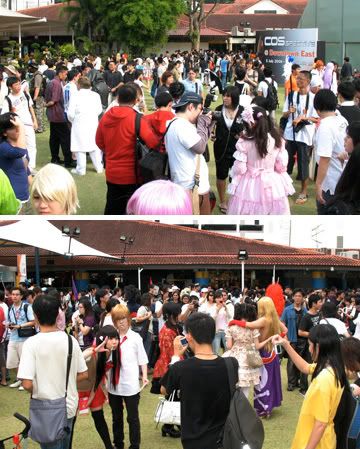 And the main attraction of the event are cos-players of course! Drawing the attention of visitors with their amazing costumes & actions. They are getting better & better at their hobby with each pasting year.

Attractive Cos-players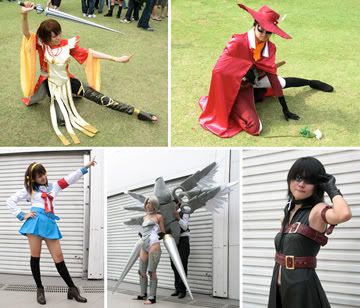 Posing for cameras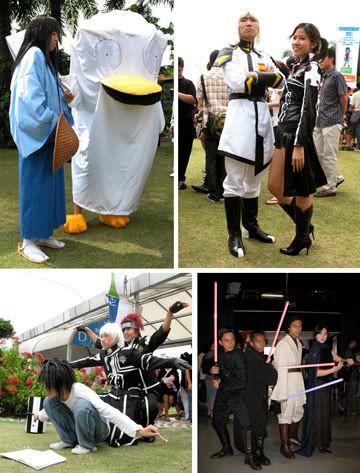 Cos-playing teams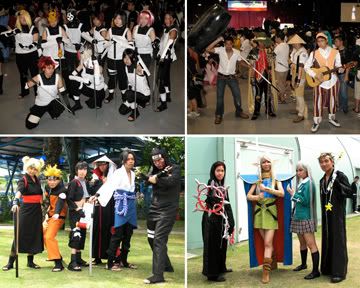 And of course we went posing with cos-players, not that we wanna snatch the limelight away from them, but rather wanting a pic for memories. In most cases, people tend to choose the good ones to have a pic with. In fact, it's sort like paying compliments to cos-players when people want to pose with them.
A warm heartfelt thank you to those who posed with us & congrats on the awesome progress you people had achieved in your hobby.
My blog/album have a standard regarding pics. No lousy pics! If I put up any pic of cos-players, they can be proud of themselves! xD

A cos-play team & us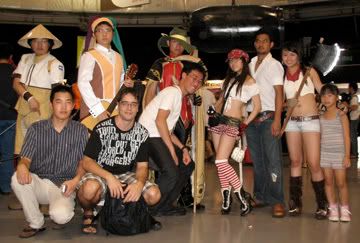 Excited by cool Jedis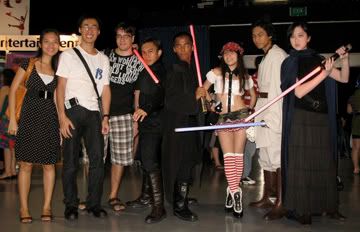 Beside me, Ivan is most enthusiast for pics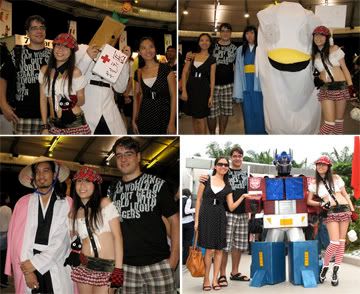 As always, I went one on one with some cos-players. xD

Gundam, Guitar Robot, Captain from Last Exile & a Musketeer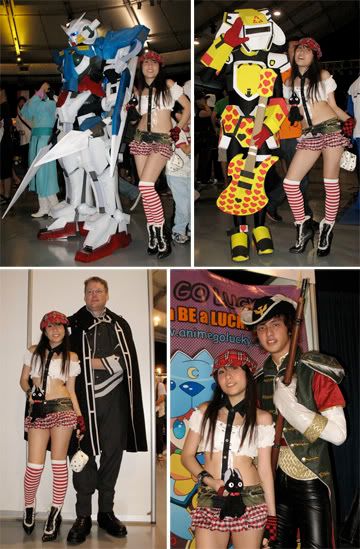 A pair of Gundam characters & a wannabe Rambo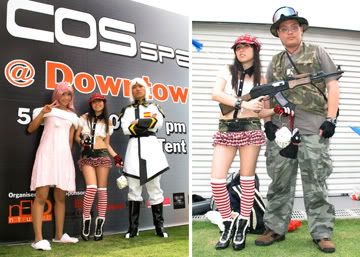 Brave & protective SWAT team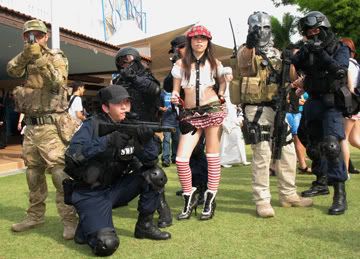 I think the cutest cos-player of all is a adorable little girl & the most spectacular is the guy in the flamboyant Ironman suit.

Tiny cute cos-player & the towering Ironman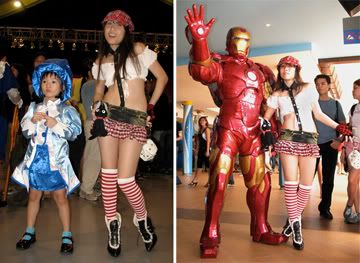 Also captured some casual pics...

Bored Dolls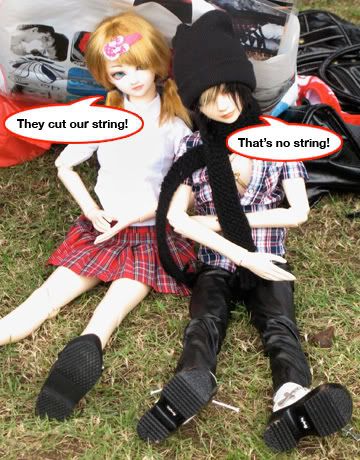 Byplay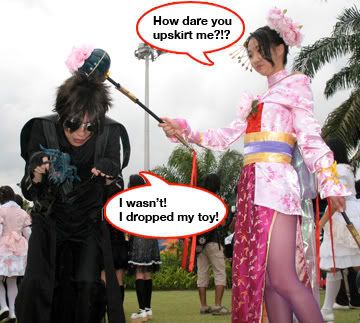 Goliath meet David... eh Davidian?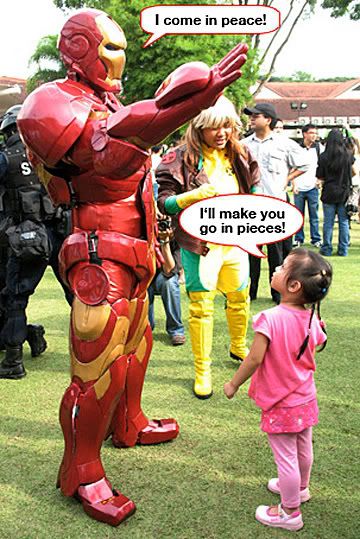 And now for some shameless self-posing.

On a killing spree with a cat for bait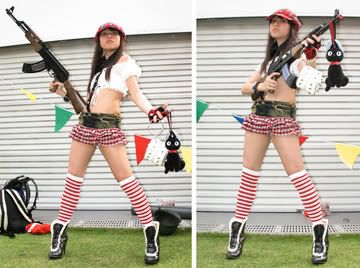 To clear the air, the gun wasn't stolen. It was lend to me by that soldier boy from the above pic. I didn't even ask for it. When I approached him for a pic, he voluntarily handed me his AK-47. In fact, contrary to gossip, all the props that I posed with were lend to me by cos-players, with their full permission. Some of those props belong to cos-players whom are my friends. Please get the facts right before flaming me regarding this issue!
In any hostile situation, some zombies sure gonna pay & lose their heads if they didn't duck fast enough. With my wild merciless shooting, bound to have collateral damage. LOL! =P

Victim of friendly fire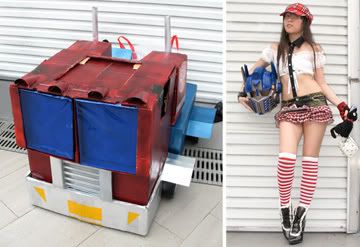 I really enjoyed myself tremendously at CosFest 08, especially with such nice friends accompanying me. They enjoyed the experience as much as I did & hopefully, I will have more friends with me next time.
Take care, be nice & cya at the next cos-play event!

My name is Nikita, the assassin