Go Wild @Pasir Ris Park & Mangroves
13th Mar, 2011 ~ Most of the parks I visited recently(in my previous entries) are tame. Since changing from a tomboy to a girlie female, I'd turned soft. Afraid of creepy crawlies, insect bites, getting dirty & all those rough nature outdoor stuffs. Hate the oppressive heat & humidity, making me sticky after sweating like a horse! Will someone please invent a small & light portable personal air-con! And damnit, biting insects, go away! Not in the wilderness yet & I got bitten while the guys with me were untouched! My blood is sweeter or what?!? Grrrrr... *Hamster cursing & sweaing!
Sigh... to connect with Mother Nature, some sacrifices have to be made. I shall prevail! 1 small step at a time. So, small steps Hamster went to
Pasir Ris Park
& tested its small mangrove forest.
First, I went to the nearby fishing pond to prepared myself for the wilder side of life. Small steps, remember? =P
@Pasir Ris Fishing Pond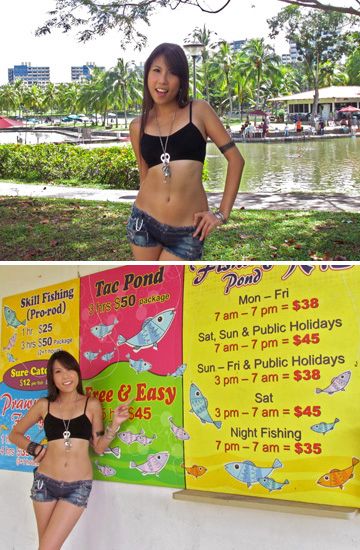 Big Rock & Giant Crab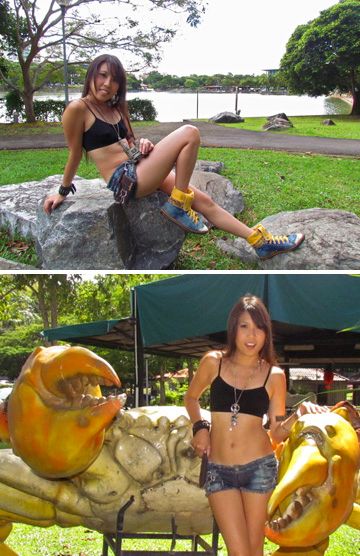 While the pond is popular with fishing enthusiasts, the surrounding areas with its open space & cool shades from ornament trees is also a great place for picnic or just relax.
Rest & Relax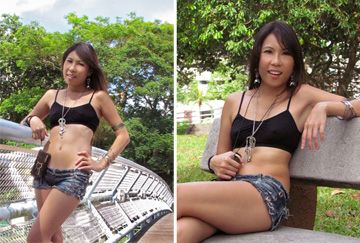 As I'm into avian photography, not much activities for me at the fishing ponds. Beside the usual noisy Mynas & Black-naped Orioles there are plenty of Sunbirds & the equally noisy White-collared Kingfishers. Saw a cluster of bats hanging high from a tree & the highlight was spotting a pair of Sunda Woodpeckers at their nest in 1 of the trees. This leads to a tragic tale which I will tell later.
Hanging Bats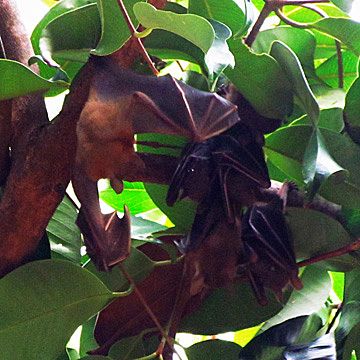 With 71 hectares of land, the coastal Pasir Ris Park is among 1 of the largest in Singapore. The full length of the park is around 6.6 km. The most popular area of the park is at the beach with BBQ pits, playgrounds, jogging & cycling tracks.
Beachside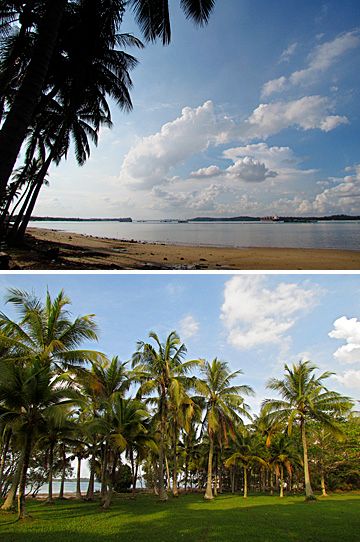 Within the park, at Sungei Tampines, a 6 hectare patch of mature mangrove forest was preserved. Wooden walkways allow visitors a close but comfortable look at the forest without getting muddy & educational signboards describe the biology of mangrove organisms. Birdwatchers will love the 3-storey high Bird Watching Tower. This
mangrove forest
is where my little steps took me.
Note:

'Sungei' means 'river' in the Malay language
@Sungei Tampines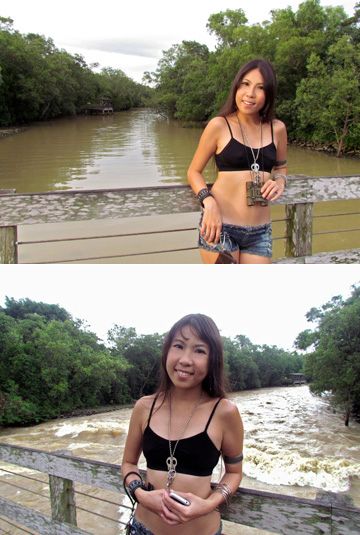 Walkways & Bird Watching Tower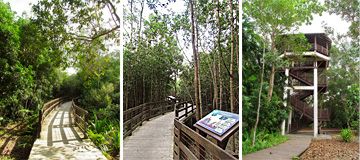 Educational Signboards
Compared to the tame park at the fishing ponds, this place is wild & so alive with nature! Yes, yes, I know its nothing compared to a 'real' jungle. Small steps into nature... =P
Beautiful Flowers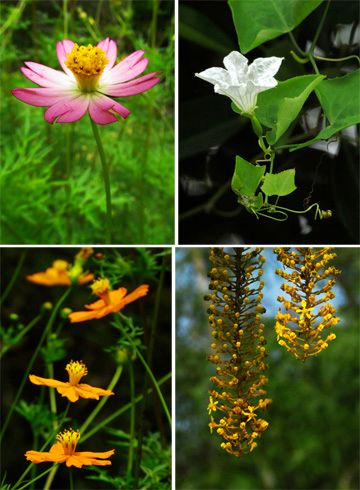 Weird Flora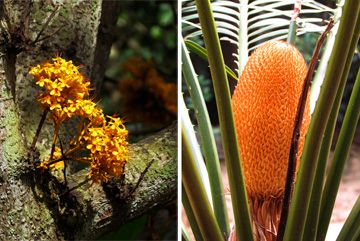 The Art of Plants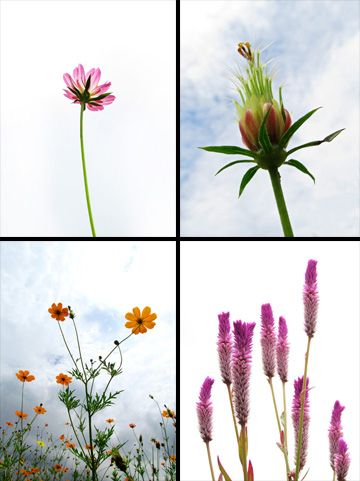 Got some lovely shots of the numerous butterflies flapping about.
From left to right, top to bottom: Peacock Pansy, Three Spot Grass Yellow, Common Palmfly & Green Oakblue.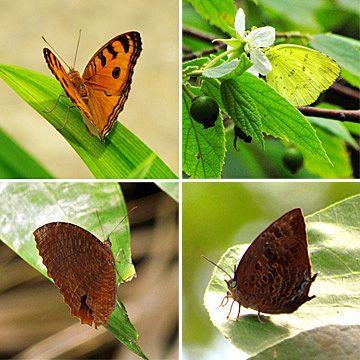 From left to right, top to bottom: Peacock Pansy, Blue Glassy Tiger, Lemon Emigrant & King Crow.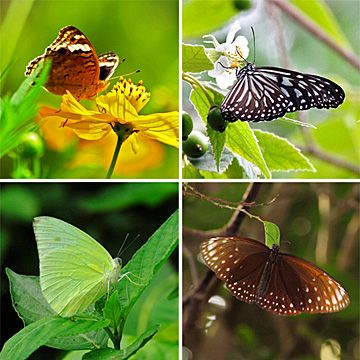 From left to right, top to bottom: Plain Tiger, Dark Glassy Tiger, Peacock Pansy & Spotted Black Crow.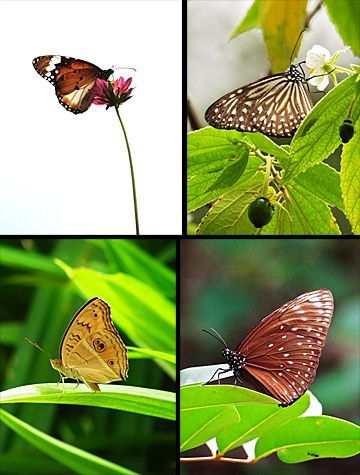 And a dragonfly species new to me.
Dragonfly (Can someone ID this species, please?)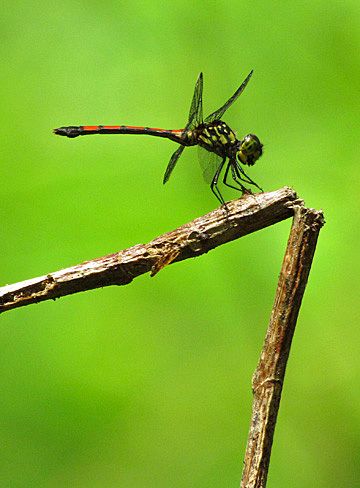 The hazards of a tropical jungle. Walking into webs is yuck!
Eeeeek! Spiders!
Golden Orb Spider(top image) & Cyrtophora cicatrosa(bottom image)
*Info provided by: "MooMooCow"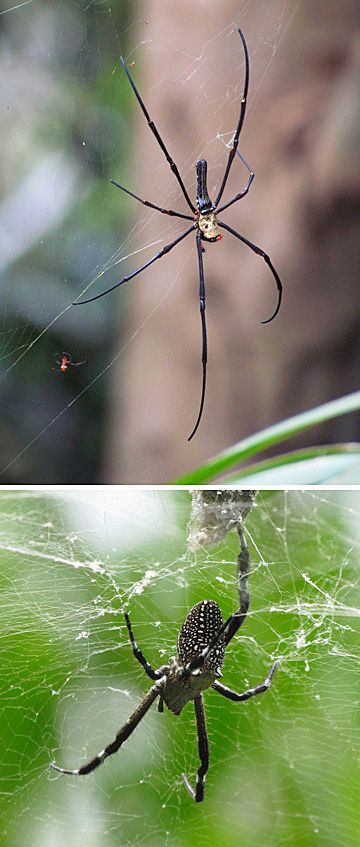 Home of the creepy crawlies...
From left to right, top to bottom: Ants nest, Wasps treehouse? Mud Lobster castle & Termites hill.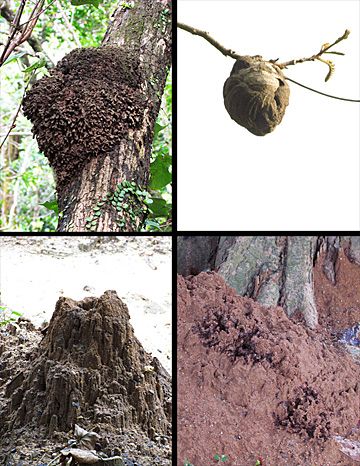 In the harsh & cruel jungle, its a fight for survival from the trees top to the mud & water below.
Common Gliding Lizard & a mangrove snake (species unknown to me).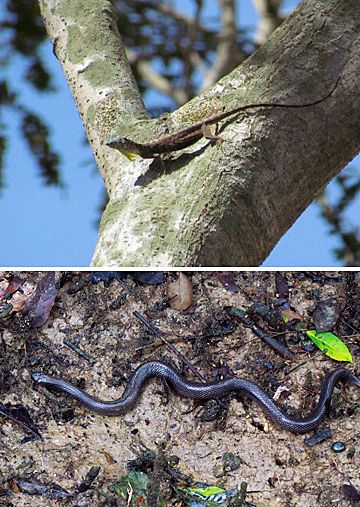 The snake in the above pic was killed later, assumedly by a Water Monitor Lizard which was sunning nearby. I saw the snake slithering slowly towards the Water Monitor. When I returned to the same spot about an hour later, snake was dead & the lizard was gone.
Swimming Water Monitors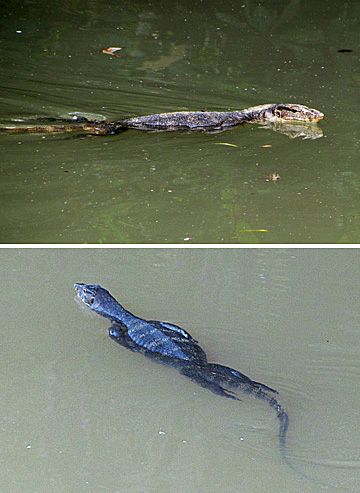 Water Monitor Lizard & Changeable Lizards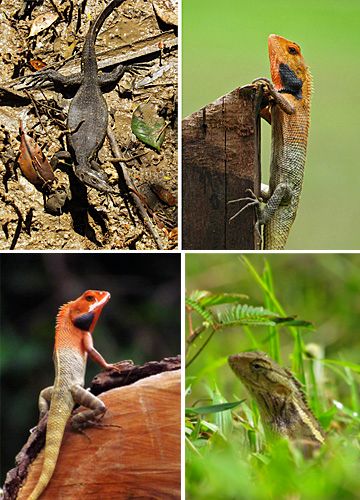 Witnessed a battle on the jungle floor. A Common Sun Skink had flushed out & captured a centipede.
Dinner Is Taken!
In the very slow or motionless fauna category...
Phylum Mollusk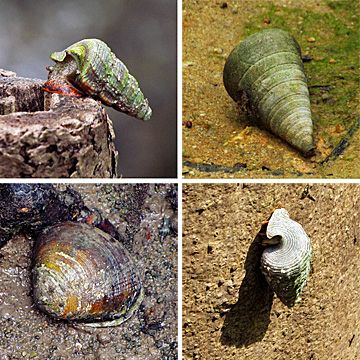 Did anyone mentioned chilli crabs?
Crabby Family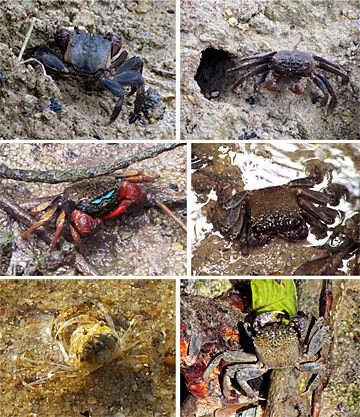 And they love to climb trees!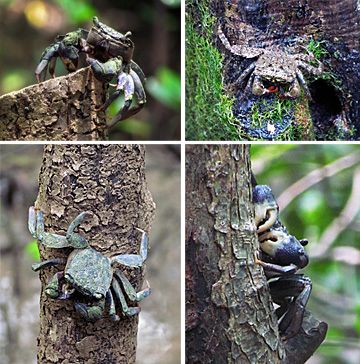 Encountered quite a number of photographers there. Not surprising as the mangrove forest is a haven for birds & a heaven for bird watchers/photographers. At the river banks, many species of water birds hunt, feed, roost, mate & build nest there.
Waterfront properties & diners at the river.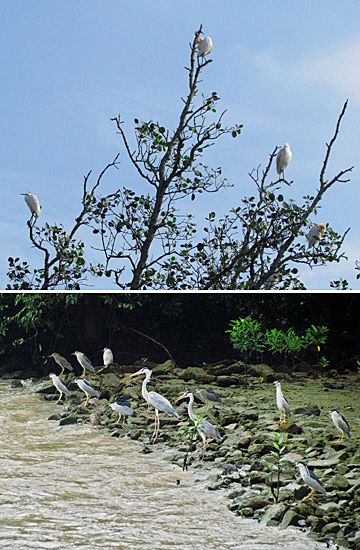 Home Sweet Home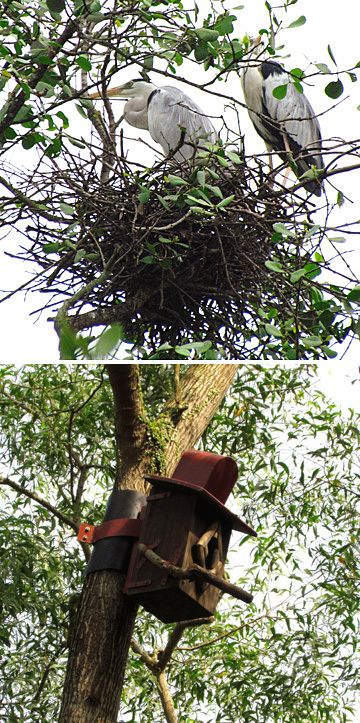 The bottom image in the above pic is a man-made Hornbill nest to encourage Hornbill to breed. Singapore is too urbanized with too few areas having big trees left, hence the artificial hornbill nests program. I didn't see any Hornbill around, but was told that there are always a few nearby. I might be going back for a pic of the Hornbill & tries to gets its autograph. LOL! =P
Beside the rarer Hornbill, there are an abundance of other birds in the mangrove forest. Many of them are so shy & unwilling to show themselves! I can hear them, caught glimpses of them flicking/hopping in the foliage, taunting me & refused to stay still for a decent portrait! Some are so timid that at 50m away, you took 2 steps towards them & they fly for dear life! It's so frustrating!
C'mon little birdies, I'm just a Harmless Hamster. Don't you wanna be immortalized in my blog & album? LOL! =P
Here are some good birdies who posed for me. xD
From left to right, top to bottom: Little Heron, juvenile Little Heron, a pair of Black-crowned Night Heron, adult & juvenile Black-crowned Night Heron, Eastern Cattle Egret, Little Egret & Grey Heron.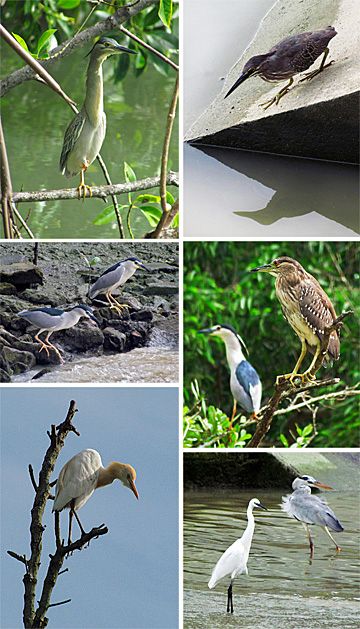 1 of my personal favorite species of birds is the Kingfishers. Till date, I'd taken pics of 4 species, but they are very very difficult to approach for a nice pic. Snobbish little birds!
The most common Kingfisher in Singapore got to be the White-collared Kingfisher. They are omnipresent at all parks I'd been to so far.
White-collared Kingfishers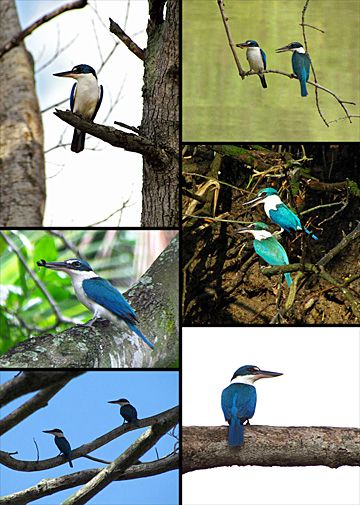 Saw 2 other species at Pasir Ris Park.
Stork-billed Kingfisher & White-throated Kingfisher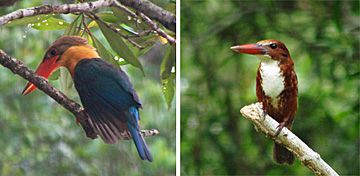 Was told there are also Black-capped Kingfishers at the mangrove forest. This is 1 species I'd not taken pics of & hoping for pics of them next time I visit.
Other species of birds I spotted at Pasir Ris Park were...
From left to right, top to bottom: Yellow-vented Bulbul, Pacific Swallows, Whimbrel & White-breasted Waterhen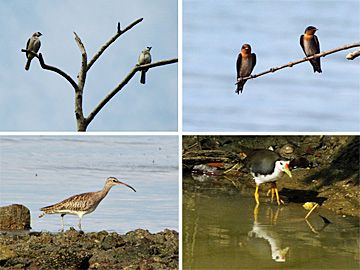 From left to right, top to bottom: Blue-throated Bee-eater, Pink-necked Green Pigeon, male Asian Koel, Ashy Tailorbird, Asian Brown Flycatcher & a juvenile Black-naped Oriole.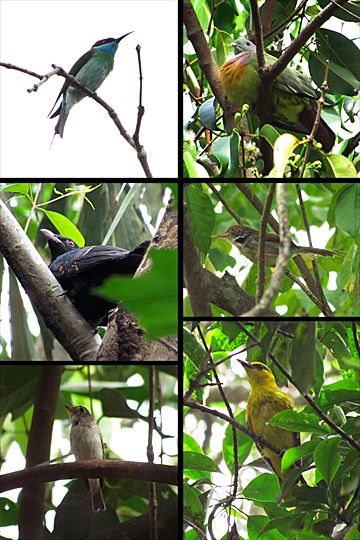 Now, to the tragic tale of the Sunda Woodpeckers. I spotted a nesting pair at the park & my shooting partner took a few pics. By watching their behaviors, we believe they have nestling. They would take turns going for the grocery. When 1 returned, it would land a distance from the nest, checking for threats. We were standing directly below their nest about 2 meters away. Guess they don't perceived us as a threat. After satisfying there's no threat, it would land on top of their hole-in-the-tree home & signal its mate by knocking on the wood with its beak. Its mate will pop out real fast in a flash.
A pair of Sunda Woodpeckers at their nest. The blurred image of the flying 1 is due to the low light condition at that time.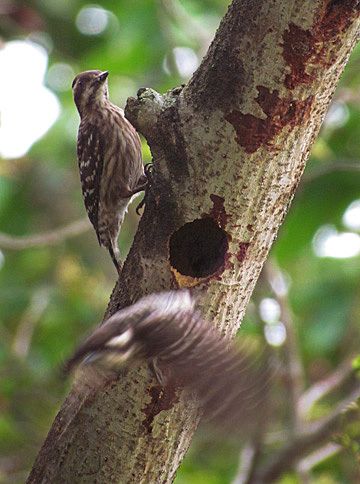 The next day, my guy went back, hoping for better light condition to get a clearer pic of 1 in flight. Just when he reached the site, 1 of the woodpecker flew out from the nest. My guy turned to follow its flight & suddenly, from a nearby tree swooped a hawk. The woodpecker is fast, but the hawk is faster. It caught the woodpecker in flight, u-turned & headed back to the tree. My guy instantly gave chase. He knew the fate of the poor woodpecker was sealed, but his impulsive furious thoughts to the hawk were: "Damnit! You spoiled my chance for a nice pic! Either give me back my woodpecker or a clear shot of you, idiot hawk!" The panicky hawk clutching its prey flew from tree to tree trying to escape. He lost it after the 6th flight, but got a few pics. The hunter or huntress I should say, is a female Japanese Sparrowhawk.
The female Japanese Sparrowhawk clutching my poor little woodpecker. =(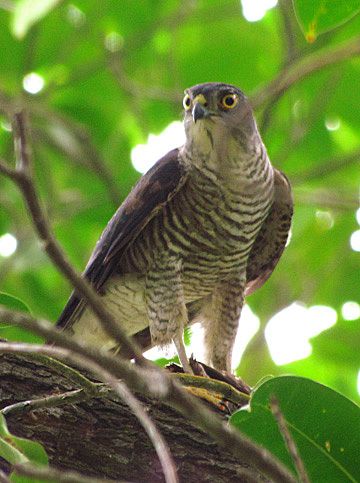 After hearing about this distressing event, I need some cheering up. When I went to the park again, the return happiness came in the form of a baby Spotted Wood Owl. It's so cute, bobbing its head up, down & sideway looking at us with those huge eyes. Such a joy watching it, knowing that at least, here's a success story.
Baby Spotted Wood Owl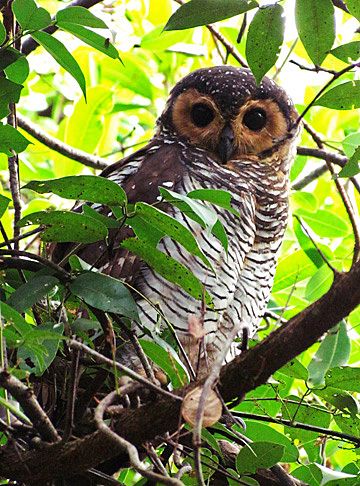 And beware. Mommy is watching nearby.
Mommy Spotted Wood Owl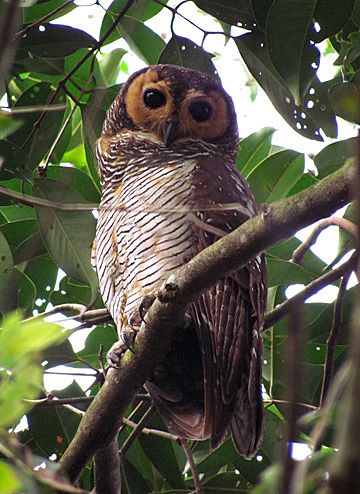 Spotted Wood Owl is the largest owl in Singapore & is considered critically endangered here mainly due to habitat destruction. It's no surprise that many species are in danger in a small, but very urbanized island. With the recent population increase, more & more forested area will be cleared for housing. Too many city dwellers do not know how to appreciate or care about nature.
Please Keep Mother Nature Alive.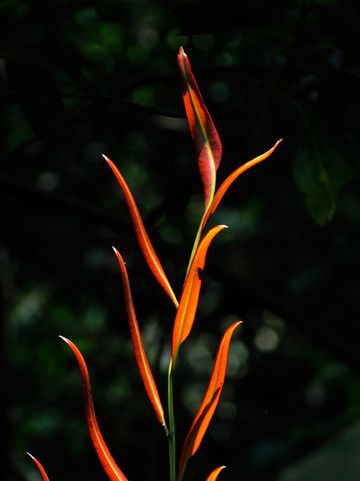 Her Demise Is Our Doom!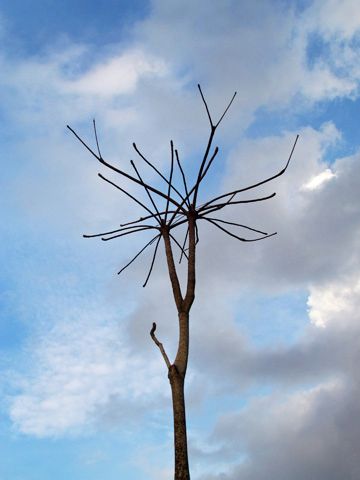 Love Her & Love Her Well!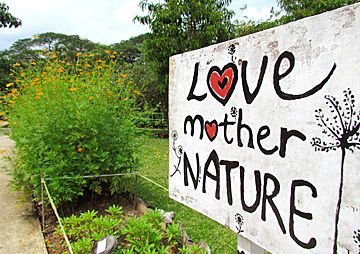 Note to readers:

There might be error in my identification of species or some species name were left out due to my limited knowledge. If so, please help to rectify or clarify. Thanks in advance!
Labels: Nature