Ao Nang, Krabi, Thailand
23rd - 27th May, 2011 ~ I needed a vacation & my guy suggested Krabi. It was a gamble coz it would be monsoon season at Krabi when we arrive. Monsoon means heavy and/or long period of rainfall. The raining season at Krabi is from May to October. Raining weather also mean off-peak period for tourists. By avoiding the peak season, everything is much cheaper & since Krabi is a popular seaside resort, the beaches would be less crowded.
Booking flight & resort through the Internet also saved us a bundle. My guy was betting on the instability of the monsoon wind that controls Krabi's weather & it paid off. Except for a couple of hours of rain late at night, it didn't rain during daytime when we were in Krabi.
I Am Flying



Flying Hamster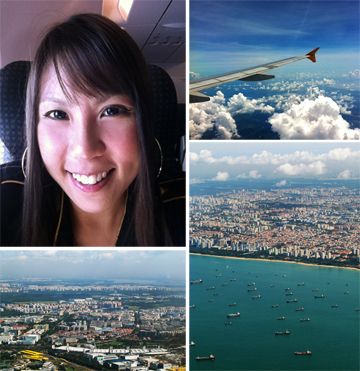 On Our Way To Krabi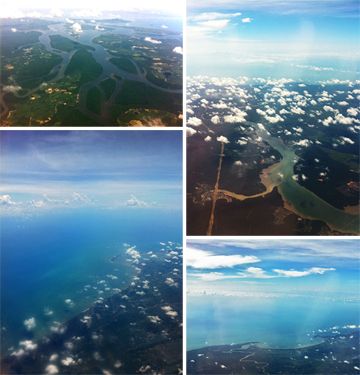 Upon arriving at Krabi International Airport, we took the airport shuttle bus to Ao Nang where the resort is. Aonang Buri Resort is not really a fancy place, but adequate for our needs. It is decent, clean, reasonably priced & situated a little distance away from the town center. Quiet & most importantly, directly in front is the beach.
@Ao Nang Buri Resort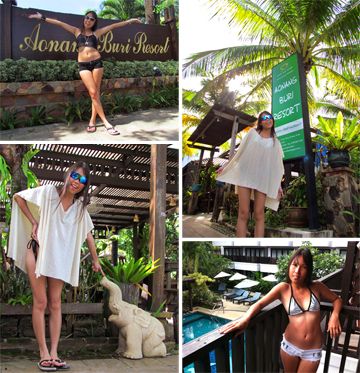 PoolSide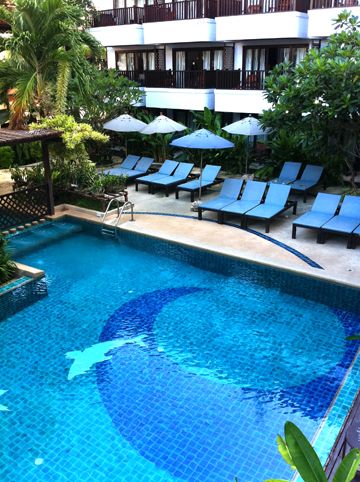 An expensive luxury resort with classy facilities is not necessary as we are not the type to stay in while we were on vacation. In any foreign place, we will be out all day exploring.
I Am In Thailand!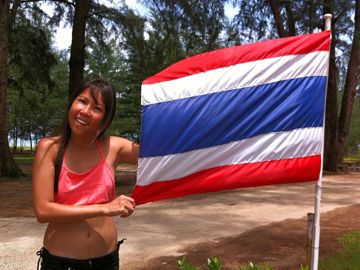 Orientating yourselves in Ao Nang is easy. A street runs along the beach from West to East
(Beach Road)
& turn sharply North
(Airport Road/Highway 4203)
at the East end. The East end of Beach Road is the town center. At the West end is the PeePee Islands National Park which unfortunately, I did not have the time to explore.
Ao Nang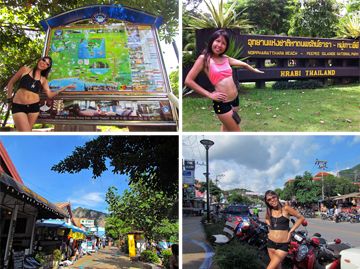 Ao Nang is the most 'Westernized' beach in Krabi. Most locals are able to speak a smattering of English. Most of Ao Nang's establishments are located at the town center. Shops, mini-marts, tour agencies, bike/car rentals, cafes/restaurants, pubs/bars, spas, massage parlors all jammed together. According to my guy, not as bad as Potong Beach at Phuket which is too commercialized. Ao Nang still has the lay back rustic feel & yet, you can get whatever needed for a nice beach holiday.
Lay-back Lifestyle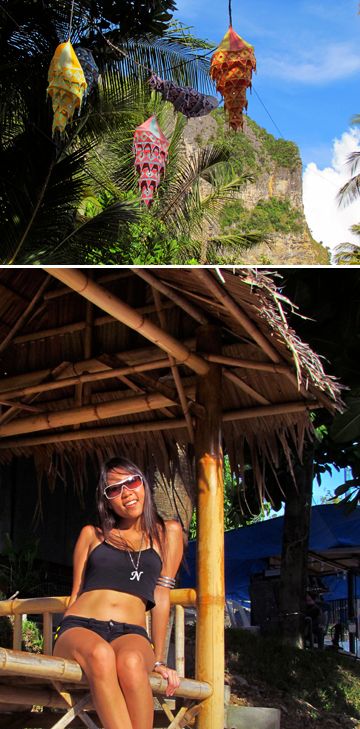 Rustic Ao Nang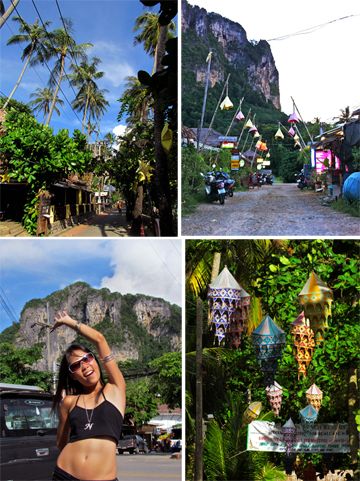 Resort/Hotels & Restaurants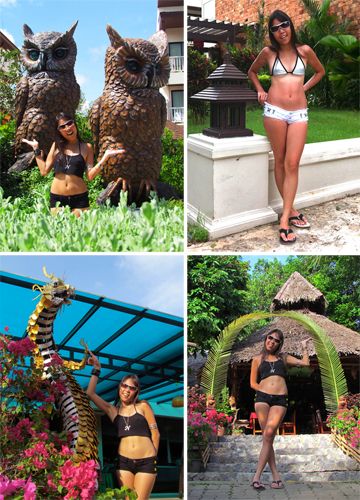 Arts & Handicrafts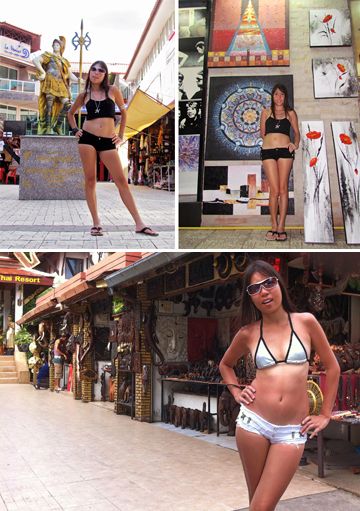 Included here are some other interesting sights at Ao Nang. A rocking horse from a carousel outside a souvenir shop, Ao Nang police station, iPhone & Blackberry restore/jailbreak/unlock? & a tsunami warning sign, a grim reminder of the 2004 tsunami which had devastated the South-Western shore of Thailand, including Phuket, Krabi & the Phi Phi Islands.
Interesting Sights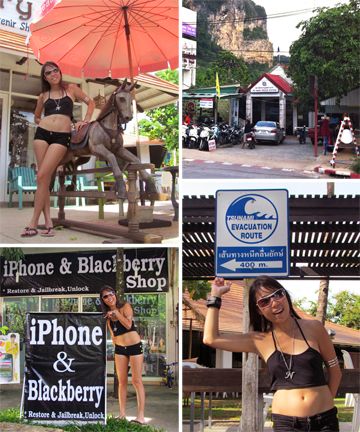 And some wacky vehicles at Ao Nang...
Pimp My Ride?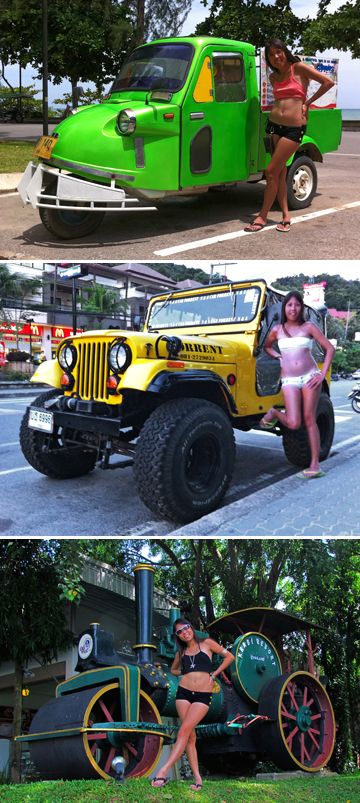 I can anticipate what the next immediate question many Singaporean will ask. "What about food?" I'd heard tales of people packing lots of instant noodles with them while traveling aboard coz they are afraid of unfamiliar food! Geez...
Plenty of varieties of food at Ao Nang. From the street vendors
(for the braver souls)
to local cafe, seafood & western restaurants. Choice of food is not a problem in Ao Nang.
Street Vendors & Seafood Restaurant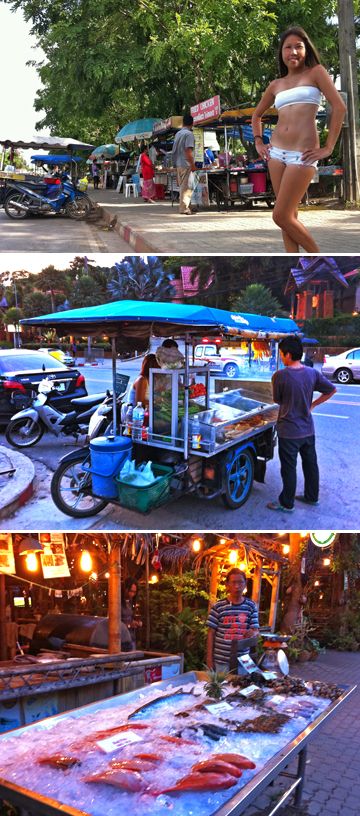 The below pics will be familiar sight to Singaporean. =P
Familiar Enough?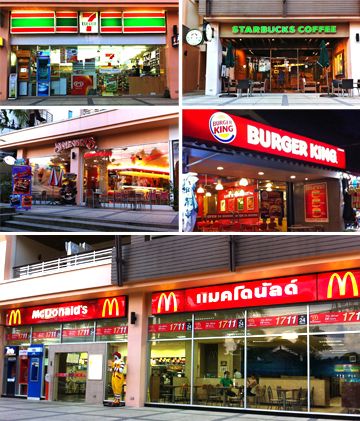 What did I eat at Ao Nang? xD
Breakfasts were included in the room rate.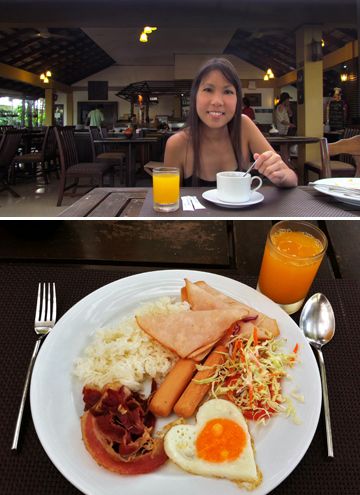 Lunches & dinners were at various Italian cafes/restaurants. I ain't adventurous in regards to food. Counted at least 5 ~ 6 Italian eateries in Ao Nang & I preferred western cuisines anyway. =P
Pasta alla carbonara, grilled barracuda, Club sandwiches with asparagus soup & Hawaiian pizza.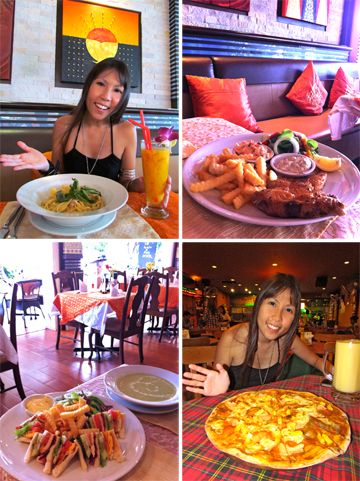 Drank fresh mango juice everyday, Piña Colada as cocktail, chocolate sundae for dessert & every evening, I bought a fresh coconut from a mini-mart to drink in my room. That's life! =P
Drinks & Ice-cream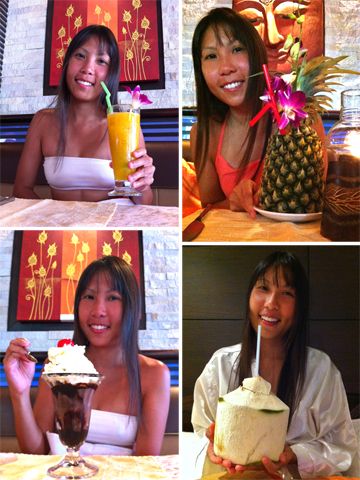 Wi-Fi is available at all the cafes/restaurants I dined at. Having delicious food while updating my FaceBook is fabulous. LOL! =P
My favorite restaurant at Ao Nang is Aning Restaurant which is located at the town center. Dined there 3 times during my 5 days stay. Friendly staffs, nice ambience & great food.
Me @Aning & with staffs.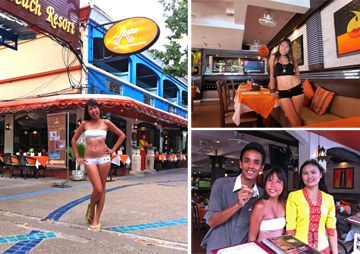 *Note:
Came across some bad reviews about Aning Restaurant while I was researching when writing this entry. Whatever were bad wasn't in evidence when I was there. Noticed that most negative comments were made in 2010. Most probably the management or staffs had changed since there isn't anymore bad remarks in 2011. To clear the air, I wasn't employed to do promotion for them. =P
As my travel-experienced guy said, in a strange place or foreign land, always start by checking out the surrounding resources & people, in case of needs. We had done the town on the afternoon immediately after our arrival. Now to hit the Beach!
Ao Nang itself has 2 idyllic, unspoiled beaches separated by a small hillock. Ao Nang Beach is on the East & Nopparat Thara Beach at the West. Personally, I find Nopparat Thara Beach is better. Cleaner with almost no boat at the shore & fewer people. And it is right outside the resort we were at.
Nopparat Thara Beach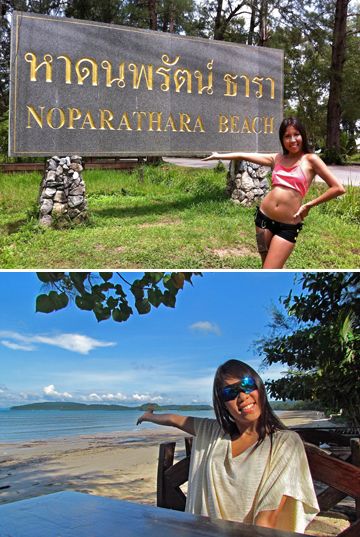 Beautiful Beach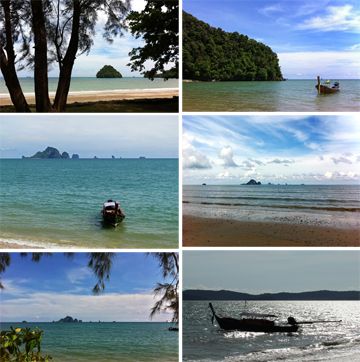 Usually when at a beach, I don't just admire the view. I'm a beachcomber. Well, not exactly. Just love taking pics of whatever creatures I found on the sand. While walking along Nopparat Thara Beach, we came upon quite a number of dead crabs.
Crab Deaths
And many live ones too...
Beach Crabs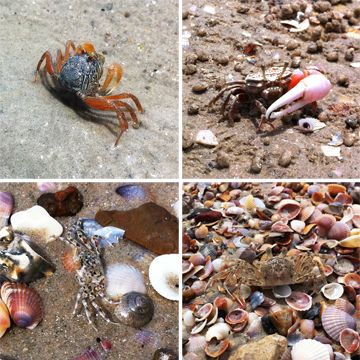 Didn't see much seashells at Ao Nang Beach, but found plenty of them at Nopparat Thara Beach where in many spots, they were deposited in piles by the waves & there are more varieties of species at the West end, near the river mouth. Just for fun, I collected about 10 shells & a sand dollar test. For memory of a lovely place.
SeaShells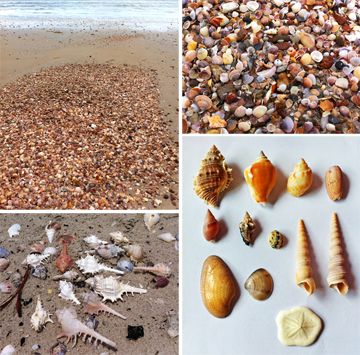 She sells seashells on a seashore? No, She-Hamster is cam-hogging on a seashore! LOL! =P
Beach Hamster!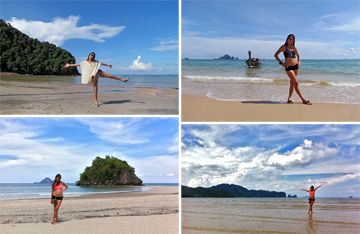 Hamster At A SeaShore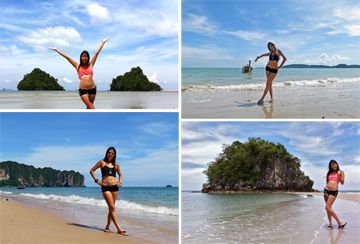 The beaches at Ao Nang are as beautiful as proclaimed by many.
Sunset @Ao Nang
The numerous islands dotting the Andaman Sea around Krabi are renowned for their strange limestone formation & pristine beaches. The only way to access those marvels is by boats. Krabi with its accessibility is the best jump-off point for exploring those jewel isles. So we went on an island hopping exploration
*Rant:
Our first tour is a disaster. My egotistic bozo got the camera drowned! Instead of waiting patiently for the people to get off the boat when arriving at the first island, he jumped off into the shallow water from the bow, lost his balance & plunged into the water, wetting the canvas bag he was carrying the camera with. My stupid idiot is waterproof, but the camera is not! It drank sea water & died. I am so bloody pissed off! No pics from the first tour!
*End of rant.
To pacify me, he booked a second tour, a more expensive one than the previous. All the pics from then on were taken by my iPhone. Apple saved the day! =D
That camera drowning experience was also a blessing in disguise. It enabled me to compare the 2 tours & learned something from the whole episode. The first tour we booked is the cheapest among the selections. The second is slightly pricier. Low fare tour means you travel by slow longtail boat. Pay a little more & you travel in style by speedboat. The speed does make a difference. Whether you are on a longtail or a speed boat, most island tours consist of 4 ~ 5 stops at various islands & the total time span of all the tours are the same: 9 am ~ 4 pm. Therefore the faster you get to your destinations, the more time you will have at each location. Lower fare also means more people on a single boat & crowded noisy island.
Our first island tour is the 4 Islands Tour & the second
(much better)
is Hong Island Tour. Based on my personal experiences, I would recommend traveling by speedboat. The rates are slightly higher, but worth it. In my opinion, camera drowning not withstanding, our second, pricey tour
(Hong Island by speedboat)
goes to more beautiful sites compared to our first, cheaper priced tour
(4 Islands by longtail boat)
. Another difference about longtail & speedboat is how they beached to off-load passengers. It's much easier & faster to get on/off a speedboat than a longtail. The longtail have to beach by the bow & passengers get on/off by step ladders attached to the high bow, whereas a speedboat can reverse & beach at the stern, letting off passengers with small built-in steps behind the boat. Our camera won't drown if we had travel on speedboat on our first tour. In some of my pics below, you can compare the difference of how the longtails & speedboats beached/parked at designated stops.
Here are some addition info/tips regarding Krabi island tours:
1: In Ao Nang, there are numerous tour agencies offering the same tours by the same operators. A numbers of these tour agents operate from just a small table by the street & some touted themselves as 'Tourist Information'. Our tours were booked from 2 different agents, but both tours were conducted by the same tour operator called Barracudas Tour. Check around if you have the time. Our 2nd tour was a steal. Didn't realize it until having a causal conversation with a group of tourists on the same boat. They thought they had got away with a real bargain & raise the subject about theirs/our tour fare. Found out that we paid a much much lower rate. =P
2: The rates
(usually higher)
printed on tour operators' brochures are normally not the actual rates. Rates written on whiteboard at the agents' counter are usually not negotiable.
3: Check with the tour agent for option of refund if it rains before pick-up time or boarding the boat.
4: Pick-up from your resort to the boat & drop-off at your resort after the tour is included in the tour rates.
5: Lunch & drinks are included in the price. Mask with snorkel & floatation vest will be provided free by the tour operator.
6: Itinerary are changeable by the tour operators.
7: Get a waterproof bag. Expect to get thoroughly wet getting off & on boat. There is no jetty at the beaches.
8: Bring along bread or fish food for fish feeding fun if you are into this sort of activity. Personally, I love it! =P
Below are some pics taken on my second island tour
(Hong Island)
. Itinerary were as follows:
Pick-up from our resort at 8.45 am to the gathering point at Ao Nang Beach for boarding the speedboat.
@Gathering Point & Boarding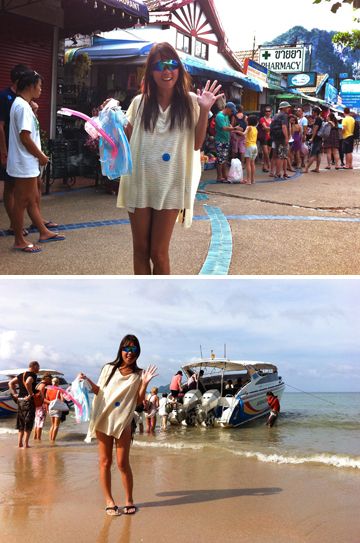 Ready To Go! xD
It was a clear & beautiful day for island hopping.
Lovely Andaman Sea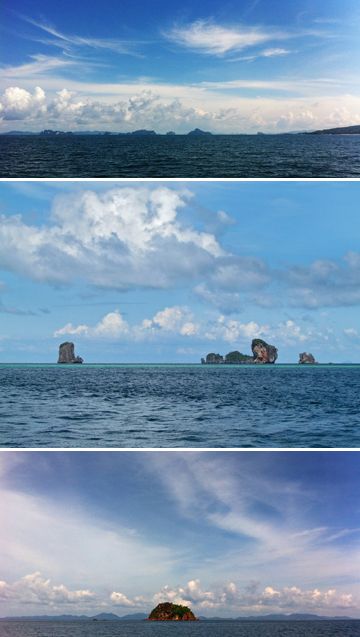 Exquisitely Sculpted Islands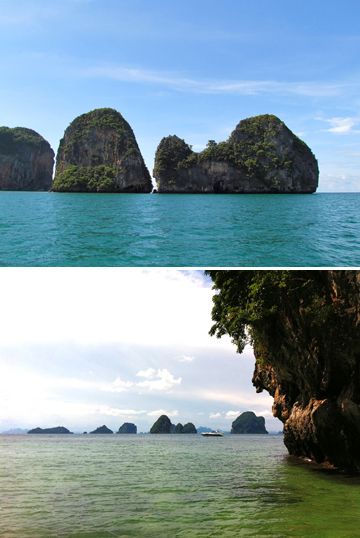 First stop is Daeng Island for snorkeling. Daeng means 'red' in the Thai language. The corals were a disappointment. Not as beautiful as those I'd seen on my
Tioman trip
. No matter. Where there is clear water for me to snorkel, I'm happy. xD
Snorkeling @Daeng Island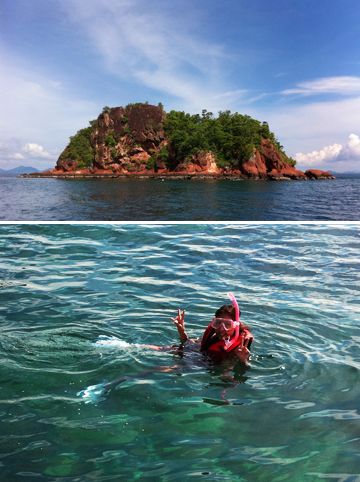 From Daeng Island, we headed for Pakbia Island, our 2nd stop for the day. Hah, this is better! Pakbia Island has a picturesque lagoon with clean, clear water. It should be named as Mushroom Lagoon coz there's a worn limestone formation shaped like a huge mushroom at the left of the lagoon. =P
Pakbia Island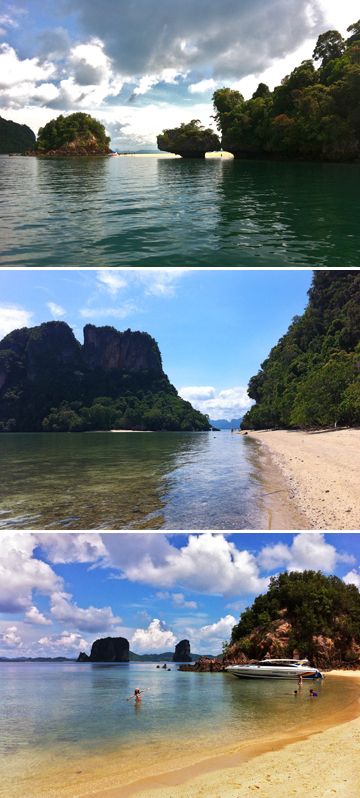 @Mushroom Lagoon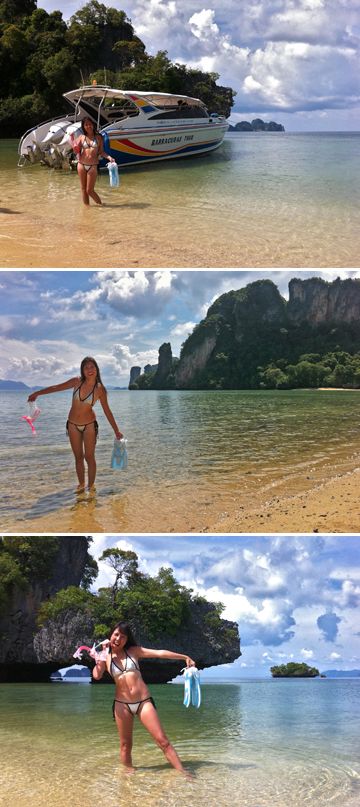 Snorkeling For Mushroom? =P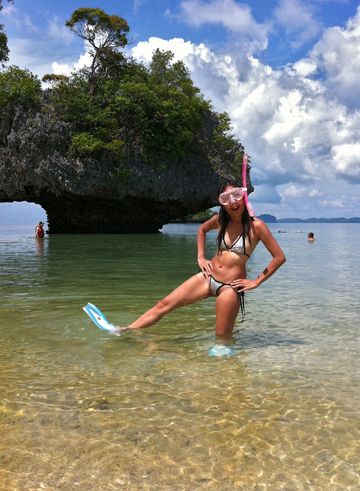 Next, we stopped for lunch at Lading Island & we brought lunch for the fishes there as well. =P
@Lading Island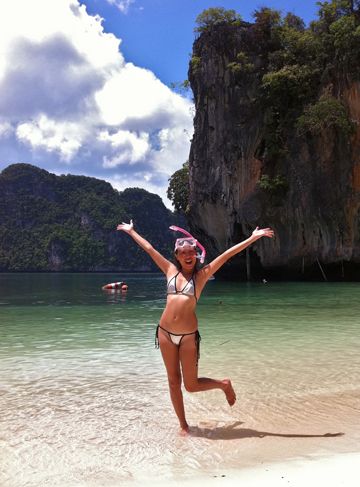 Swinging & Fish Feeding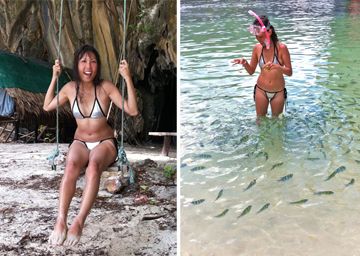 Feeding Fishies

The next destination was supposed to be Hong Lagoon, but when we got to the narrow entrance leading into the lagoon, the tide was too low for the boat. Our guide told us that we will come back later when the tide is higher.
Entrance To Hong Lagoon & We Will Be Back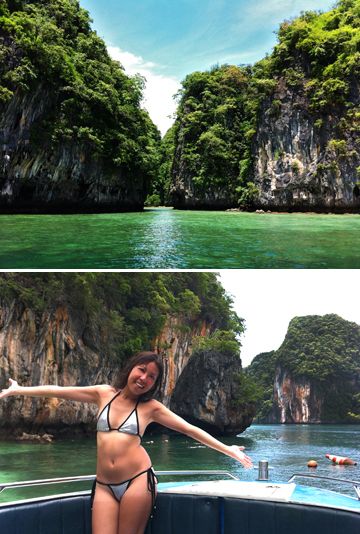 While waiting for the tide to turn, we proceeded to a beach at Hong Island. It is in fact, 2 beaches separated by a narrow rock formation jutting out at the shoreline & a little into the sea. A longer beach with a smaller & more enclosed one, side by side looking like double coves. The more open beach is for parking the boats while the passengers have fun at the smaller cove.
@Hong Island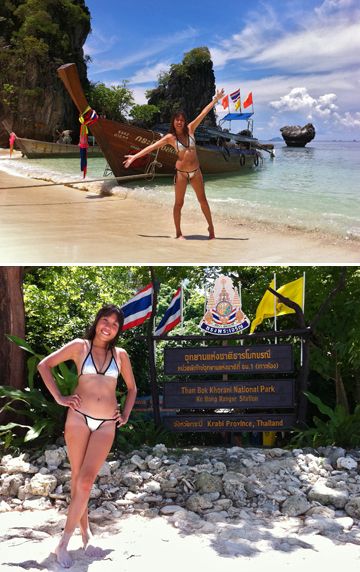 The small cove is such a delightful sight. The rock formation nearly encircling it, leaving a narrow exit out to sea. Blue sky, clear calm water, soft white sand & a magical cove makes a perfect beach holiday picture. What more can you ask for? A beach girl? How about little Mermaid Hamster me? LOL! =P
@The Magical Cove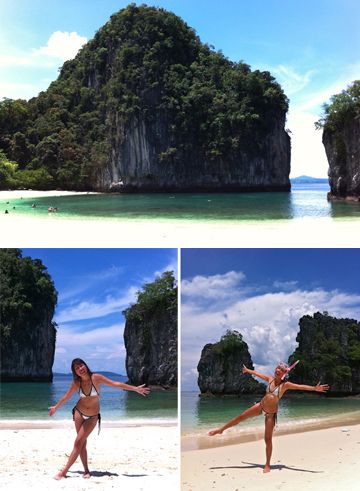 Mermaid Hamster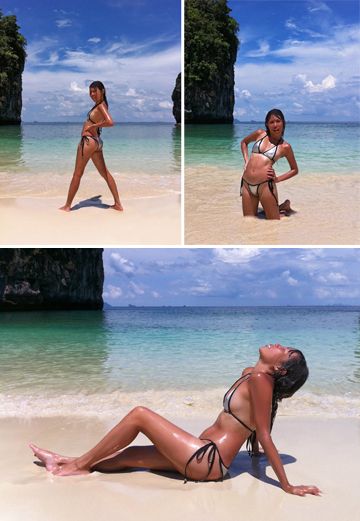 We stayed at The Cove for about 2 hours before the boat crew came summoning us for our next destination. Till date, the Magical Cove @Hong Island is my most enjoyable beach moment! This is precisely what I went to Krabi for!
Perfect Beach Holiday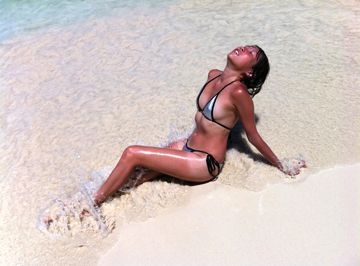 The tide had returned & back to Hong Lagoon we went. Imagine a very shallow lagoon with a very narrow entrance, almost enclosed in by limestone cliffs which have interesting eroded features.
Hong Lagoon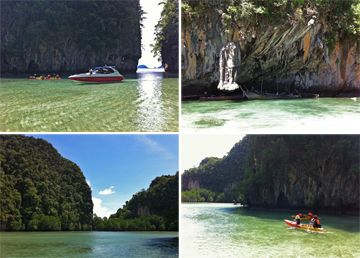 Narrow Entrance/Exit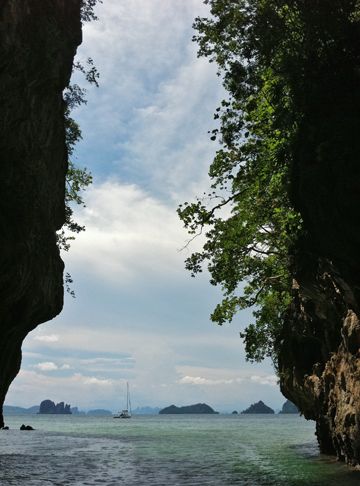 Hong Lagoon was our last destination & we headed back to Ao Nang. Love to be at the bow of the speedboat & when the boatman opened up the throttle, I so love the choppy feeling! The boat was rocking & jumping. So much fun! A really enjoyable day!
A Fun Fill Day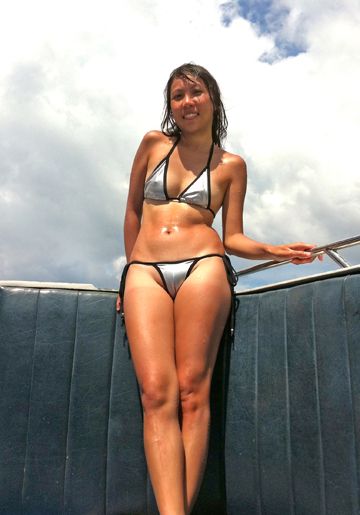 Now that I'd experienced the fabled beaches & isles of Krabi, I'm charmed by their splendor beauty. I was in Paradise & I so dearly yearn to be back there again. Brought back some souvenirs for my friends & some, I keep myself, as a memory of beautiful Krabi.
From Drink Cans To Mini Tutu

Memories of Krabi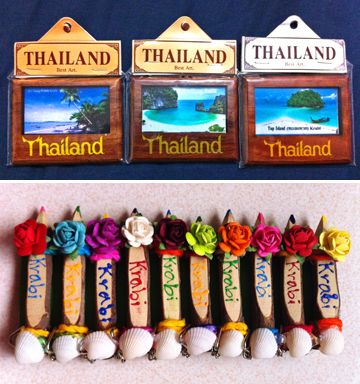 But the most memorable gift is...
On the evening before we were to fly home, after dinner, we crossed the street to Ao Nang Beach & looked out over the sea, hoping for a spectacular sunset. We got more than we expected. Just before the sun set, we saw a multi-hue pillar hanging in the sky. A vertical rainbow over the Andaman Sea. What a magnificent sight! A truly remarkable farewell gift from Krabi!
Rainbow Pillar @Ao Nang, Krabi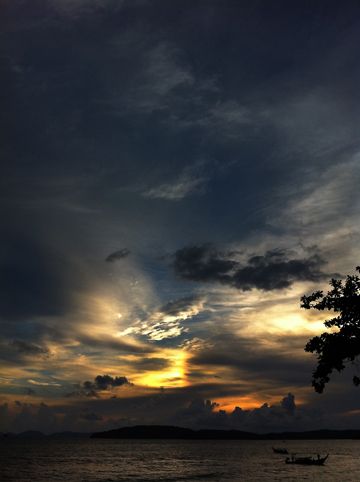 It's very difficult to get back to routine life after been to Paradise. I wanna visit again. I miss my enchanting Krabi.
Paradise @Krabi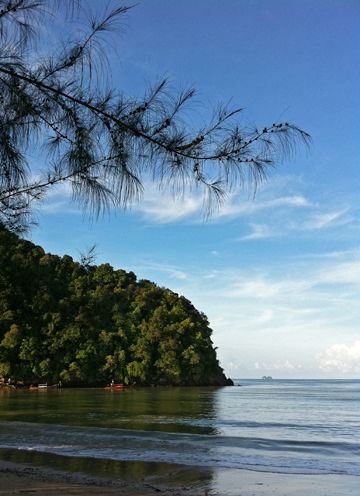 Labels: Beach Holiday, Beach Resort, Krabi, Thailand, Vacation