Singapore River Festival
19th June 2009 ~ There was a happening at Singapore River called the
Singapore River Festival
organized by the Singapore Tourism Board which hyped the festival as the Largest Sundown Party by the River.
Singapore River Festival @ Singapore River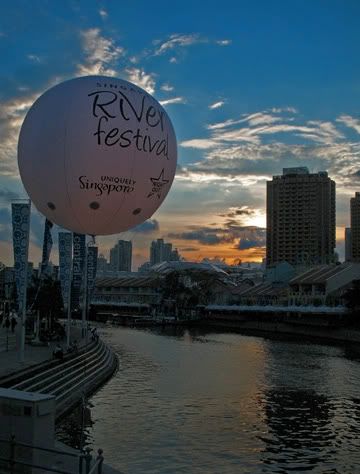 By day, there wasn't much noticeable changes by the river, except for some promotion banners & a big advertising balloon looming over the river. Nothing much happened, peaceful & calm.
Singapore River near Clarke Quay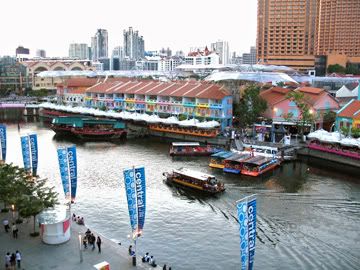 As evening approached, the scene changes, the river banks lit up in festive lights & it seemed the river's mood changes too. Lively, cheerful, noisy & rowdy.
Lights by the river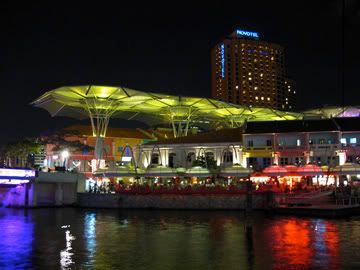 Lights on the water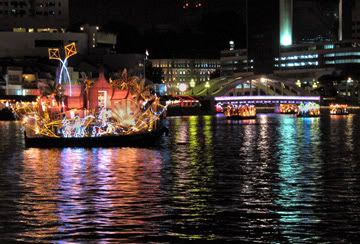 And where there are lights, there is Hengbok! LOL! xD
Happiness Party!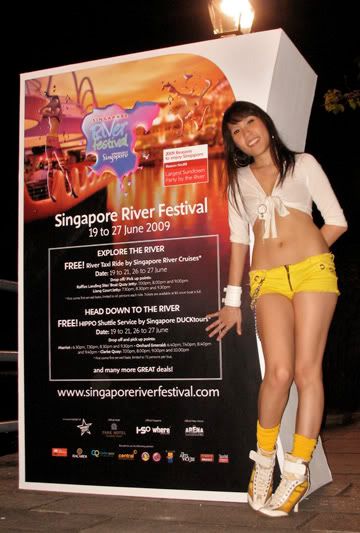 Actually, I was invited by my blogger friend,
Nathalie
who is a member of
Nuffnang
. The founders of Nuffnang promote their organization as Asia's first and leading blog advertising community. At this occasion, they had organized an Exclusive Singapore River Festival Experience. All free of charge, so of course I went. xD
Friday evening came along & I went to attend the so-called not-to-be-miss experience. First on the list is the registration with Nuffnang at the Central Promenade.
Group pic with other happy bloggers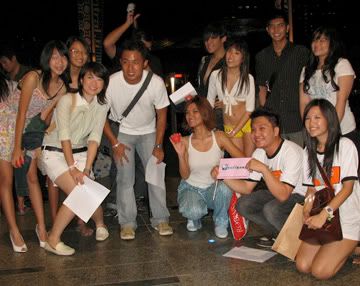 After which, we were on to experience the River Festival. Some of the event's highlights included Flight of Fantasy, an unforgettable performance of aerial acrobatic above Read Bridge. I had a binocular with me, a real bino, not the paper & plastic lens ones given out free by one of the organizers. xD
However, my small point & shoot camera is not up to the task of capturing the actions above the bridge as I was too far away.
Riverside Aerial Acrobatic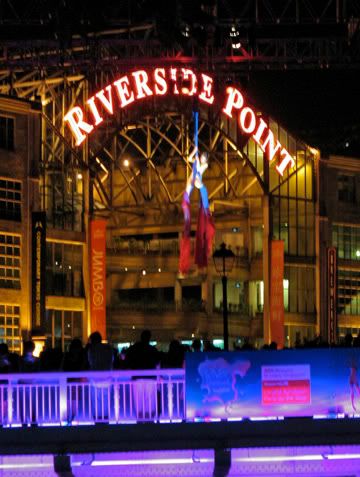 Next, we watched a wayang. A wayang is a Chinese open-air road side show or theatre, a sort of a play or opera mostly in Chinese dialects. This particular one was a dance musical in English. Oh... what do you expect? It's for the tourists! If it were in ching ching chong chong, even me wouldn't be able to understand it & I believe most of those young bloggers around me wouldn't either! xD
English Wayang
After the wayang, we boarded a river boat for a cruise down Singapore River. I must admit this is the first time I ever took such a cruise. Well... same as the wayang, it's mostly for the tourist anyway, but I was kinda like sexcited over it. A humid evening & a cruise is just the thing to cool me down. =P
It was a nice cruise too, looking at the sights of the river banks which I had never seen from that angle before. At the bow of the boat was a pair of Indian musicians in tradition costumes playing soothing Indian music & me being a notorious cam hog, couldn't resisted taking a pic with them. xD
Indian Musicians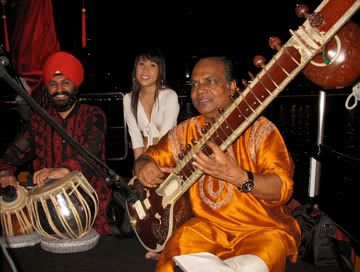 Onboard were full of Nuffnang's bloggers enjoying themselves too, hah-ing & wow-ing at nearly everything as we sailed past the sights, behaving like tourists, me included. Haha... & taking tons of pics for their blog. I bet they blog better & much more often than me. xD
Blogger Onboard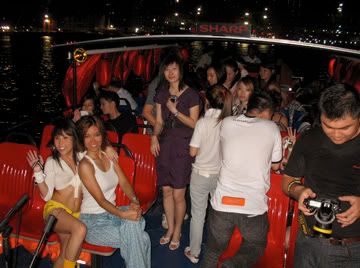 Blogger Tourists! xD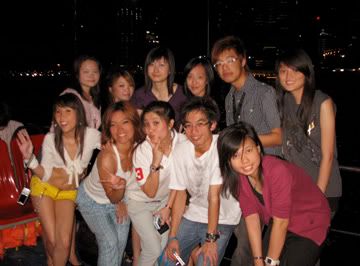 Hamster Tourist =P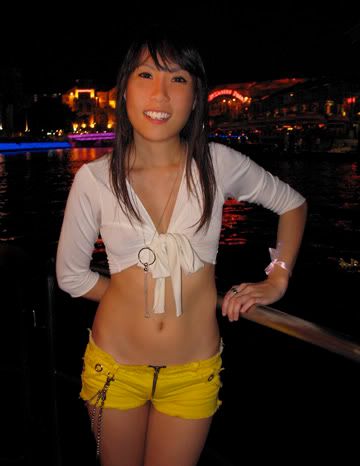 After the cruise, the last item of the evening event was the Ultimate Pajamas Party @ The Arena. As pajamas were attire compulsory for entry which include 2 free drinks per person, we went to change into sleep wears, looking rather silly. We collected quite a numbers of disbelieving stares as we walked out into the crowded night. LOL! xD
Silly Pajamas Us! =P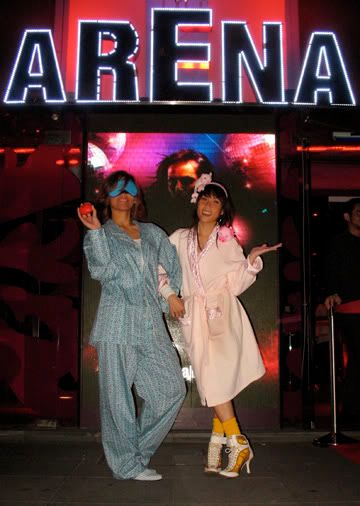 Inside The Arena, at section put aside for us bloggers, Nath & me grabbed a table & proceeded to drown our embarrassment in drinks. My embarrassment actually cos Nath was the shameless one who had wore her pajama the whole entire day even before the event started. I quickly took off my sleeping rode once inside. LOL! xD
Cheers!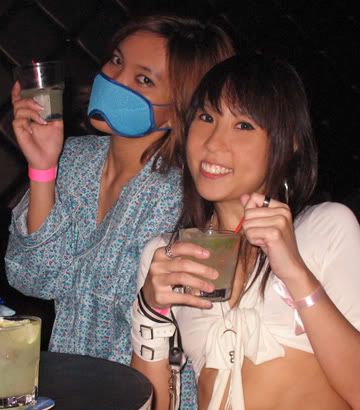 There was a band belting it out onstage & the girls were in lingerie in keeping with the theme.
Singing Lingerie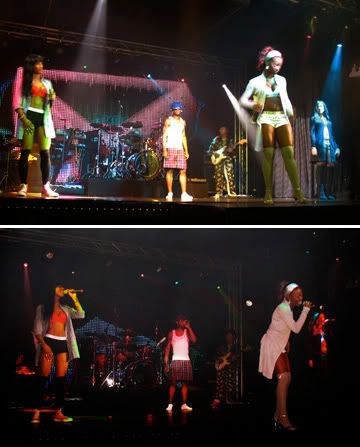 At first, we were sober, inactive. Then a whole lot of us went down to the dance floor & the action started. My soulmate, in a genuine yukata with a headband written with the word 大日本(Dai Nippon) is one of the craziest around even though he cut an imposing figure which really made him looked like a Japanese traditionalist tourist out for a good time. People came up to him, shook his hand, asking him if he's a Japanese. One spoke to him in Japanese even, which fortunately, he can speak a little. xD
No, he does not want his pic display here & I've no pic of the dancing coz the camera is with us. =P
Pajamas Party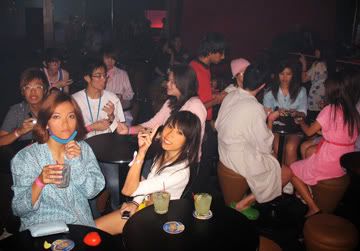 Later on, a friend of Nath joined us. A sweet & cute girl by the nick of Jam. She is dressed in a female version of yukata which suited her very well.
Jam & Us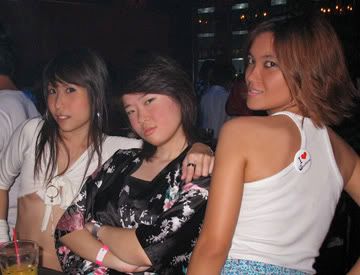 Stripping Jam of her shyness =P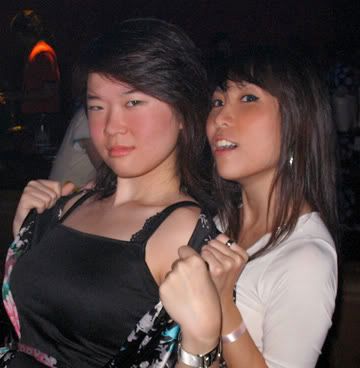 The night partied on...
Pajamas Crowd @ The Arena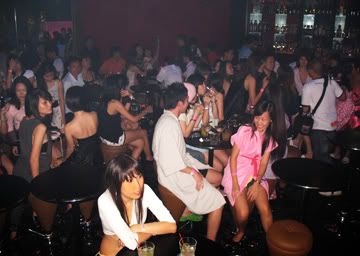 Salute!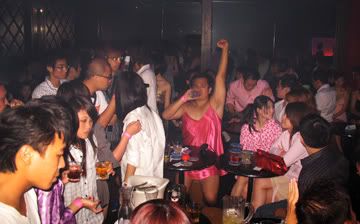 I believe the most popular person of that night is a very popular Malaysian blogger by the name of
Kenny Sia
. He is also very well-known locally & he came down to join us at the bash. A very sporting, cheerful & fun-loving guy who daringly put on a shocking PINK lingerie... OMG! No wonder he's popular! LOL!
Shocking Pink Kenny! =P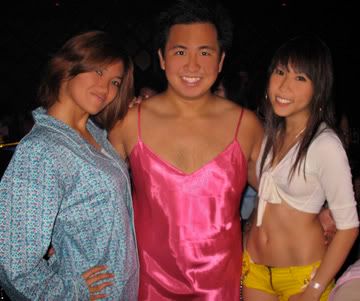 Shocking it was till we molested & squeezed his boobs! LOL! xD
Shocked Kenny! =P
It was a wonderful memorable evening for me. Enjoyed it temendously. In closing, I would like to thank Nath for the invitation & Nuffnang for organizing such a great event. And also thanks to Kenny for letting us have our wicked ways with him. LOL! Hope to see you guys again! =)
Labels: Event