Performance @Youth Olympic Village
23rd Aug, 2010 ~ Woke up very early, 4.30am on Monday morning. After a hasty breakfast, went to Pasir Ris to board a bus bound for Youth Olympic Village located at NTU(Nanyang Technological University) campus. The journey took nearly an hour & I slept all the way. Am not a morning person. It's a miracle that I can wake up that early. Arrived at YOV at about 8am.
Half-awake Hamster @YOV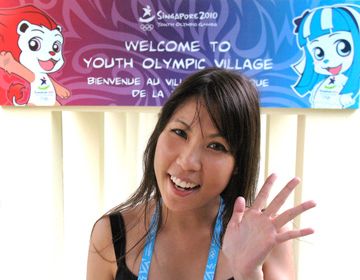 Booths @YOV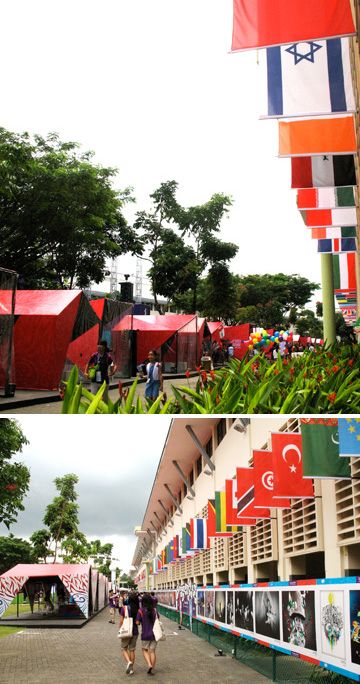 Why am I up so early & excited to be at YOV? Coz I am to be the new mascot for the Youth Olympic Games replacing the current ones!
New cute mascot for YOG? =P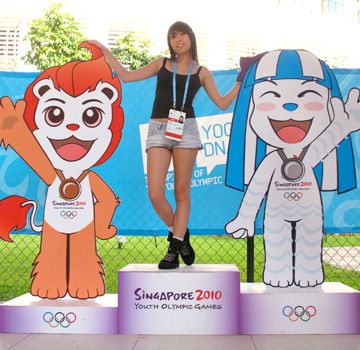 Hahahahahaaa... nonono, I'm just joking. LOL! =P
The actual fact was, me & my team mates of stilt-walkers were engaged for a big performance at YOV.
Me & Stilt-walkers Team with Troupe Manager @YOV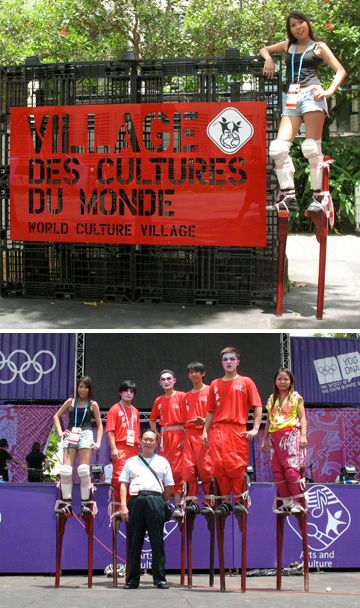 Rehearsal for the upcoming performance started at about 10am under a hot baking morning sun. Fortunately for me, I don't have to put on the costume for rehearsal or I will be well cooked inside out! The heat was intolerable! Even in my causal clothes, rivers of sweat were pouring off me! I pitied those who had to rehearsed in full costume.
Rehearsal under a hot sun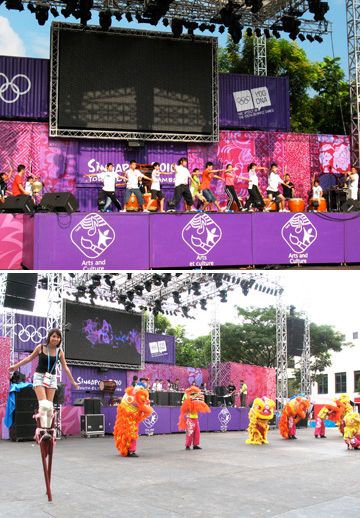 Lions, Dragon & Stilts Rehearsing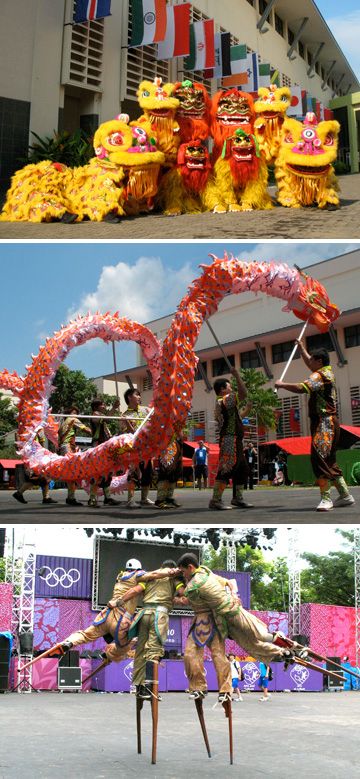 The whole rehearsal dragged on for about 4 torturous hours & ended at 2pm with a final briefing by the choreographer. With a sigh of relief, we all went for a late lunch. I felt like melted cheese.
Choreographer Briefing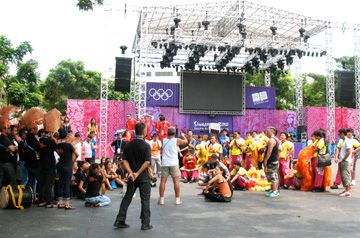 We were told to be back by 6pm & prepared for the actual performance which will start at 7pm. So after lunch, with nothing to do as YOV is quite isolated & with too much time on hand, I went around the place taking pics. Cam-hogging Hamster is loose @YOV! LOL! xD
Hello! I Can Fly to a Fairy Land!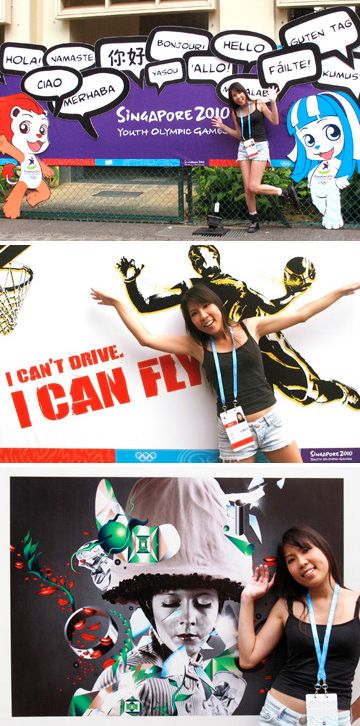 Colorful Youthful Me! xD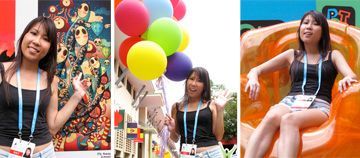 Then at around 5.30pm, dark clouds gathered. The sky opened up. It started to drizzle. Hoping the light rain might stop, the organizers told us to go ahead with our preparations.
Hamster dressed-up & ready to go!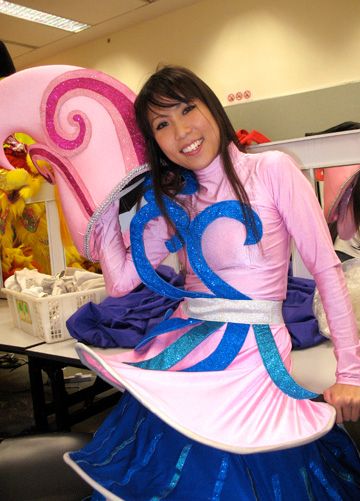 The rain got heavier at 6.30pm without any sign of letting up. By 8pm, without hope of the rain slacking, the show went on with only a few teams allowed to perform. The rest of the performance were cancelled. It was too dangerous for us stilt-walkers & to those teams that had to do stunts. The ground & stage were thoroughly wet, very slippery. The audience consisted of a few brave & supporting people, watching the show in their poncho or under their umbrella.
Performance In The Rain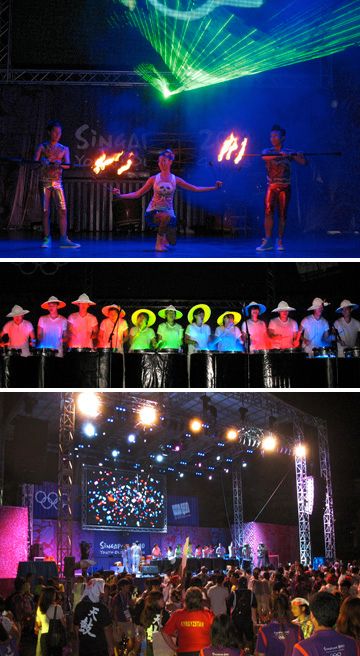 Percussion Drummers with Lion Dance
It was such a disappointment, a complete waste of effort. I felt sad that I didn't get to perform at YOV. What a let-down it was.
On a side note:
Called it superstition or whatever. The Youth Olympic Games 2010 was plagued by a series of mishaps. Poor food for volunteers, roof of sport venue torn, mass food poisoning, concert without audience, YOG bus collision, black out, etc & my very own experience of a rain-out performance at Youth Olympic Village itself. Incidentally, YOG was held during the month of the Hungry Ghosts Festival. Viewed by many Chinese as a very inauspicious month, the Ghost Month falls on the 7th month of the lunar calendar, from Aug 10 to Sept 7 in 2010. Those mishaps seem to coincide with this belief. I do not want to elaborate as those mishaps were reported in the news & many had already voiced their opinions. Coincidence or what? Poor management might explained away some of those mishaps. Personally, I felt that YOG Singapore 2010 seems to be jinxed. It's up to you to believe what you want.
Labels: Event