Water Fools
Can one walk on the sea? Drive on the river? Acclaimed French street theatre company IIotopie with their performance wizards have won the hearts of thousands with their beautiful shows on the streets and waterways of cities and towns the world over. Now they are in Singapore with Water Fools as the opening show at Boat Quay for the Singapore Arts Festival.
In a mystical and magical journal, a man travels to Singapore's popular waterfront, arriving in a sputtering little car. His car breaks down, so he gets out and reads a paper. Meanwhile a passing cyclist sprays water into his face and then his head suddenly bursts into flames... Phantasmagoric and whimsical water creatures loom from the river, as fireworks unfold in an aquatic extravaganza. Giant mechanical sets that turn everyday objects into fantastic machines look set to wow audiences, as they take the man beyond the wildest dreams of his humble car ride.

Water Fools(pics from official website)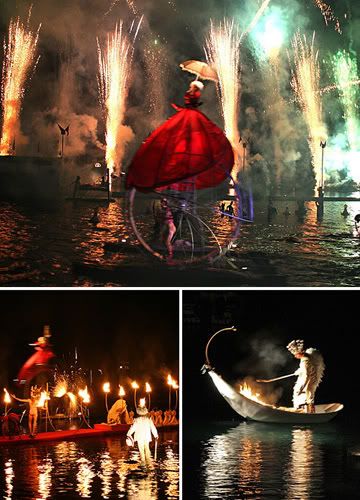 So, on Saturday evening(24th May), I went to Singapore River in excitement & anticipation of watching their their latest creation. By the time I arrived, the crowd by the river was 20 deep & shortie me can't even see the river! Luckily, there's a fire hydrant nearby which I stood on, supported by my friend. Managed to take a few pics which almost all turned up lousy due to low lights & no-tripod-shooting from atop fire hydrant. xD

My view of Water Fools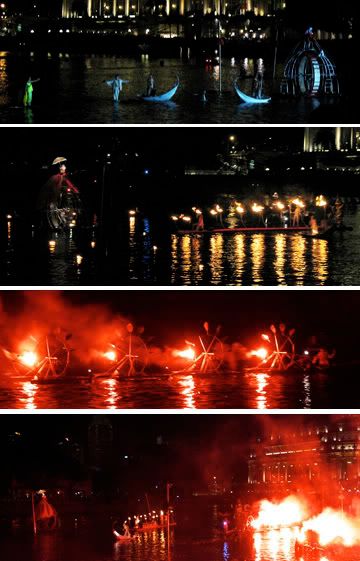 A really enchanting show with dazzling fireworks in the finale. Love those outrageous water crafts, especially the big floating hamster wheel driven by a man-hamster with a lady in big red skirt on top. I also spotted what looks like a naked man performing on a flaming floating platform. Is he really naked?!? Too far away to really tell. Hahaha... =P
25th May, Sunday ~ Early morning... yawn... I'm never a morning person... however, if someone pay me for a photoshoot, have to crawl out from my cosy bed. The shoot was at a condo where the photographer have a tastefully furnished apartment. A lovely quiet place with nice big swimming pool. Wish I brought my bikini. xD

Nice big swimming pool at the condo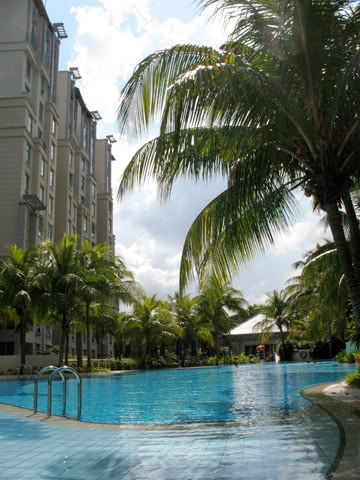 Outdoor & Indoor shoot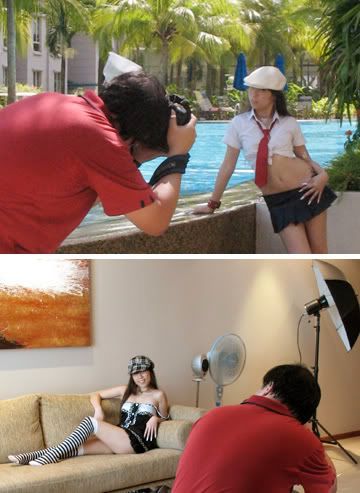 After the photoshoot, went down to SunTec City where StreetFest was held. Very disappointed with the outcome. Last year's StreetFest was much better, with lots of nice costumed cos-players participating. This year, the venue was messy. Space is too confining. Very few cos-players about. Mostly fashion dressers & only a few are good. Photographers outnumbering participants. Met & chatted with a few photographer friends. Same story from them too... nothing much to see or shoot. What a complete waste of time!

StreetFest at SunTec