French Cuisine
27th October, Tuesday ~ Fancy eating authentic french cuisine at a kopitiam(local slang for coffee shop) & at a reasonable price? That's what French chef, Xavier Le Henaff, owner of
The French Stall
aims to provide. Since opening it's first stall in a food court at Victoria Street, now moved to Little India, Serangoon Road, it has remain very popular with the locals, so popular that on 27th October 2009, The French Stall opened its second branch at 83 MacPherson Lane #01-263.
The French Stall @MacPherson Lane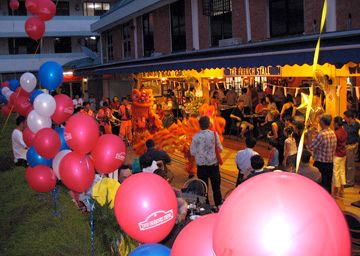 A week before, when searching the web for the exact location of the stall at Serangoon Road, I was surprised to find that The French Stall has a branch at MacPherson Lane which is much closer to where I'm staying. It's a beautiful decorated bistro in the midst of a housing estate. Quite a strange experience eating French cuisine surrounded by HDB flats. xD
While dining there, we were invited to it's official opening with free food from 6pm to 8pm. Free French food... why not? =P
On the day, Felicia, Nath & me arrived at 6.30pm. It was full house!
Full House on Official Opening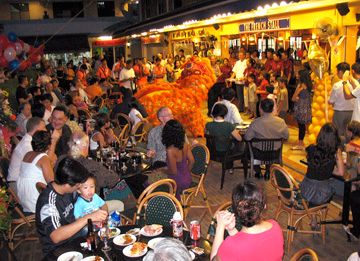 Girls @The French Stall
Such an overwhelming response that the food disappeared within minutes coming out of the kitchen & we couldn't find seats!
Free French Food!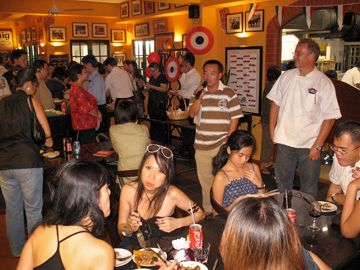 Luckily, 2 of my friends were there earlier & had grabbed some seats. So we tuck in & the food were yummy! xD
French Food Party! xD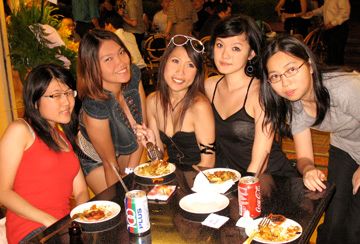 Then came the Lion Dance to launch the opening...
Lion Dance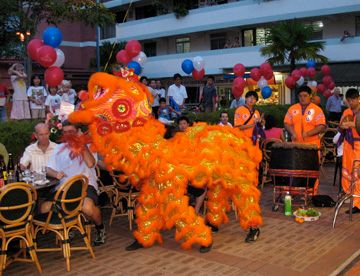 Lions @The French Stall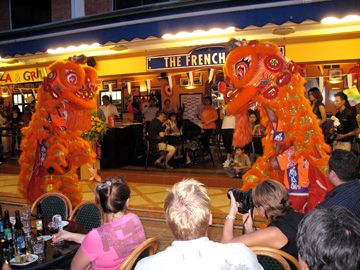 Lions Blessings for the boss, his wife & the staffs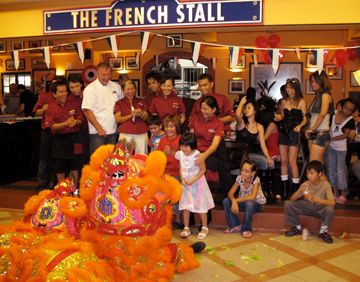 When the lions were throwing oranges at random, one landed on my lap. Suppose to bring good luck. Time for my change of luck, eh? xD
Lion with Me & Lucky Orange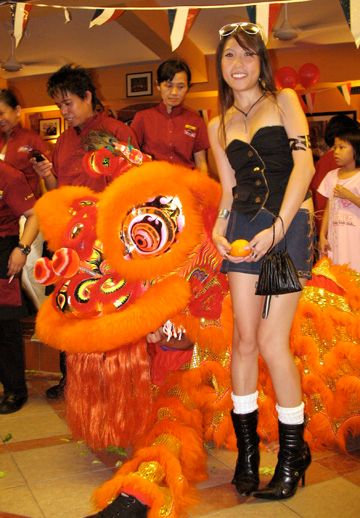 The official opening was also a charity event with Xavier, auctioning off some crates of beers for charity. Quite a generous fellow he is!
Charitable Boss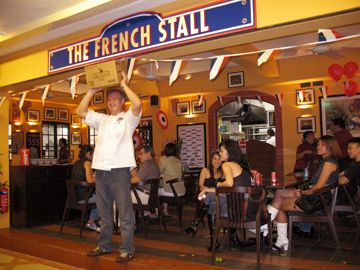 After stuffing ourselves with delicious French food, we ordered some desserts. Since it's already after 8pm, we paid for them, but they were worth it, especially the Tiramisu. It's heavenly! =P
Yummy Desserts!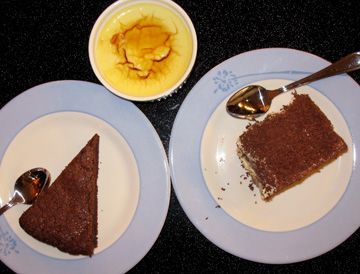 Despite mixed reviews from the online community about price & quality of it's food, The French Stall gets my 2 thumbs up! xD
French Boss, Xavier & us girls