Festival of Biodiversity 2013
Saturday, 13th July 2013 ~ Was at Vivo City for the Festival of Biodiversity 2013, an event organized by the National Parks Board. This event is to celebrate Singapore's natural heritage & to bring greater awareness of the biodiversity that Singapore has. A good thing coz Singapore fragile eco-system is constantly under threat from rapid development & now made worst by the influx of immigrants.
@Festival of Biodiversity 2013.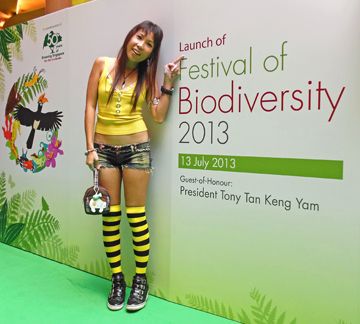 Of the highlights at the event, I'm more interested in 'Our Natural Heritage' exhibition which featured many preserved/stuffed animals & plants, most probably specimens from the Raffles Museum of Biodiversity Research. Among them, many are endangered species.
Pangolin, a very vulnerable species in Singapore.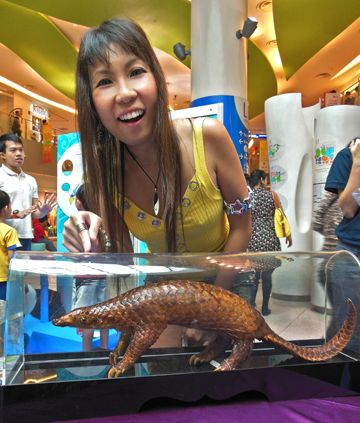 The Civet Cats are losing their habitats rapidly.
A very rare Leopard Cat, a highly endangered species.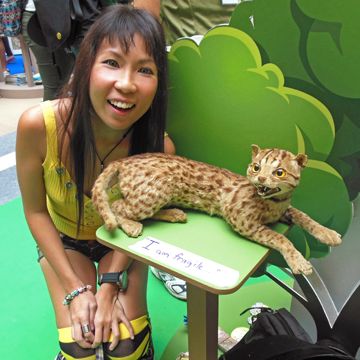 Display of a Tiger skull. Tiger is extinct in Singapore since 1930.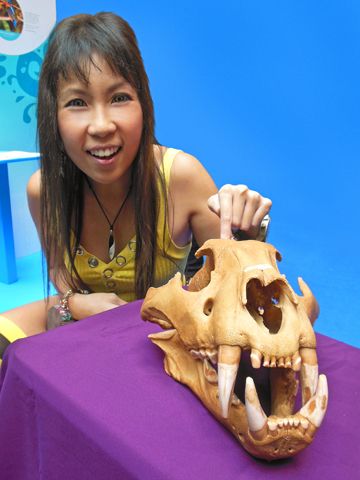 Preserved birds (male & female Asian Koel) in a box.
Stuffed Oriental Pied Hornbill straight as ruler.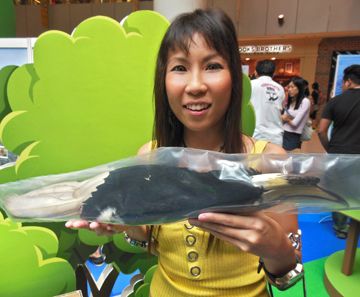 Endangered Soft Shell Turtle immortalized in a bottle.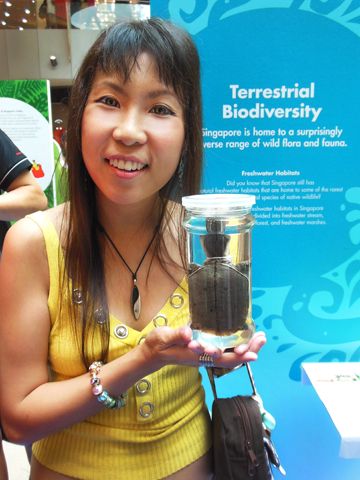 Sea Turtle is now seldom seen around Singapore.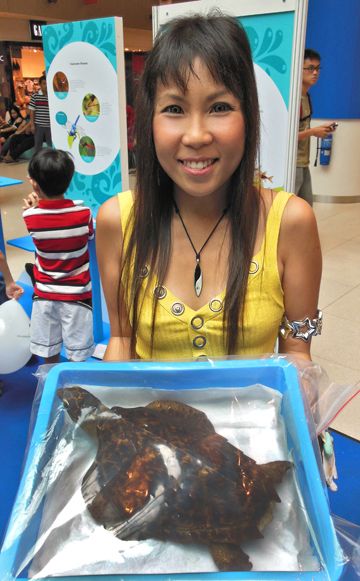 Palm Fruits.
Stone Fish wine, anyone? =P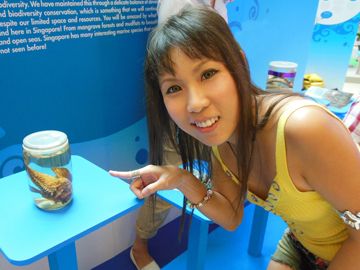 Which is the Frog Prince? =P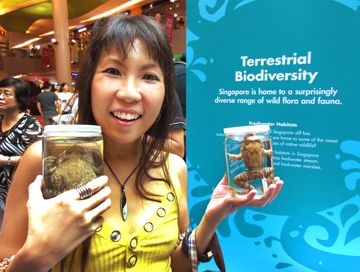 Specimen in bottles. The biggest contains a baby Dugong & Dugongs is hardly sighted anymore.
Preserved & boxed Gliding Lizard.
Horse Shoe Crab used to be very common around our shore, but getting much fewer every pasting year.
Will we lose all Our Natural Heritage?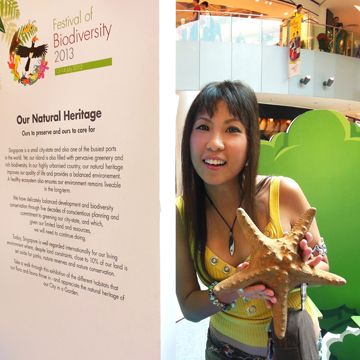 Met a friend,
Ivan Kwan
, who is a volunteer at the event. He must be a great story teller coz his station was always crowded. So busy he was, explaining the wild things of our shore that I scantly had the chance to talk to him. xD
Me is Ivan Kwan's sidekick. =P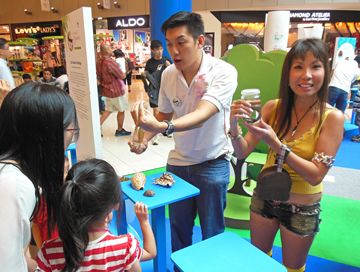 Ivan telling Star Fishy tales.
Another person who I met up with is Mr. Khew Sin Khoon of Butterfly Circle. He is also the
author of the book, 'Butterflies of Singapore' which I was given an autographed copy by him at the Festival of Biodiversity 2013. Am so honored & thrilled to have this awesome book, which is a must-have if you are into Singapore's butterflies. With beautifully taken photos & great information for ease of identification, in my opinion, this book is currently the best of its kind. My sincerest thanks to Mr. Khew,
Master of Butterflies!
With Mr. Khew Sin Khoon @
Festival of Biodiversity 2013.
My first time attending such event. Had a great time at the event & looking forward to another one next year!
Festival of Biodiversity.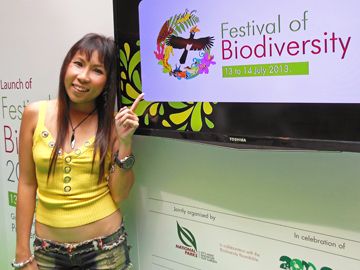 Labels: Nature