Winter Matsuri
27th Dec. Saturday ~ We were invited by the organizer to attend Winter Matsuri, a small scale musical festival held at Fort Canning Park.
Winter Matsuri Promo Poster
Met up with
Nath
at Dhoby Ghaut MRT station & went to lunch at Bratwurst Shop in Plaza Singapura. I simply love their sausage with sauerkraut! xD
Sausage lovers & stop the dirty thoughts! =P
Climbing up Canning Hill in a blazing hot day is a torture! The event was held at Black Box Theatre at Fort Canning Centre & we were early.
Gracing the event posters xD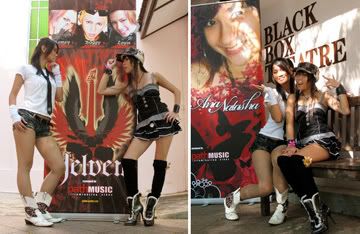 Thanks goodness for the air-con in the theatre! After resting in cool comfort, we set out for some photo shoot around the park.

Swinging Girls!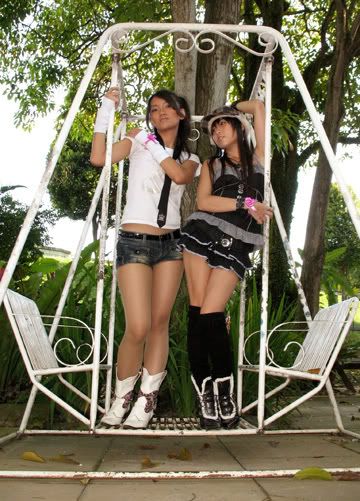 Eh... more pics can be viewed in my album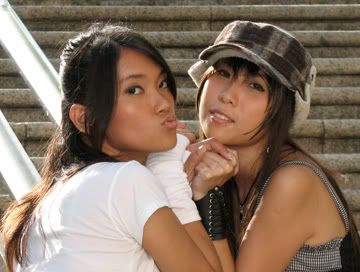 When we took a break from posing, a group of Filipino amateur photographers approached us with a request to model for them. Poor fellows with all those elaborate photography equipments & nothing for them to shoot... so we obliged...
We Are Models! xD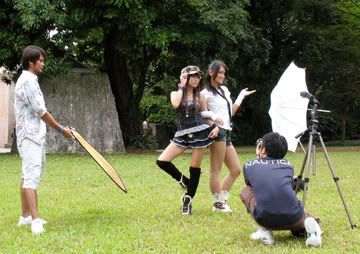 Not really nothing for them to shoot coz I noticed at least 3 groups of cosplayers hanging around there for 2 ~ 3 hours. Why didn't those photographers approach them? Those cosplayers were in fancy costumes & I wasn't wearing anything outstanding or as some cosplayers ever accused me of, scandalous. Was wondering what are those cosplayers doing there. The organizer had announced that Winter Matsuri is a musical festival, not exactly for cosplay. I was told that in a certain forum, some cosplayers were flaming the organizer regarding this event & vowed to boycott it. Yet, on that day, I noticed within some group, are those who had flamed & complained. Self Shot! So pitiful, desperately craving for attention?!?
Failed Attention Seekers?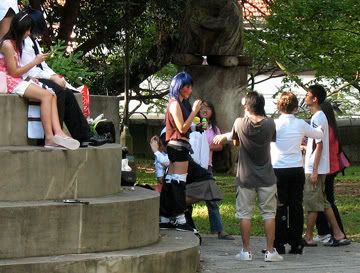 Those kids were playing, taking pics among themselves & mostly, melting in the torturing sun. No one bothered about them. Many passer-by just gave them puzzled looks like... eh... weirdoes in a park? So sad & irony that the attention they craved for are unfitting ones. =P
After our photo shoot, we went back to the comfy air-con theatre. Still early... so we have some fun posing with electric guitars. No, we didn't play with them, no touching of controls or strumming, just carry them for photo shoot & put them back exactly as we found them.
Rock & Roll Girls! xD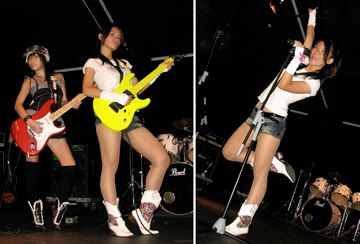 Managed to get a shot with an aspiring singer, Ana Natasha, whose poster graced the venue.
Aspiring singers... no, not me! =P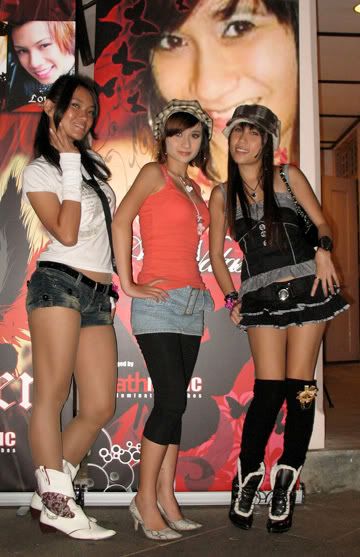 Finally, the show is on & the music rolled... leaded by a band called...
Helven!
I dunno much about most music, unless it's Kpop of the '90s. Helven played mostly Rock & Roll which I like also, unless it gets too noisy. =P
Followed by a duo dedicating their song to someone whose birthday falls on that day.
Singing Duo
And it's Natasha's turn to be a star.
Natasha back by Helven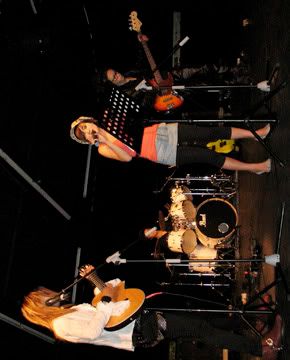 Aspiring Star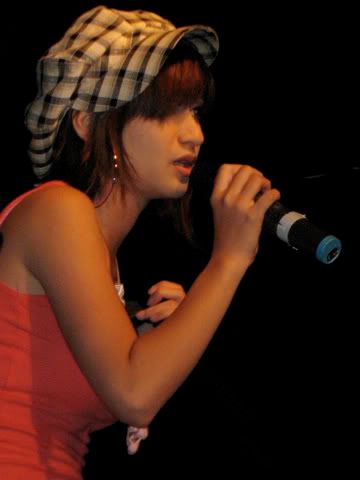 There are more lively performances by Helven who are the main star of the event, singing & acting typically like any Rock & Roll band. They belted out many popular Rock & Rock numbers & even a nice one they had composed. Their fans are not disappointed, clapping & cheering them on...
Solo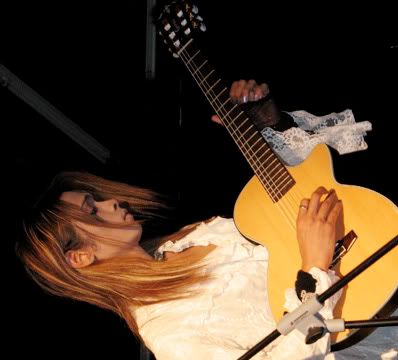 Let the music play!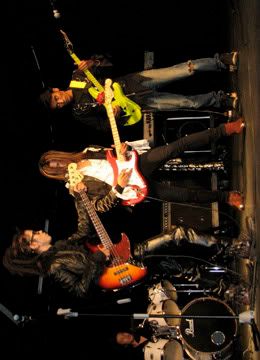 After the music ended, comes a birthday celebration. The birthday boy turns out to be Romey, a member of Helven. Surprise of surprise... big cake, birthday song, poppers popping, wishing, candle blowing, cake cutting, the whole works! HAPPY BIRTHDAY, Romey!!!
Birthday boy with cake & poster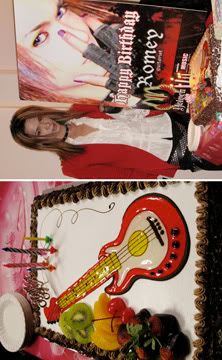 Of course we shared the joy & took a group pic...
With Helven
Enjoyed myself tremendously at Winter Matsuri & this X'mas season is quite happening for me. And since it's the last few days of 2008, let me takes the opportunity to wish everyone a Happy New Year! May all your wishes & dreams come true with the new year ahead!
Happy New Year!