Into The Wild @Bukit Batok Nature Park
10th Dec. 2011 ~ Another venture into the wild, this time at
Bukit Batok Nature Park
which is a disused quarry site.
Bukit Batok Nature Park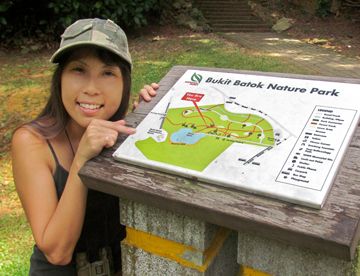 Half of the area consist of parkland environment which main feature is a picturesque lake below a excavated front of the quarry face.
Tranquil Lake At Quarry Face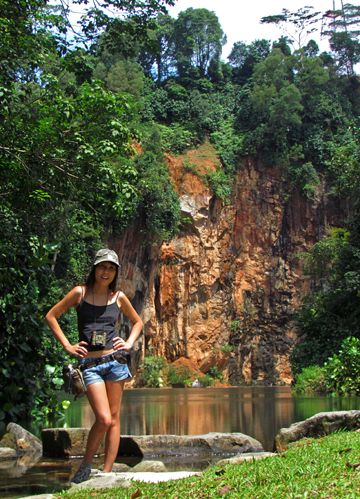 The other half of the park consist of lush secondary forest with footpaths meandering up towards the summit of the hill where 2 transmission towers are at.
Transmission Tower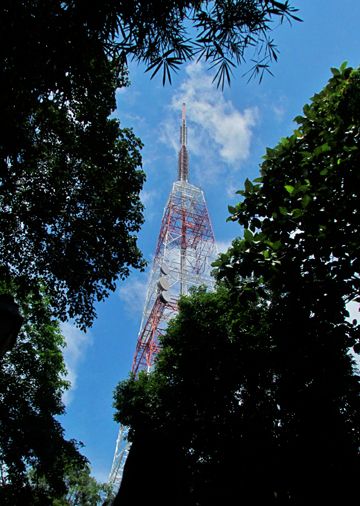 We(my guy & me) are more interested in the forested area where wild animals, especially birds, had settled since the site was transformed into a serene ambience peaceful jungle. Plenty of mosquitoes too! Well, for the love of nature & photography, I had endured worse.
Serene Ambience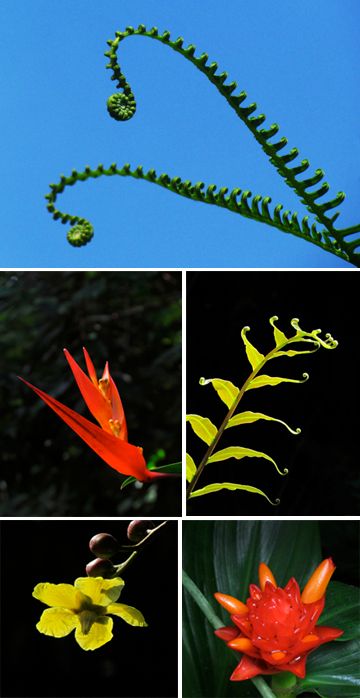 As the area around Bukit Batok was also a former site of fruit plantations, there are many abandoned fruit tress growing wild. Fruiting trees includes Rambutans, Jack Fruits & Durians too!
Fruits of The Forest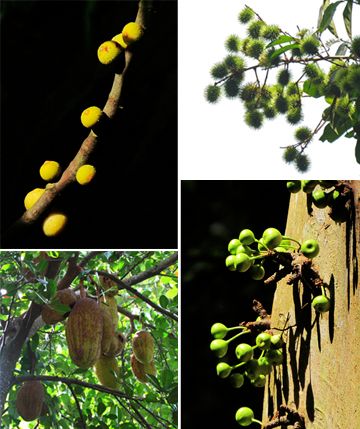 Durian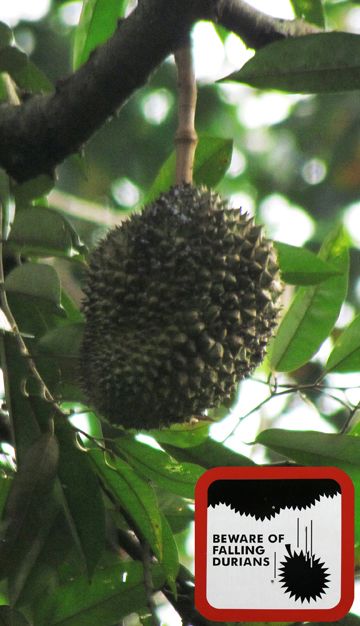 And fruit trees attracts monkeys of which a troop of
Long-tailed Macaque
had made Bukit Batok Nature Park their home.
Monkeys of The Park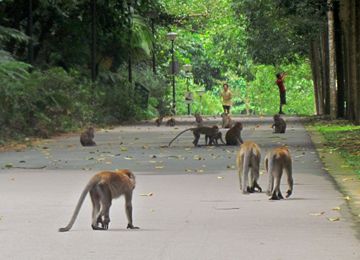 Mommy Monkey With Babies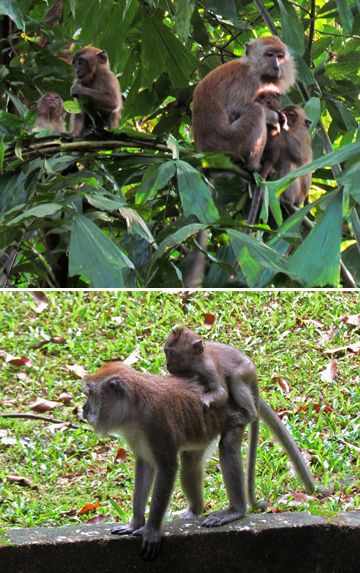 These animals are quite bold, not afraid of humans around them & they also enjoyed the park's facilities.
Monkey Jump? =P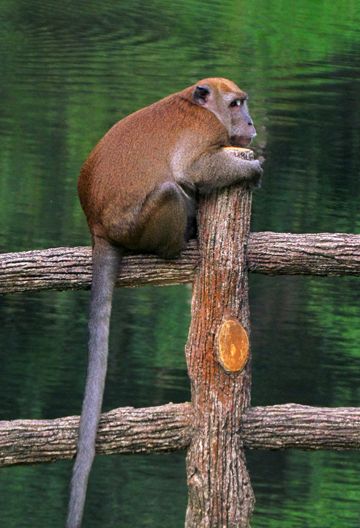 Monkey Business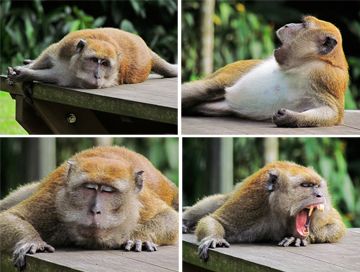 Portrait of A Monkey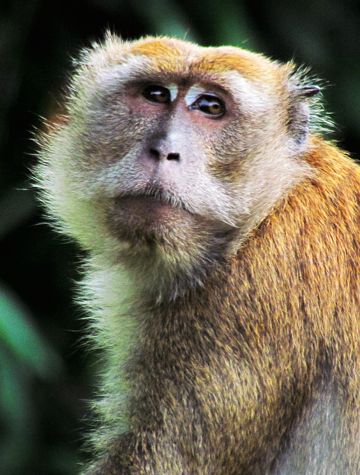 Even though they may look cute, please refrain from feeding them. There are lots of reasons for not feeding them. Mainly, it will cause more harm than good & might cause human/wild animals conflict. Yes, they are wild animals, not stray pets or zoo animals. More details on why it's not good to feed wild monkeys or any wild animals:
http://www.wildsingapore.com/places/monkey.htm
Feed The Hamster, Not The Monkeys! =P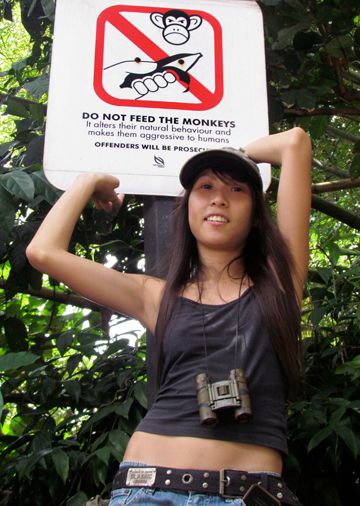 Other than the monkeys, there isn't much large land animals around the park. Plenty of skinks though, of the Common Sun Skink variety & we saw a Clouded Monitor Lizard.
Lizards of The Park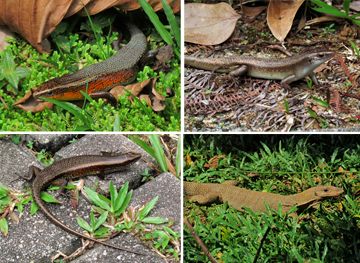 Of creatures great & small... well, usually in a parkland, there are more of the smaller animals to be observe. Who hates creepy crawlies? Abundance of them in the forest! =P
Arachnids & Insects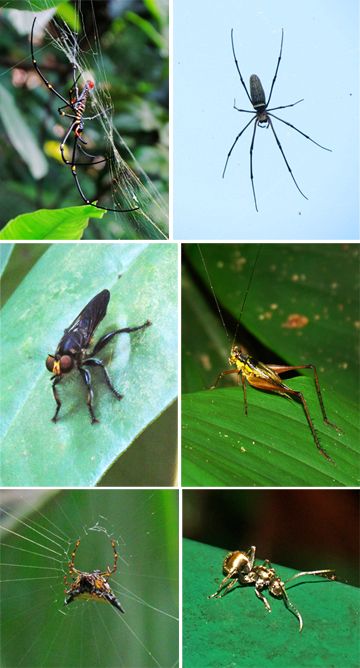 Dragonflies & Bees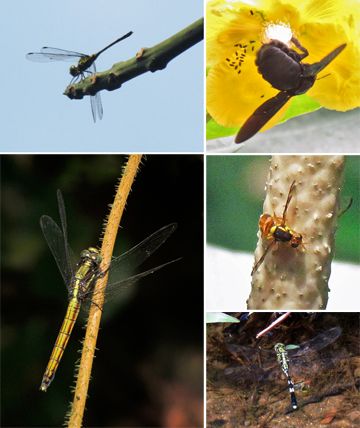 And little pretty guppies in a stream.
Half-hidden Guppy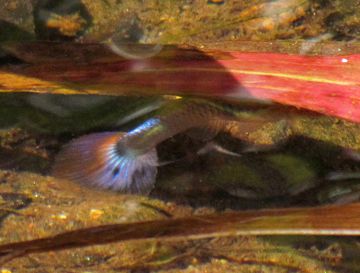 Lots of beauties on wings too!
Butterflies
(from left to right, top to bottom: Common Mormon, Common Five Ring, Branded Imperial & Malay Viscount)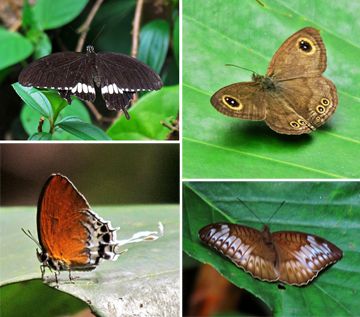 Flutterby
(from left to right, top to bottom: Malayan Eggfly, Branded Imperial, Malay Tailed Judy & Tawny Palmfly)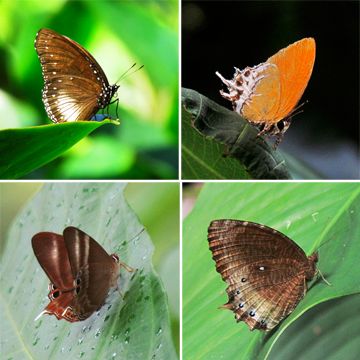 Bukit Batok Nature Park is a wonderful place for birding, to me anyway. Many places around Singapore are great for birding, but not readily accessible by public transport. Even though Bukit Batok Nature Park is a little far from where I stay, a 1 & a half hour journey by train & bus gets me there, so no problem. And the birds are awaiting... =D
Blue-throated Bee-eater, juvenile Blue-throated Bee-eater, Oriental Dollarbird & White-throated Kingfisher.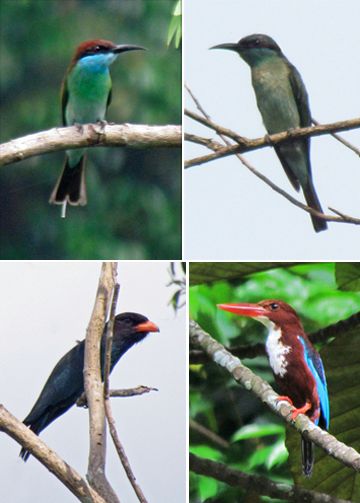 Male Pink-necked Green Pigeon, Greater Racket-tailed Drongo, juvenile Orange-bellied Flowerpecker & Red-breasted Parakeet with food in claw.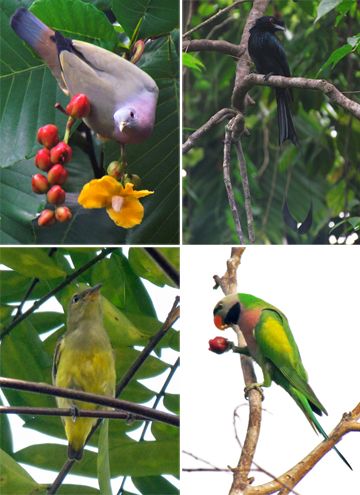 A pair of female & male Pink-necked Green Pigeons, Mugimaki Flycatcher, juvenile Scarlet-backed Flowerpecker & Asian Brown Flycatcher.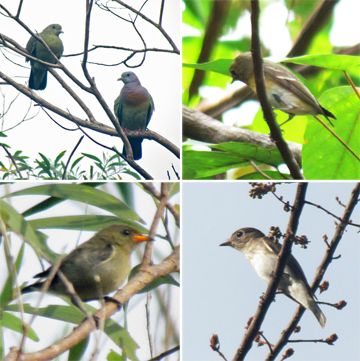 Lineated Barbet, a Long-tailed Parakeet enjoying a meal, a Asian Brown Flycatcher taking off after its prey & a half-hidden Striped Tit-babbler.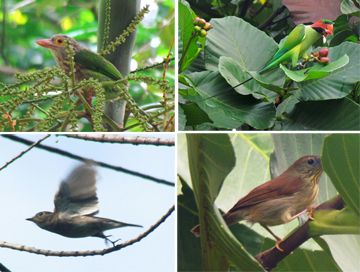 Avian photography can be frustrating at times. Some of those birds are so skittish & shy making it so difficult to obtain a good pic of them, especially true of the Striped Tit-babbler! We encountered these naughty little birds nearly everywhere, but they refused to stay still even for a few seconds to be immortalized by my camera! Grrr...
The boldest among the birds at park are the flocks of White-crested Laughing Thrushes. These birds are not native to Singapore. They are escapees & had established themselves as permanent residents of the park. The population of these birds has increased and the Laughing Thrushes are easily encountered during a walk.
White-crested Laughing Thrush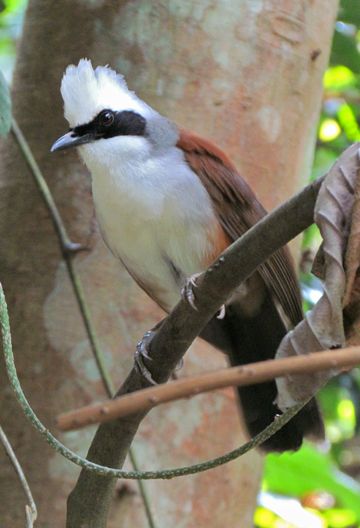 Friendly White-crested Laughing Thrushes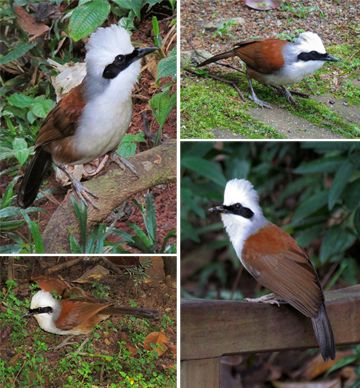 Beside the popular White-crested Laughing Thrushes, Bukit Batok Nature Park is one of the places well-known for the rare Straw-headed Bulbuls. These shy, elusive birds are more often heard than seen as their loud & melodious calls resonant throughout the jungle. It's sad that due to their beautiful song, the Straw-headed Bulbuls are trapped & sold for huge amount of money, resulting in them being listed as an globally endangered species. They have virtually disappeared from their habitat in Thailand & Indonesia because of poaching.
During our visits to Bukit Batok Nature Park, besides pics of the very common Yellow-vented Bulbul, the slightly less common Olive-winged Bulbul, we had the good fortune of getting rather good pics of the Straw-headed Bulbuls.
Yellow-vented Bulbul, Olive-winged Bulbul, Straw-headed Bulbul in the open & a pair of Straw-headed Bulbuls in the bush.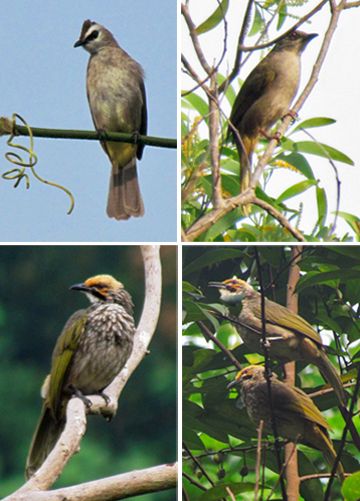 Even if one is not into nature photography, Bukit Batok Nature Park is a great place for rest & relax. Hope to revisit the park many more times & hope that the wildlife there will surprise me with more great photo opportunities! =D
Take Notice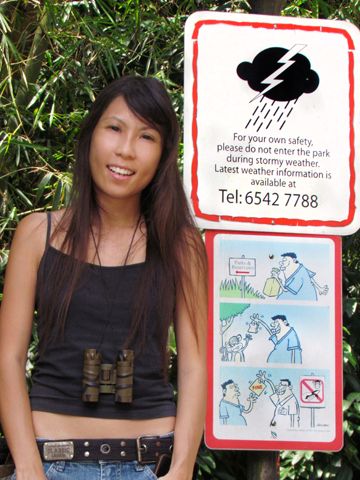 Note:
Please do not feed the animals in the wild. Under the laws of Singapore, poaching of wild animals is prohibited. Except for a few pest species, almost all wild animals are protected.
Labels: Nature