My Adventures In Sungei Buloh Wetland Reserve
April/May 2011 ~ In a period of a month, between April & May, I visited
Sungei Buloh Wetland Reserve
thrice. Thought I start off this entry with some words shamelessly 'borrowed' from certain cheesy movies: "Boldly the Brave Hamster ventured into the wild frontier where no hamster had gone before." Sound corny, right? Never mind that. Matter of fact, going to SBWR(Sungei Buloh Wetland Reserve) is my first time into the wilder side of nature. The rest of the nature parks I'd visited are much tamer in comparison.
Boldly into Sungei Buloh Wetland Reserve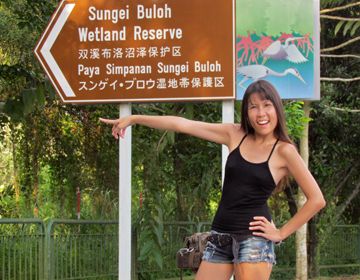 A brief history of Sungei Buloh Wetland Reserve:
The Sungei Buloh Wetland Reserve is located in the Northwest area of Singapore. In 1986, a group of avid birdwatchers from the then Malayan Nature Society (Singapore Branch) stumbled upon this ecological jewel & wrote a proposal to the government for its conservation.
Ecological Jewel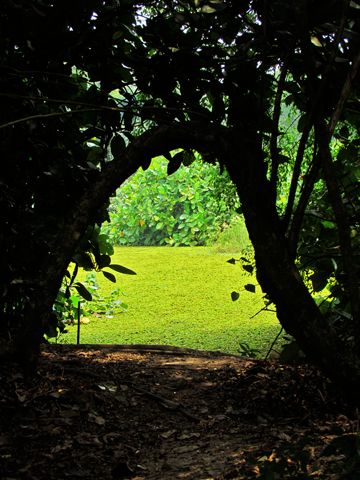 A 87 hectares wetland site was subsequently designated as a nature park in 1989. The then Parks & Recreation Department, a precursor to the National Parks Board, undertook the development of Sungei Buloh, in consultation with experts in the field, notably the Wildfowl & Wetlands Trust from the United Kingdom & Worldwide Fund for Nature. On 6 Dec 1993, Nature Park was officially opened. Later, on 1 Jan 2002, 130 hectares of Sungei Buloh was officially gazetted as a nature reserve and renamed as Sungei Buloh Wetland Reserve. In the same year, Sungei Buloh Wetland Reserve was recognized as a site of international importance for migratory birds by Wetlands International's inclusion of the reserve into the East Asian Australia Shorebird Site Network. Following which, Sungei Buloh became Singapore's first ASEAN Heritage Park in 2003.
Haven For Birds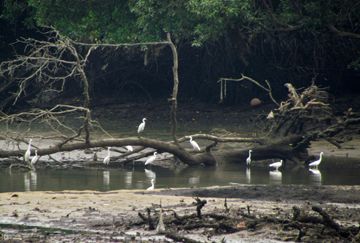 Sungei Buloh Wetland Reserve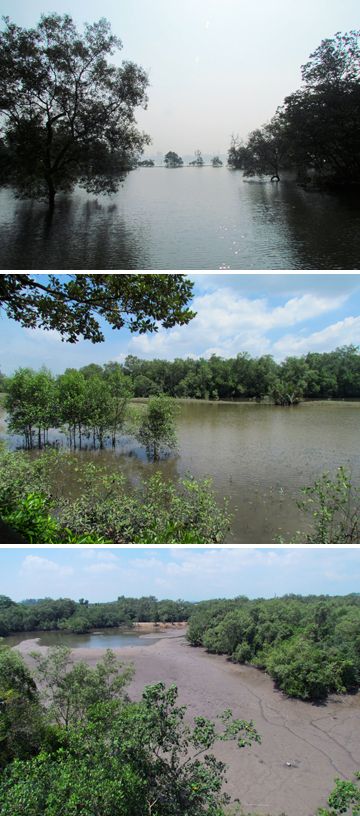 We set off for SBWR early as there are more animals activities in the morning, especially the birds. We as in my guy & later, his friend joined us on our 3rd trip. Think little Hamster is not afraid of the jungle? I will never dare to go alone, but my guy is a jungle boy & I feel safe with him around on my nature explorations. I know we were on the wrong time of the year for migratory birds, but I will definitely be there again for that. Think of these 3 visits as reconnaissance. LOL! =P
At The Entrance to Sungei Buloh Wetland Reserve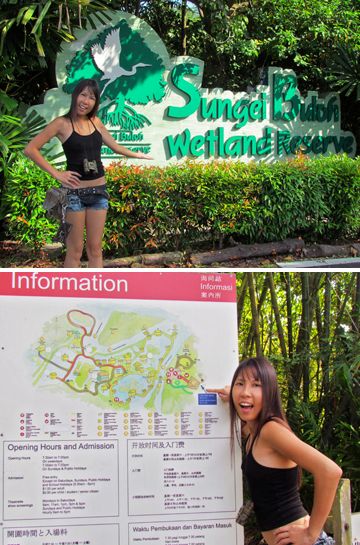 Once at SBWR, don't be surprise that the first animal you meet are Malayan Water Monitor Lizards or White-breasted Waterhens which are wandering freely in the lobby or swimming in the pond outside the reception area. I'd video-ed a Monitor Lizard at the lobby on my first trip. Beside the lobby is a nice education gallery.
@Sungei Buloh Wetland Reserve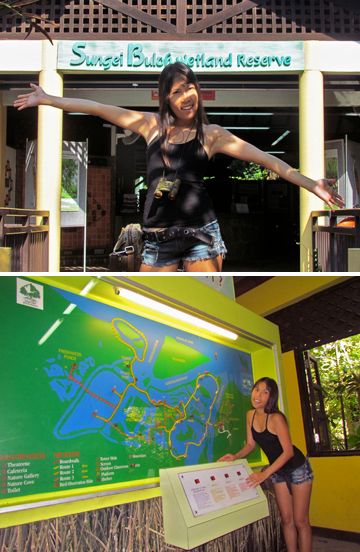 Chasing Dinosaur
Now, lets get out of the civilized part & into the wild. Beyond the lobby is a wooden bridge over the river, Sungei Buloh. Once you cross that bridge... Abandon All Hopes! There Be Monsters! Hahaha... I'm just joking! xD
Bridge Over Sungei Buloh & Mangrove Jungle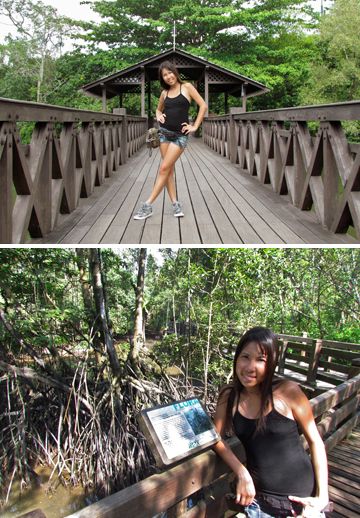 Inside the Reserve there are plenty of hides, sheltered & unsheltered ones. For lovely panoramic view of SBWR, climb the 2 observation towers also known as aerie. There is only ONE toilet!
Sheltered Hide & Observation Tower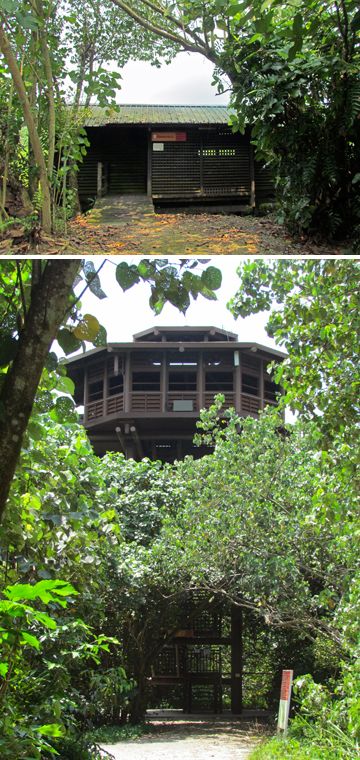 --------------- Before I continue, a little ranting of mine ---------------
Before I visited SBWR, I'd heard about it from various people. The conversation usually goes like this...
Me: Been to SBWR?
Them(proudly): Oh yes! It's a natural reserve, you know?
Me: How is it like? Did you see anything, learn anything?
Them: Nothing lah. Very boring & hot! Learn what? It's only a stupid jungle what! Wasted my time! Not much to see or learn! Only trees! Oh... & BIG lizards! Zoo got more animals to see.
Me: Huh? Why did you go then?
Them: Nothing to do what... so join my friends/school or company outing/excursion organized by community center lor. Very fun leh coz after that stupid swamp, we went to this (insert place name) to eat the famous (insert food name)...
WTF? Food is NOT love &
SBWR IS NOT A FREAKING ZOO!
The animals are wild, free to roam & not constrained in enclosure or cage. You have to be quiet & patient.
I'd seen & observed such groups at SBWR. They didn't see anything of interest is cos they are not interested at all. Almost all of them were not paying any attention to their surrounding. Texting, playing games or checking their FaceBook on their cellphone, gossiping, joking & laughing loudly is their activities. If you are quietly taking pic of an animal, they tend to be nosy, shouting questions at you: WHAT IS IT HUH? WHAT DID YOU SAW HUH? If the animal not frighten off by then & you kindly pointed it out to them, they will
SCREAM
on top of their voice to their friends!
COME SEE, QUICK! LOOK! LOOK!WHERE? WHERE? THERE! THERE LAH! WHAT IS THAT? I CAN'T SEE ANYTHING LEH!
If that animal didn't run/swim/fly away, it must had die of fright or having a heart attack!
The most noisy ones are usually not the locals. Not tourists either, but are foreign workers/immigrants. Filipinos, Indonesians, PRC Chinese, Malaysians, Bangalas or Indians. I once heard a group of Filipinos playing some sort of game in the Reserve accompanied by loud screams & laughter. The noise was so bad that most probably the fauna of SBWR have nightmares for a long time!
Thankfully, the further you went down the trails, the lesser these people will be. Most of them will turn back less than a third of the way, except for the joggers pounding noisily along the trails. WTF? There is no residential housing nearby. Why are people going all the way there to jog? Can't they go to a running track or a park to do that? Why jog on dirt trails in a nature reserve? Training for a jungle marathon or rangers training to run down poachers? Or poachers training to catch wild animals? If you're not interested in nature, why are you at a nature reserve? For status like... "I had been to a nature reserve/Heritage Park!" kinda thing? Where is your priority?!?
Apparently, there are more of such people there on Sundays or public holidays. I will not want to visit SBWR on those days!
----------------------------- End of rant --------------------------------
With keen eyes & aware of your surrounding, the flora will delight you. Be quiet & with a little patience, there are plenty of fauna to see or take pics of. Open your mind, be eager to learn & observe, the rich biodiversity of SBWR will be opened to you.
Lovely Flora of SBWR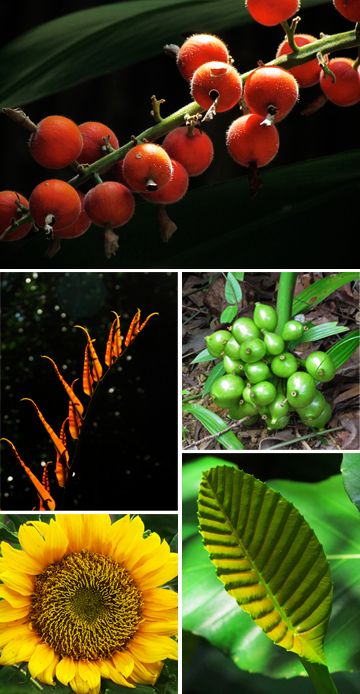 I'm not really into flora, so not much pics of those. Other than flowers, most are just not artistically appealing to me. =P
Insects ~ I'm a girl & generally speaking, afraid of creepy crawlies, but I don't mind butterflies & love dragonflies. However, I sux at identifying insects. Apart from butterflies & dragonflies, I've no idea what are the species of insects which pics I'd captured. My humbly apologies if I got the name of the species wrong. Am not using their scientific name cos this blog is mainly for the layman.
Colorful Grasshoppers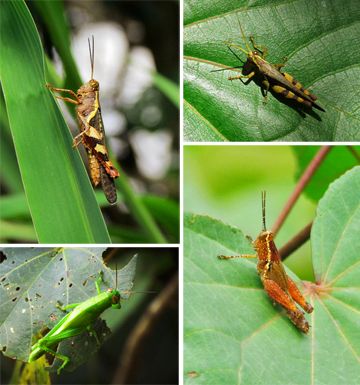 It was an Eeeeek moment when I noticed a small spider which had caught/killed a baby lizard & was processing to suck it dry(bottom image of pic below). It was dragging the lizard carcass & I tried to video it, but was too afraid to get close.
Preying Spiders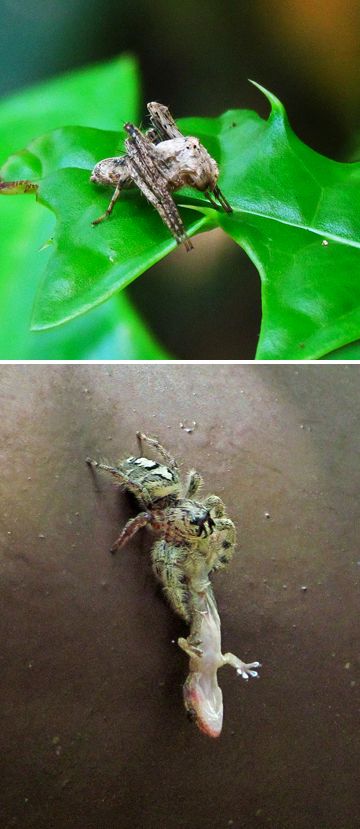 Below are some butterflies/damselflies/dragonflies we had seen & managed to take pics of.
From left to right, top to bottom: Cabbage White, Jacintha Eggfly, Short-banded Sailor, Malayan Sunbeam, a mating pair of Malayan Sunbeam & Dark Glassy Tiger.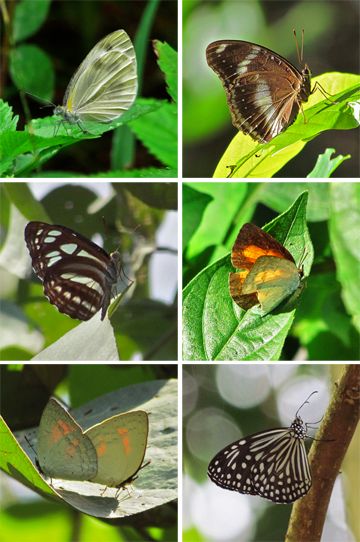 From left to right, top to bottom: Yellow-Barred Flutterer, Blue Dasher, Variegated Green Skimmer(male) & Pond Cruiser.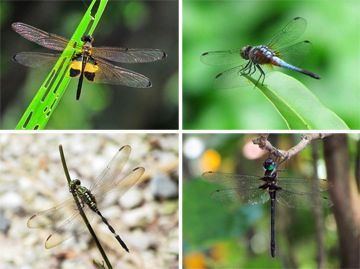 From left to right, top to bottom: Common Scarlet(male), Common Flangetail, Common Redbolt(female) & Blue Sprites(2 males & a female).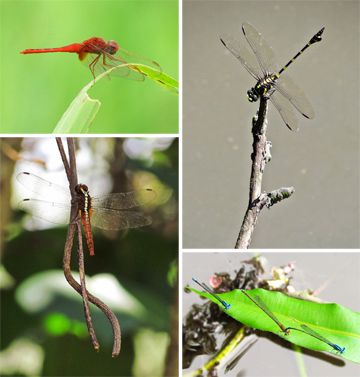 Plenty of marine/shore organisms at SBWR, but I dunno much about them except the very basic. Nevertheless, we captured some pics, mostly fishes, for the record. The below pics are of Mudskipper, 2 Half-beaks, 4 Archer Fish, a blue fish which was listlessly swimming on its side, apparently injured, 2 kissing fishies, 2 Mudskippers making a love burrow & a tree climbing crab in the mangroves.
Fishes in Sungei Buloh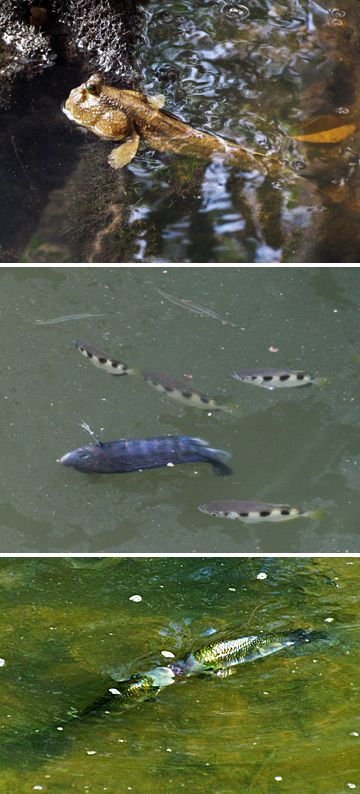 Mudskippers & Climbing Crab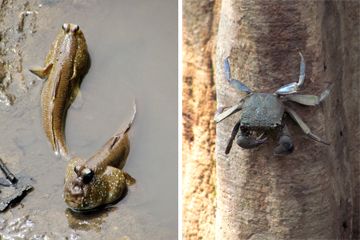 Sungei Buloh Wetland Reserve is a haven for birds & is one of the main reason I visited. As far as nature photography is concerned, avian photography tops my list.
Birds Paradise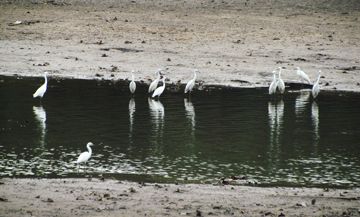 The very first time I visited SBWR, I was greeted by a juvenile Oriental Pied Hornbill. It was eating dates growing on a palm tree at the entrance & I noticed its beak was broken at the tip. Poor thing. Hope it will re-grow back soon.
Oriental Pied Hornbill (juvenile)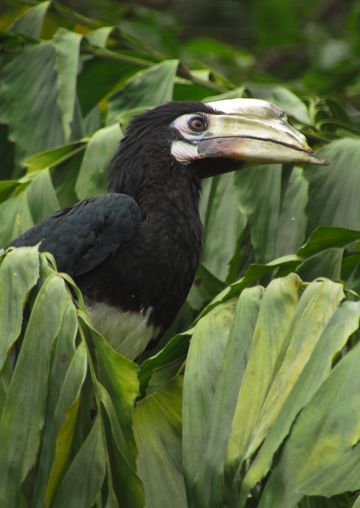 Broken Beak
Even without migratory birds, there are still many species around.
Left row: Painted Stork, Common Redshank & a flock of Whimbrel.
Right row: Little Egret & Great Egret, Little Heron, Purple Heron.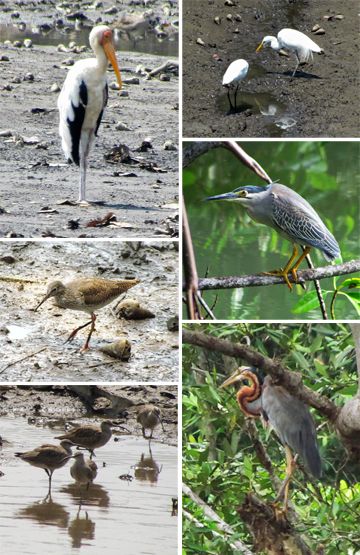 From left to right, top to bottom: Common Sandpiper, White-breasted Waterhen, a neck-stretching Yellow Bittern & another Yellow Bittern among the reeds.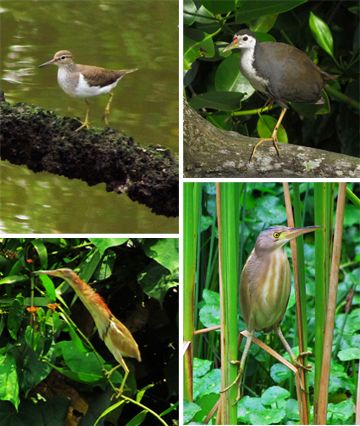 From left to right, top to bottom: Pink-necked Green Pigeons(male at left & female at right), Zebra Dove & Yellow-vented Bulbul feeding on nectar.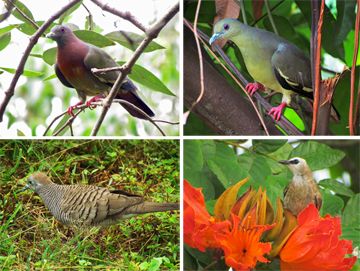 From left to right, top to bottom: Crimson Sunbird(male), Olive-backed Sunbird(male), Brown-throated Sunbird(female) & Copper-throated Sunbird(male).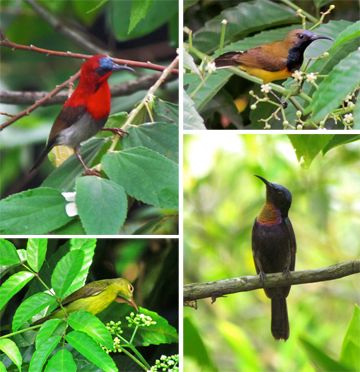 From left to right, top to bottom: Scaly-breasted Munia, Oriental Magpie Robin, Pied Triller & Oriental Dollarbird.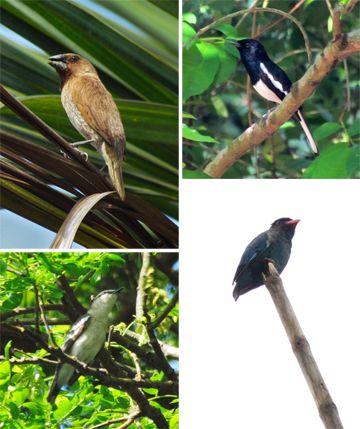 From left to right, top to bottom: Scarlet-backed Flowerpecker(male at left & female at right), Common Iora(male), Ashy Tailorbird, Baya Weaver(courtesy of Jorge) & another Oriental Magpie Robin.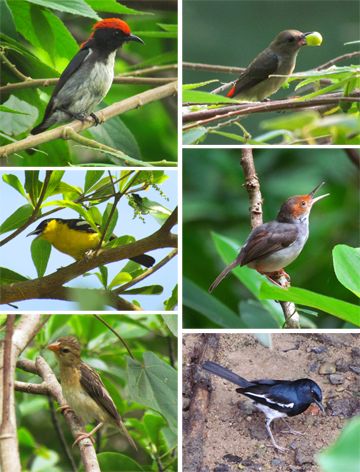 Looking out from a platform at the mouth of the river, we saw an Osprey fishing at the other bank of the river. Such a thrill watching it dived, hit the water with a loud splash, caught a fish in its talons & went back to its perch to eat.
On a platform over the sea.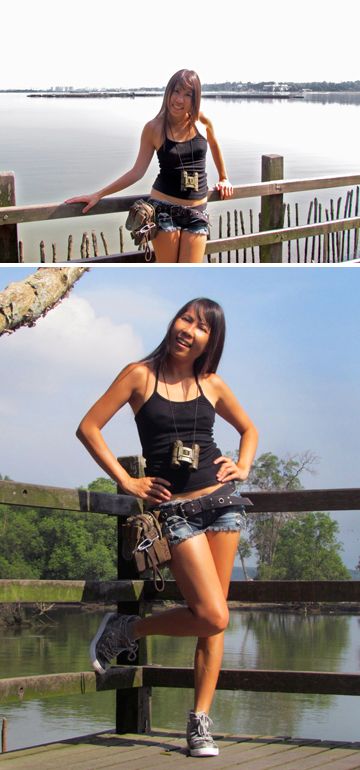 Osprey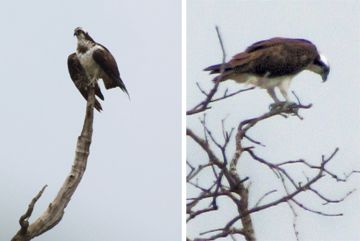 There are many birds that we had no chance of getting pics of. Either they were too far away, too skittish or we can hear them calling, but couldn't spot them. On the ground, plentiful of Water Monitors Lizards. A pleasant encounter is a Green-crested Lizard. These lizards are native to Singapore, but are getting rarer. In many of its habitats, the Green-crested Lizard were edged out by the introduced Changeable Lizards which are more aggressive & adaptable.
Green-crested Lizard & Changeable Lizard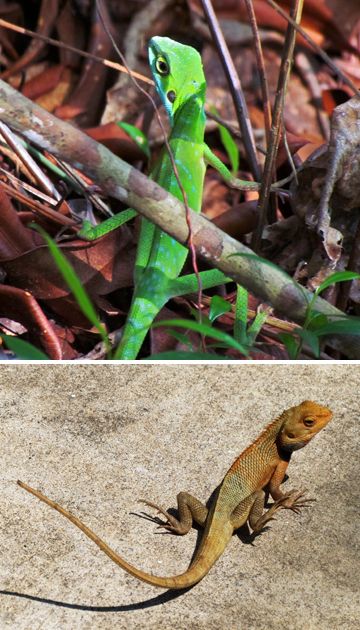 Plantain Squirrels are abundant in SBWR. Saw one gnawing a coconut & another eating a jackfruit.
Plantain Squirrels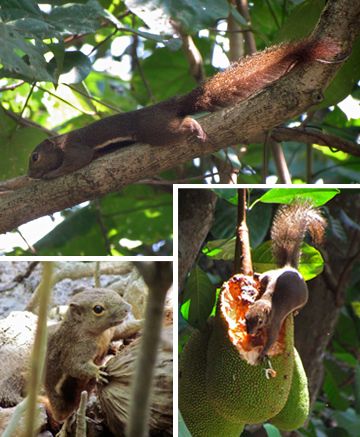 Gnawing Squirrel
As I'd mentioned, There Be Monsters & some of the Malayan Water Monitor Lizards are huge, perhaps 6 ~ 7 footers? However, they are quite harmless & will run away when you approached too close, but still, do be careful.
Big Mommas!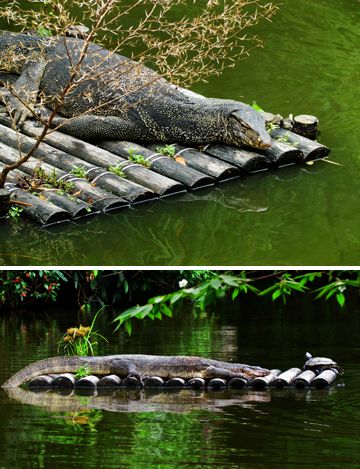 Saw an Australian tourist being tail-whipped when he unknowingly walked too close to a small Monitor Lizard which was sunning itself at the side of the trail. We saw the guy screamed, literally jumped into the air & landed on the other side of the trail. My guy went to check on the unfortunate tourist. The lizard had left a red-streaked painful mark on his lower calf. Fortunately, no skin was broken. That lizard is bias coz earlier, I was taking pic of it & it allowed me to approach very close without showing aggression. Perhaps it's racist. LOL! =P
During my second visit, I video-ed a larger lizard & when I tried to get closer, it tried to tail-whipped me. Oh... I know your trick! I backed away before it can whip me. xD
Videoing a Water Monitor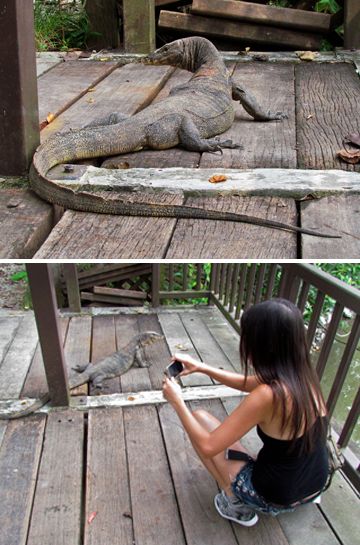 Another of my main objectives for visiting SBWR is Smooth Otters. When I discovered that there are otters in Singapore, I'm dying to see them in real & get some pics. My chance came on my third visit to SBWR. My persistence had paid off! =D
From the bridge, I caught sight of a pair of Smooth Otters emerging from the river to the freshwater pond near the lobby. After resting for a while at the pond, they went back to the river. Back to the bridge again, we went. They were chasing fish & eating their catch.
The Smooth Otter is listed as 'Critically Endangered' in the Red List of threatened animals of Singapore. I'm so glad to have the chance of seeing those delightful creatures.
Smooth Otters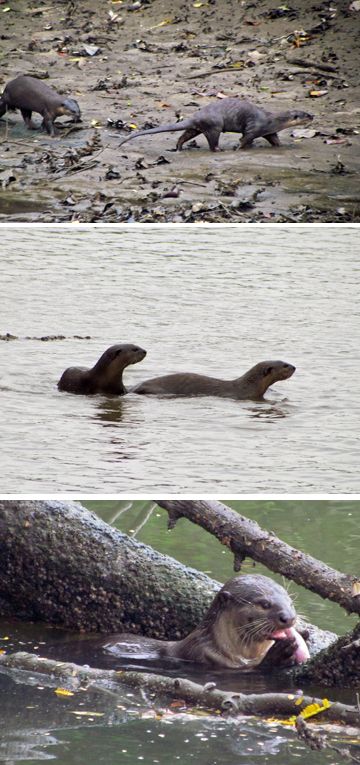 Now, how about some terrifying beasties? LOL! =P
If you are in SBWR, you will notice lots of warning signs at the trails: Beware of crocodiles! Heed those warning!
Watch It!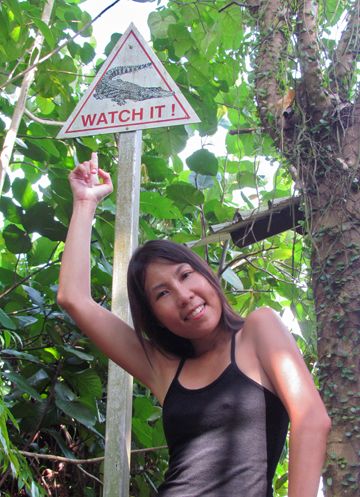 This tiny island is home to one of the most fearsome predator in the world, the Saltwater or Estuarine Crocodile. These reptiles can grow to a length of more than 6m & weights about 1300 kg. The Saltwater Crocodile is an opportunistic hunter capable of taking nearly any animal, including water buffalo, that enters its territory, either in the water or on dry land. They are known to attack humans too.
Before visiting SBWR, I'd never seen a real life croc in the wild. During my first visit, on the bridge with lots of visitors around, some people asked about croc & we overheard an armchair naturalist(not a staff of the Reserve) announcing to the crowd that there won't be croc around on that day due to certain reasons. My guy sneered at those words & told me that most people can't recognize a croc in the water even if it is just a few meters away. While that self-proclaimed expert was lecturing to & impressing the crowd about no croc today, my guy promptly pointed out to me a croc in the river. At first, I doubt it was a croc. Thought my guy was pulling my legs. It looked exactly like any other floating log... till it dived. OMG! It is a crocodile & was only a couple of meters away! Many people after listening to that armchair naturalist, walked by looking at the river without realizing there is a cros right under their nose! The croc surfaced again after 15 minutes without anyone noticing.
Later, my Jungle Boy taught me how to spot a croc in the water. Now, I'm more expert than that armchair naturalist. LOL! =P
Crocodile In The River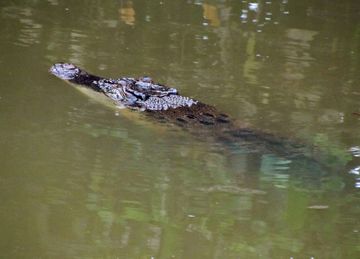 The croc made another appearance inside SBWR. We were in a hide beside a small pond, watching a Yellow Bittern. Suddenly, the Bittern flew away in alarm. The reason for its panic was 2 crocs appearing from a side stream swimming into the pond. They are giants, about 4m in length, bigger than the one by the river! My Jungle Boy told me they might be a mating pair as they were diving & blowing bubbles underwater. Countship display perhaps? Another visitor was with us, a stranger. After watching the crocs for a while, he quietly tiptoed out of the hide. The pair of crocs were a menacing sight, yet strangely magnificent. Once, the crocs swam to just a few meters from the hide. If I'm in the open, I would had wetted my pant! Was so stunned by their appearance that I completely forgotten to video. Damn!
There Be Monsters!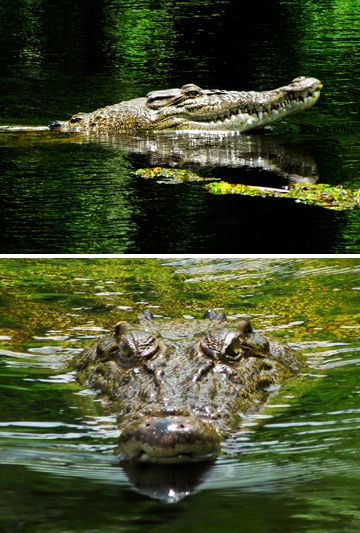 Sigh... cute otters, giant lizards, monster crocodiles & what other surprise SBWR holds for me? To me, it seems that SBWR is a strange Lost World like those in movies. When I thought I'd seen everything that SBWR had to offer, came another surprise...
which startled & frightened me! It appeared suddenly, seemingly out of nowhere, about 5 meters in front of me on the trail I was walking on. With horrifying images of enraged charging beast in my mind, I panicked, screamed like a little girl, "
OMG! There's a wild boar! There's a wild boar! Wild boar! Wild boar! Wild boar!
" & ran to hide behind my Jungle Boy. I stopped screaming only when he calmly told me that I'm frightening the whole jungle, but I continued to mumble gibberish. When the boar saw my Jungle Boy, it turned & ran. For want of a photo, Jungle Boy went after it. That pig is fast! It dodged into the narrow strip of mangrove swamp & sometimes out onto the trail. He & his friend quietly stalked it for about 3 ~ 5 minutes. At one point of the chase, it backtracked & came out onto the trail near me, facing me a second time! It was less than 3 meters from me! I was some distance from the guys & this boar was between us. I froze, thinking to myself, "Oh no! I'm so dead if it charged!" Somehow, I was deemed unworthy of its attention. The boar looked at me with beady eyes, snorted & plunged back into the mangroves. Last we saw of it was when it came out of the mangroves again at some distance away. Looked back at us for a few second & went trotting down the track. Was so shocked that I forgotten to video it for most part of the time, but my guy got some pics of it. This is my first encounter with a real life wild boar in the wild. What an exhilarating experience!
Beast of Sungei Buloh Wetland Reserve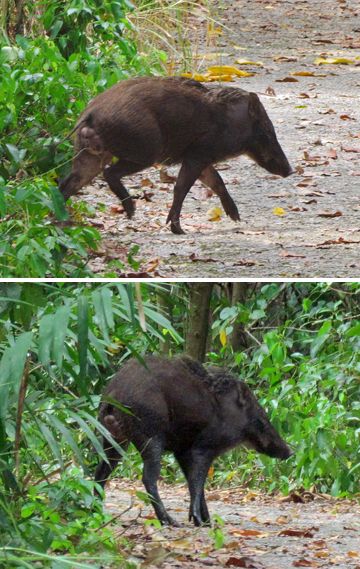 Wild Boar
A wild & exciting adventure, that's what Sungei Buloh Wetland Reserve is to me. Little cuties, wild beasts, giant dragons, fierce monsters all in a splendor setting of Nature.
The Splendor of Nature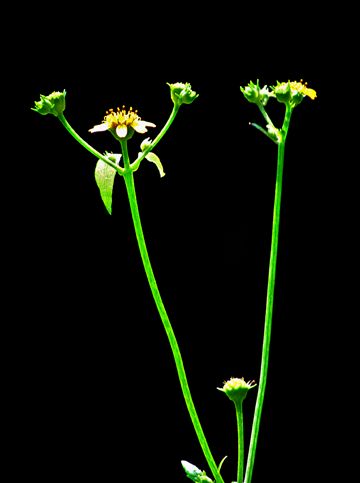 Am truly in love with Mother Nature & her amazing creations. Definitely will be visiting wild wonderland again.
You Are My Sunshine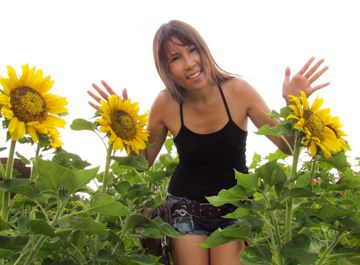 Below are things to know if you're visiting SBWR.
Map of Sungei Buloh Wetland Reserve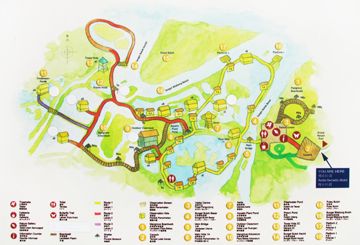 How to get there:
• Take SBS Bus No. 925 from Kranji MRT Station to the Reserve entrance. However, this apply to Sundays & public holidays ONLY. On other days, the last stop is at Kranji Reservoir Carpark where you have to walk about 20 minutes to reach the Reserve.
• Take the Kranji Express which operates daily. Pick up point is at Kranji MRT Station. This service operated on a 1 & half hour schedule. First bus is at 9 am. Last bus from the bus stop outside the Reserve is at about 4.30 pm. Currently, as of this date, for a 2-way trip, the fare is S$3 per pax. Remember to keep the ticket(s) to show the driver for the outgoing trip.
• For more info about SBWR:
http://www.sbwr.org.sg/
These advices are offered by my Jungle Boy:
• Things to bring: Mosquito repellant, food & drinks(there's no stall or vending machine inside the jungle), some band-aids & umbrella(in case of rain).
• Dress sensibly for hiking. The trails might takes you a few hours to complete. If needed, empty your bowel/bladder before venturing in. There's only ONE toilet inside the Reserve.
• Always check the maps to orientate where you are in case of accident or in need of help.
• Always be aware of your surrounding. Keep a look out for snakes & crocodiles. It's a jungle out there, not a zoo with cages or enclosures. The animals in a nature reserve are not tame, not pets. Do not try to approach too close to big or dangerous animals. You have to be responsible for your own safety.
• Do not climb tree or go down into the water & mud flats. Do not stand under trees if there is thunderstorm. Get to a sheltered hide as fast as possible.
• Do not pull/pick or damage plant/fruits/leaves/flowers or disturb/catch/harm the animals, not even the insects, except perhaps mosquitoes. Do not feed the animals in the wild. Human food might be harmful to them.
• Do not litter. By law, you're not suppose to take anything out of a nature reserve, except your own rubbish.
• Tips on observing/taking pics of wildlife in their natural habitat:
Try to be quiet, move & speak softly. Loud noise frighten away animals. Do not wear whites or bright colors to advertise your presence. Wear something dull or dark, like grey, green, brown or black. Military camo is best. Some animals have very keen eyesight, especially birds. They have very good color vision & zoom lens for eyes. Most animals also have keen sense of smell. Try to be downwind to them, not upwind if possible. Bear in mind that a nature reserve is NOT a zoo. The animals at the reserve are wild, free to roam anywhere they like. Certain amount of luck is needed for you to meet/see them. Be patient. Nothing is guaranteed.
Labels: Nature