WaterFest By The Bay
WaterFest? What the hell is that? I don't watch TV or listen to the radio & seldom read the papers. Heard about WaterFest only 1 day before the event coz Melly's school mates invited us to join them. Was supposed to meet up the next day(Saturday, 25th Aug) at 9.30 am. Of course we were late lah! Who the hell wanna wake up so bloody early on a weekend?!? After meeting up with Melly's school mates, we walked from City Hall MRT station & reached Marina Bay before the event was even started. Event start at 11 am & we were too early! We should have sleep a little longer! Humph!
Entrance to Waterfest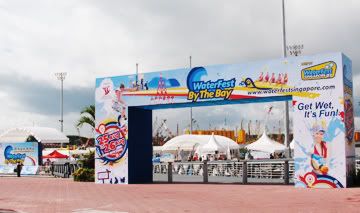 Us @ the layout board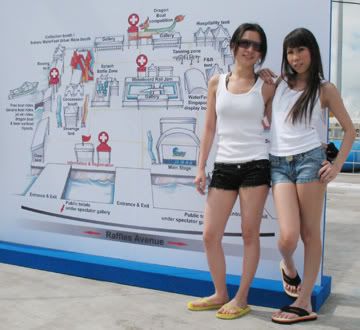 First thing we wanna do is to try out the banana boat. As we arrived early, we had to wait for the boat crews to get ready. It was a very hot day, hot enough to fry eggs on the ground! When the light rain came in the afternoon, we could see rainwater turning into steam when it hit the ground! We slapped on layers & layers of sun block, but still ended up looking like boiled lobster by afternoon! Get Wet, the signboard said. Yeah, right... we wore bikini under our shorts/singlet in anticipation, eager to show off our sexy bodies & the only time we get wet was when it rain in the afternoon! Melly's school mates did get totally wet though, when they purposely capsized their banana boat. =P
Banana Boats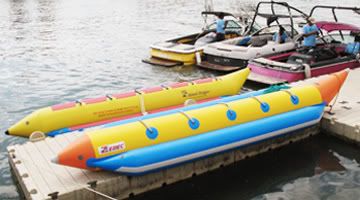 Looking cool in life jackets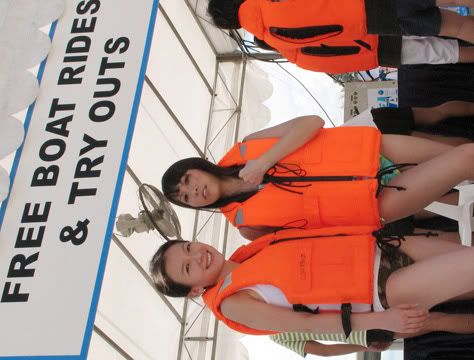 When our turn came to ride the banana boat, Melly & me were left behind as there's not enough seat. Suddenly, came the call "Who want to try out Jet Ski?" Woooot... yes, jet ski! I always wanna try out a jet ski! Imagine our disappointment when we discovered that we're not allowed to actually control a jet ski. It's pillion only. Dammit! No fun at all! =(
We are leaving on a jet ski...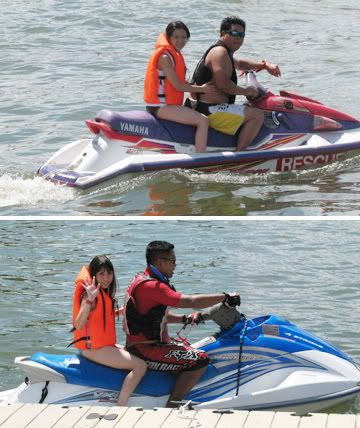 After the jet ski, banana boat seem no thrill at all. Forgoing that, we wandered over to those air-filled balloon playgrounds.
Playgirls @ Playground =P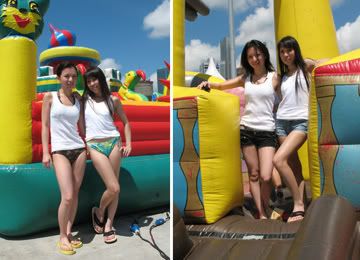 It was early with not much people around. So we started to behave like a couple of little silly girls doing monkey stunts. =P
Sliding, rolling, riding, jumping, going crazy...

Didn't actually know what events were being held. It's all water sports. Saw dragon boats, sailing boats, racing Jet Ski, water skiing team from China & cable-towed wake boarding. We were hoping to get our itchy little hands on a jet ski, so we asked some of those Jet Ski racers whether they can let us try out their machine, but they just wanna date us instead! Bloody buayas!
Slow & fast boats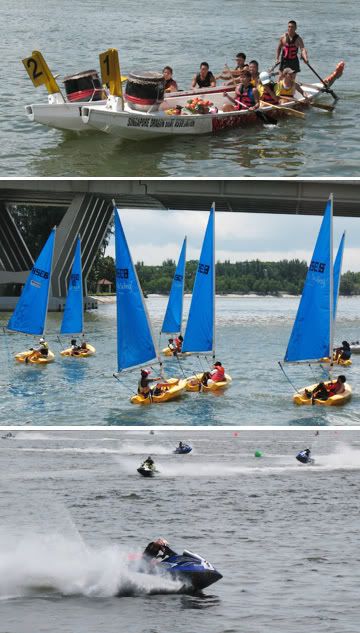 Water skiers from China & competing wake boarder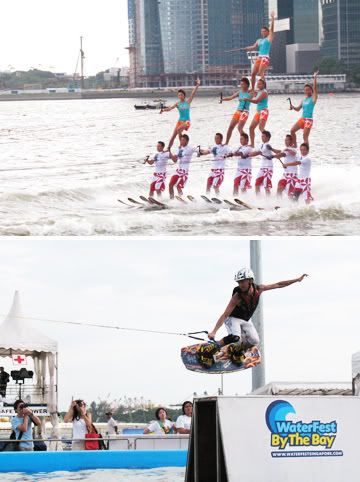 After a hot & exhausting day, we went to Beach Road Hawker Center to try out AngMo Desserts which Melly discovered. This hawker stall is unlike others. It is really opened by an angmo(hence the name) with a Singaporean partner. I believe they have the best deco for a hawker stall. Just look at those wood panels on their walls! Seem they are quite well known & popular as there's a long queue at the stall. We ordered their special, Royal Claypot Fondue. At $14.80, it comes with waffles, fruits, marshmallows, chocolate dip in a claypot & 2 types of homemade ice-creams.
AngMo Hawker Stall & their Royal Claypot Fondue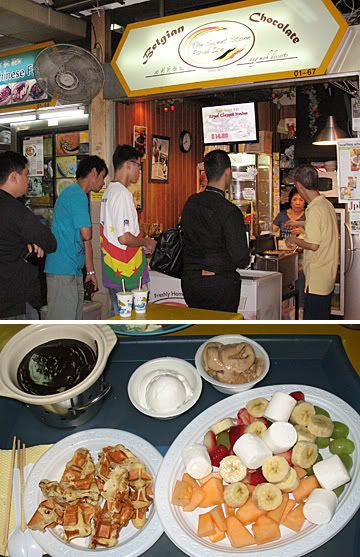 What a yummy meal to end a delicious day! A fun-filled & sexciting day with my love, my beautiful darling Melly! We may look like boiled lobsters at the end & made fun at each other fried looks, but we're a pair of love-sick lobsters. Eat your heart out, guys. Hehehee... =P
Hugz to Hearts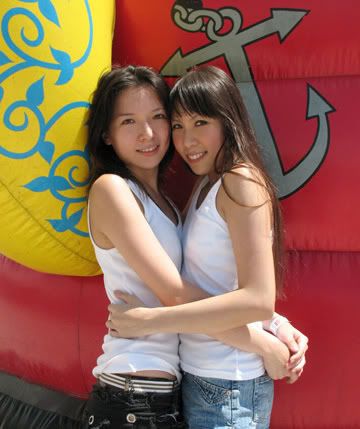 Our Love, Always & Forever!