Singapore River Tour
Last weekend, before going to Boat Quay to celebrate a foreigner friend's birthday, we went for a stroll along Singapore River. Thought we show my friend around a little before we drink him under. Haha!
Saw a car sale display. I'm not into cars & don't know what model are they. Just thought it will be so cool pretending to be a car show model. Me too short to be a model, but I can pretend can't I? Heh...
Went up to a slick black one & started posing.
My friends took a few shots & before you know it, people nearby started snapping pics of me! Huh? What the...?
Heard a guy commented about wanting a pic of the car show model.
His red-eyes wife stopped him "She's somebody's friend lah! Don't you dare take any pics of her!" Oops... poor guy. =P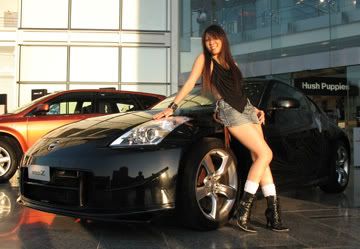 Me, a car show model? =P
After the 'photo shoot', we continued on towards Clarke Quay.
The place had changed so much from it's Sunday Flea Market days. There's a fountain in the middle with this huge weird looking multiple umbrellas sculpture above it. Because of it's white lacy floral prints on those 'umbrellas', one of my friends commented that it looked like a up-skirt view... *gasp!*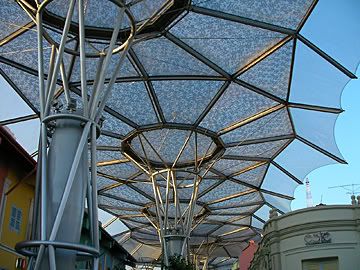 An up-skirt view...
The area now are full of cafes with fancy theme.
One look like a glass window display, another is Scottish. A place that intrigued me the most is a cafe that deco up like a hospital. They have hospital kinda screens dividing the seating areas.
Seats are like hospital's metal bed frame with silver cushions. They even had a work table that look like a hospital operation table! Wonder if the serve hospital food & drinks. Haha...
Cafe name? Clinic.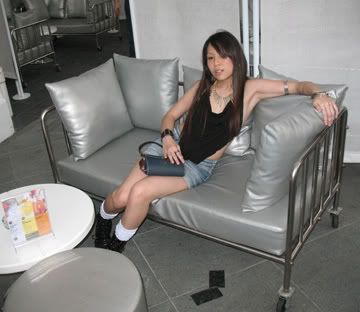 A patient at the 'Clinic'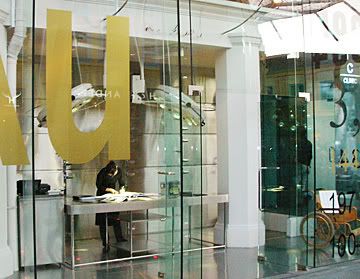 Doctor, doctor! I have this broken heart condition... =P
After the tour, we adjourned over to Boat Quay for a roaring good time.
I seldom club, but this is for a friend's birthday & he's a foreigner alone in a strange land. So we wanna make his stay & birthday here memorable.
At a pub, we joined a group of friendly British tourists. We sang, danced & screamed down the house.
Drink, play pool, sing, dance, drink again, no worry, be happy. Hic!
Sorry, no pic. The only pic of drunken me there is so ugly that I refused to put it up. I may not be pretty, but I'm vain... yep, I'm vain. Which girl is not? No ugly pic of the new me on the web, ever! =P