GCA with Nath & Josh
20th Sept. 2008 ~ Nathalie, a pretty Malaysian girl from Sabah, whom I met in FaceBook is finally here! She had been planning for a long time to come here to further her education. This is our second meet-up since we became friends in FB. The first time we met was on New Year's Eve when she was here on holiday with her parents. She's quite an outgoing girl, cheerful, sporting & fun person to be with.
We met up at SunTec City where Games Convention Asia was being held. Nath brought along one of her online pals, Josh, who is so shy a guy. Perhaps being with 2 pretty strange girls clammed his style. LOL! However he loosen up a little after a while & he isn't shy at all online! xD

Nath, Josh & me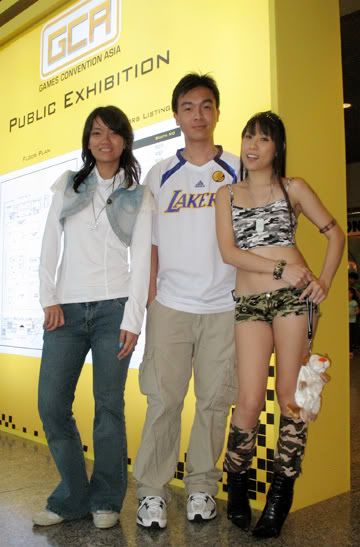 Even though we are not gamers, we had a great time at the event. Am also really happy when I encountered a couple of old friends there.

My pretty neighbor, an ex-primary school classmate & an online friend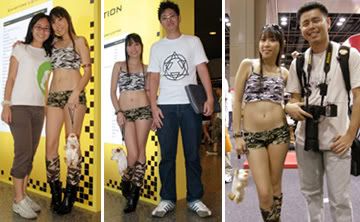 As expected, the event hall was crowded with almost all guys with a sparkler of girls here & there.

The Crowd @ GCA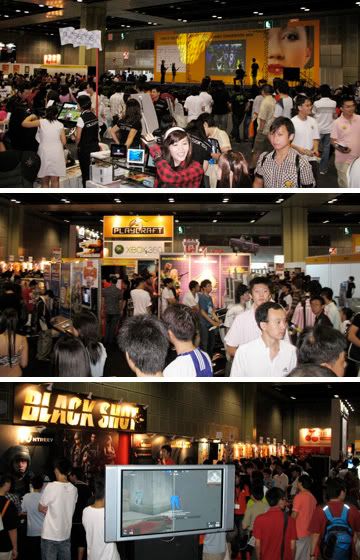 I'm not into gaming, but was touched by nostalgia when I recognized this company which bring back some memorable time of my life.

EA Games booth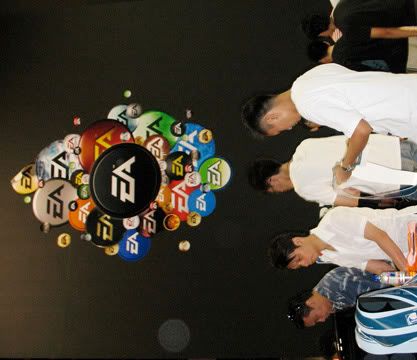 Used to played an online FPS(First Person Shooter) game of theirs, BattleField 1942. I even belong to a big BattleField clan, one the very few girls of the clan. Well, I guess the real reason behind the fact an online clan invited me into their group is I'm a girl & not that I'm any good at games. I tend to panic in FPS, killing more friendlies than hostilies. LOL! xD
Unfortunately, my clan was dismantled as most of my clan's members are working people, more committed to their real life than their virtual identities. Perhaps some of you may have heard of the clan known as DOM which resided in paGn, ex-gaming division of Pacific Internet. That's the only online gaming experience I have & it was a fun blasting period. =P
Anyway, back to GCA...

What's this? Money online? Virtual cash? =P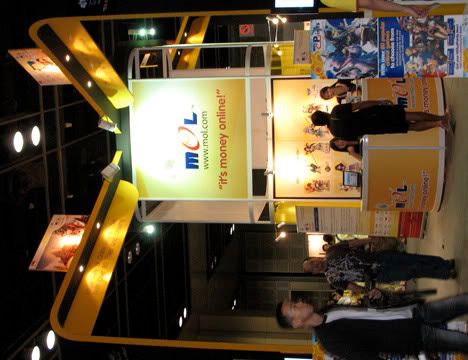 Panda Hammers as prize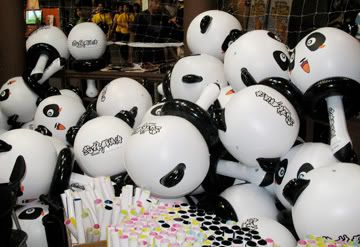 We missed getting the Panda Hammers as the queue was too long for us to bother with.
Guess which celebrity we met at the event? WALL•E, my favorite movie character! Had been searching for the Wall•E bench since I first saw it in one of my friend's foto & I found it! Yes! Happy, happy me! xD

Sitting with Wall•E & EVE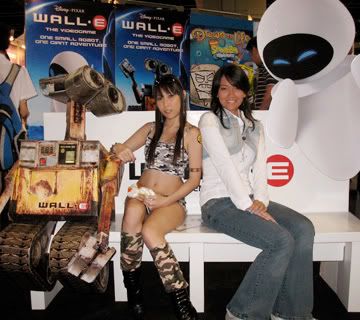 While walking pass a booth, we were interrupted by their staffs. We might have been mistaken for tourists as the staffs used hand signals & simple words like "Pictures? Pictures?" while motioning us toward their small stage. Oh... they wanna to take pics of us posing with their big gaming poster. We obliged as their temporary models. xD

Online Game Models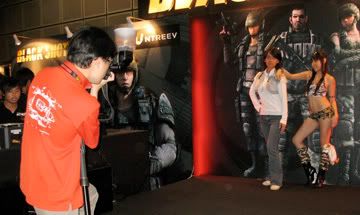 The Fairer Sexy Team? =P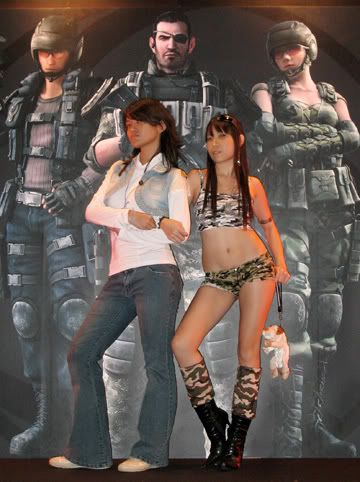 We had a great time posing with many other game characters at the event.

Monopoly Dude & Shortie King of ???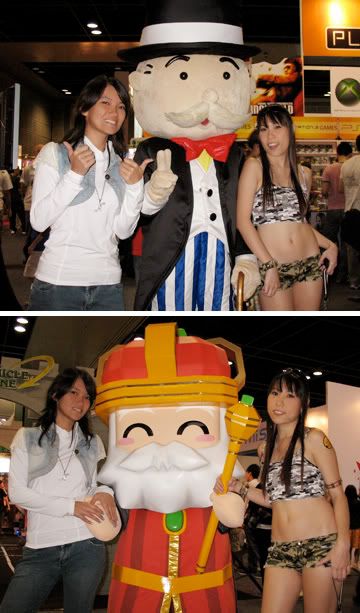 Nath walking softly carrying a BIG sword!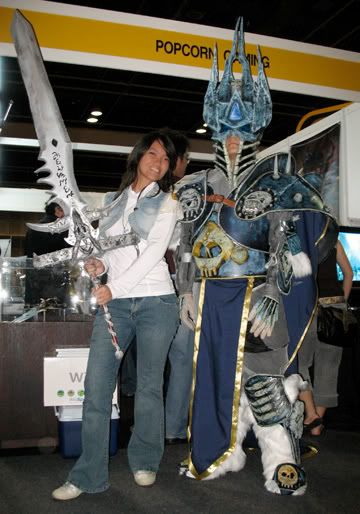 And one of the showgirls recognized me as Hengbok, my online nick! She walked up to me to say hi. Apparently, she is a member of a forum which I am also a member. Nice meeting you!

Showgirls seducing our horny guy! xD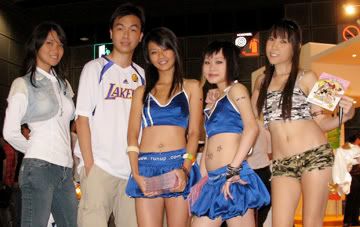 We have some fun with a furry Sasquatch... yeah, yeah, I know it's a Ghillie suit for sniper & had to be bloody hot for the wearer!

Fooling with a Sasquatch! =P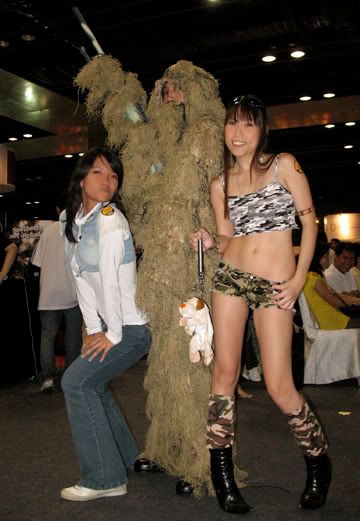 Our fun with furry bear was being silently observed by Environmental Rangers & Nath was caught for being environmental unfriendly, teasing a protected specie. xD

Nath pleading for her life... LOL!
We rescued Nath & in retaliation, captured one of the Rangers... eh, US Marine to torture. Revenge is sweet! xD

Beg for your life, soldier boy! =P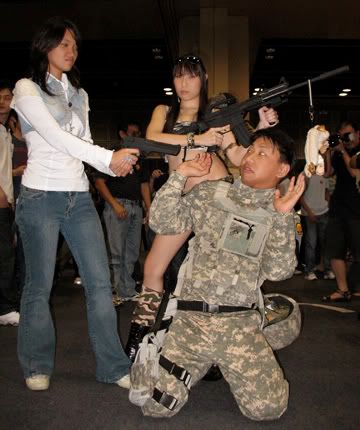 So, they sent one of theirs to negotiate his release.

Cool looking SWAT girl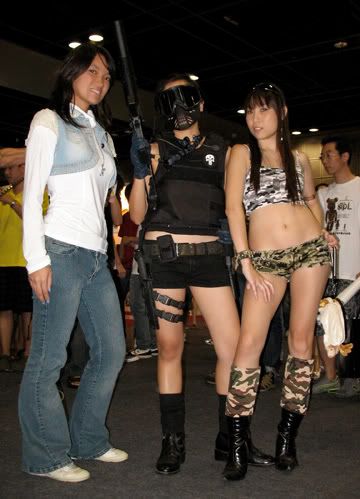 And we sent our horny guy to talk terms... =P

Josh 'negotiating' with the female SWAT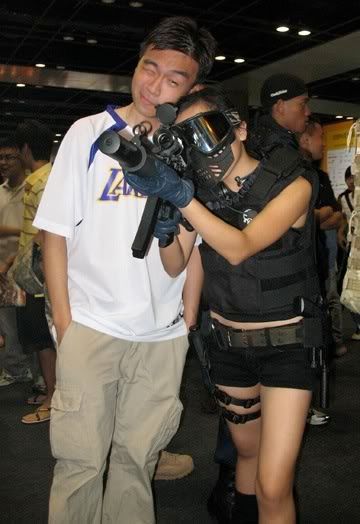 If you can't win them, join them...

The Cool Team from Movie Mania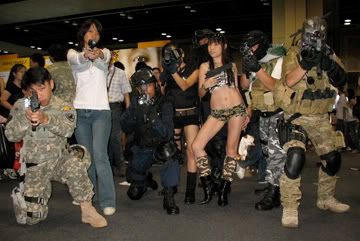 Movie Mania's military team is one of the reason I went GCA. I so love weapons & camo uniforms! xD
Another cool team is the Star Wars team.

May the Force be with you!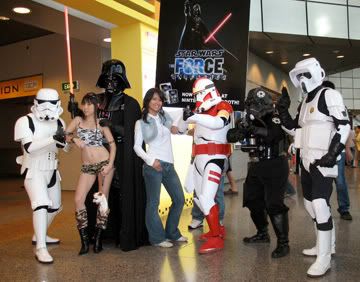 While posing with the Star Wars team, again I was invited to be their Slave Leia. Erm... need to build-up on my boobs for that to happen! LOL!
Oh, what a tough choice for me...

To be an Army Girl or a Jedi?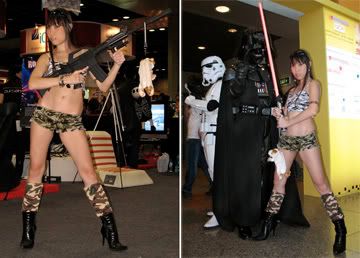 In closing, I would like to thanks those who posed for/with us, especially Tim & the Movie Mania team. Also, special thanks goes to Eugene for being so sporting, allowing us to 'capture' him & borrowing his rifle. We have a great time with you guys! See you at the next event!