Halloween @The Boiler Room ~ The 2nd Annual Vampire Ball
30th Oct, Saturday ~ Dark night gloomy, bad moon rising, cold wind blowing, black shadows flicking, terrible howling, creepy crawly, blood & gory, horrors acoming... Halloween is here again!
Getting ready for Halloween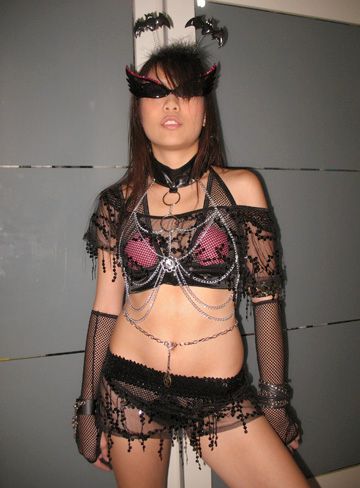 Question:
What happened when a cute Polar Hamster grows wings?
Answer:
It evolved into a sexy PsychoBat! xD
The PsychoBat!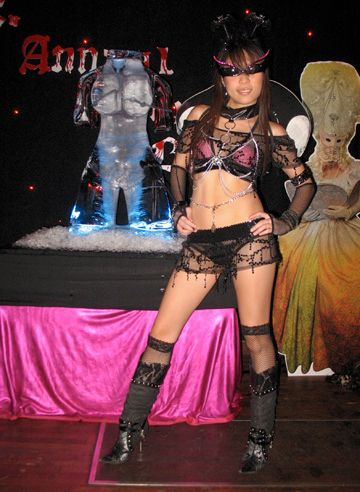 Last Saturday, me with my creepy friends ravenously descends upon The Boiler Room to indulge in an evening of immortal sin and morbid lusts at the 2nd Annual Vampire Ball.
@The Boiler Room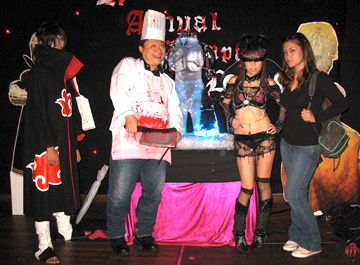 First thing we did was to taste the unholy blood of the Empress Vampira & succumb to Vampira's immortal kiss. Enfolded in her cold embrace, slaves we will be for all eternity! Not bad being an immortal. Think we will drive her highness crazy! LOL! xD
Immortal Slaves of Empress Vampira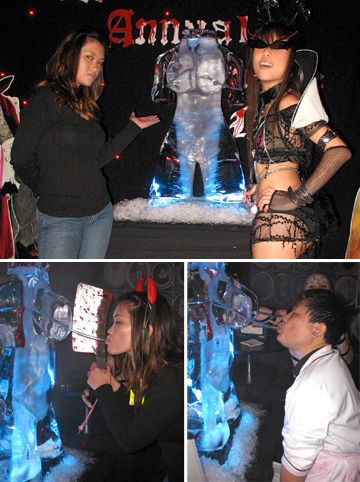 A few scary friends arrived later, escaping the enslavement...
PsychoCat & PsychoBat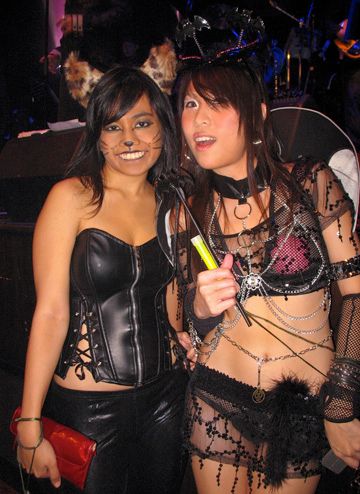 Freaky Friends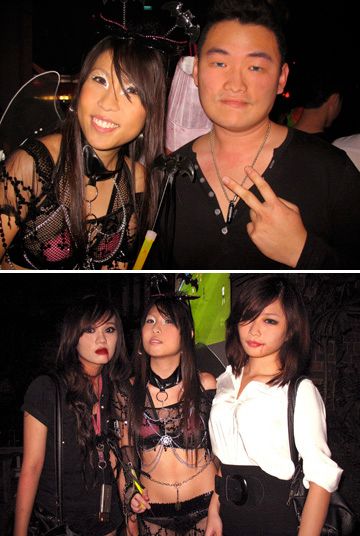 The thing I like about The Boiler Room is their live performance. Sexy dancing/singing vampy girls on stage! Yeah! xD
Vamps On Stage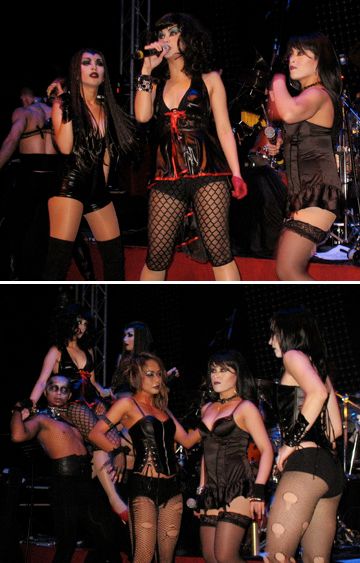 Leather & Laces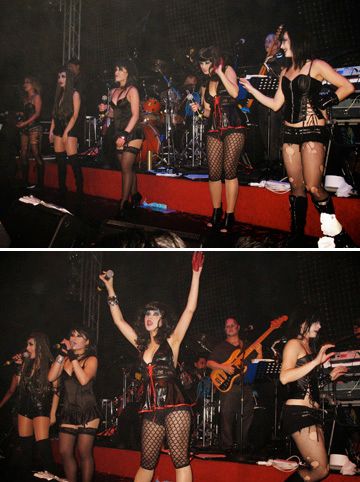 And I managed to get a group pic with some of those sexy performing vamps. My outfit sort of fit in, doesn't it? LOL! =P
We Are Vamps! xD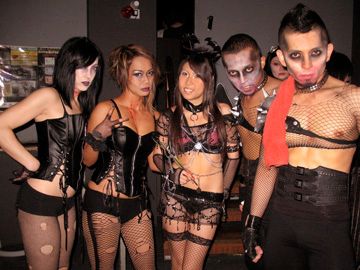 On the floor, we were having a great time taking pics with other Halloween costumers & staging mock fights.
Horns & Knives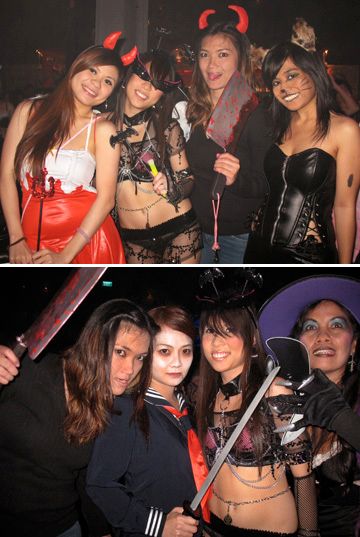 Light-sticks & Choppers

The Madness of The Night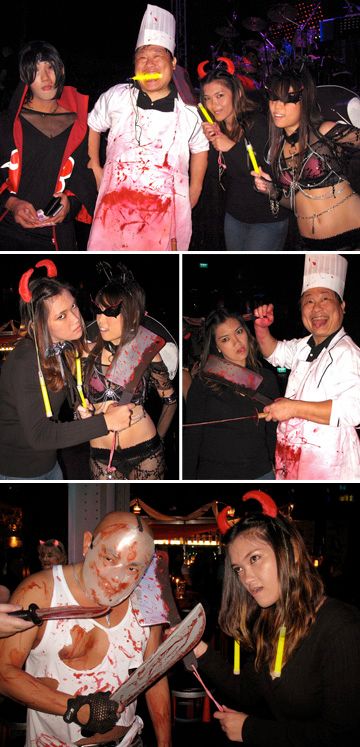 Beauties & Beasts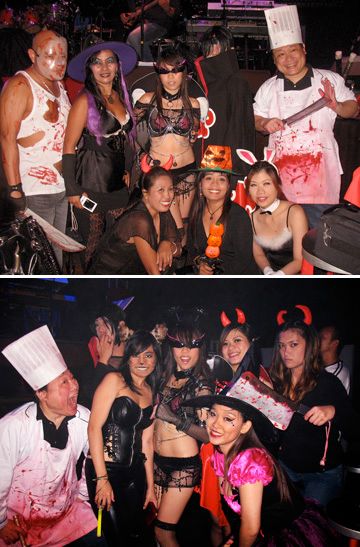 The Horrors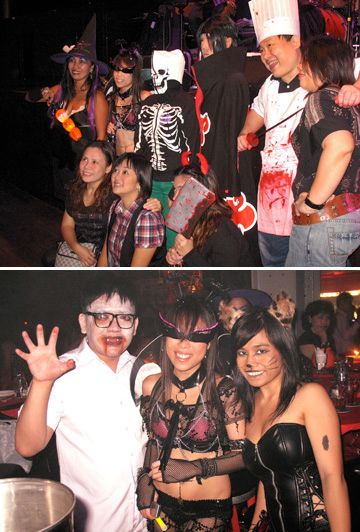 The Gentles & The Wilds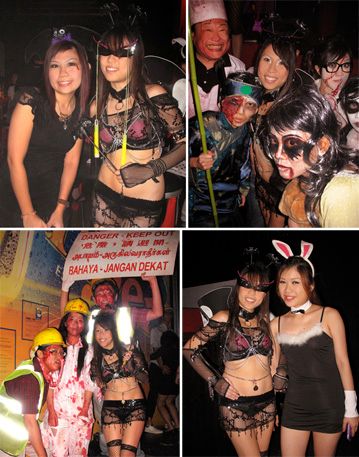 At the entrance, I bumped into this super tall guy(said he's 1.93 meter) who was dressed up as
Justice Bao (包青天)
. Look at the big difference in height... I need an elevator! xD
The Tall & Short of Halloween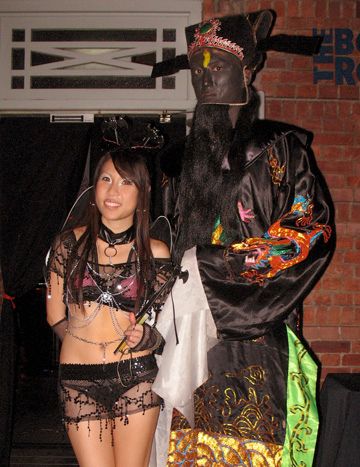 Meanwhile, the best Halloween costume competition @Boiler Room had began. Jorge (a good friend of my soulmate) who was outfitted as the Bloody Mad Butcher was encouraged to join.
Best Halloween Costume Contestants

Touting For Cheers To Win!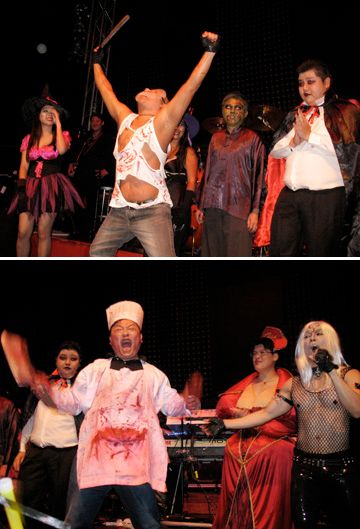 Surprise of surprises! It was the 1st time Jorge celebrated Halloween in costume & the Bloody Mad Butcher went on a killing spree, slaughtered all the contestants, except 1, making him 1 of the 2 winners. Well, he does looked bloody scary in that home-made outfit. All these years, Jorge had miss his calling! LOL! =P
The Winners ~ Bloody Mad Butcher & Fat Queen Mamma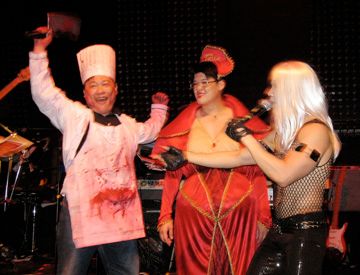 Not satisfied in being just 1 of the winners, the Mad Butcher tried to eliminated the other winner as well. Perhaps he was just trying to be helpful in making Fat Queen Mamma lost weight by chopping off 'her' fats? LOL! =P
Chopping off the competition... LOL! xD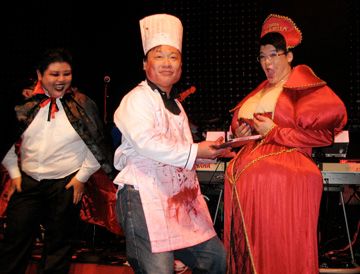 Fat Queen Mamma was saved from the chopper of the Bloody Mad Butcher when they were evicted from the stage which was cleared for the next competition, the wrap-your-still-alive-and-screaming-friend-into-a-Mummy contest.
Wrap-a-Mummy Contest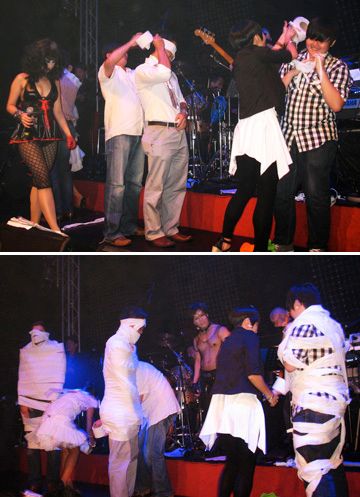 And the winner is...
An Angelic Mummy Wrapper! xD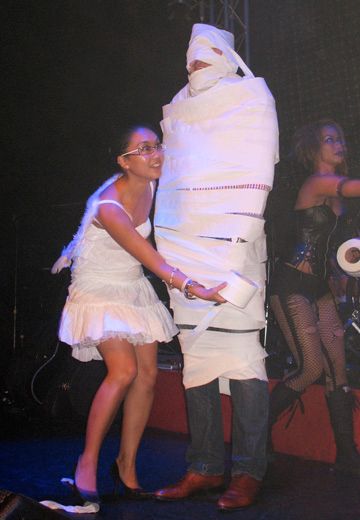 After the Wrap-a-Mummy contest came the final judging for the overall best Halloween costume of all outlets @
St James Power Station
. As winners of The Boiler Room, Bloody Mad Butcher & Fat Queen Mamma went onstage to challenged the other winners.
Halloween costume winners from all outlets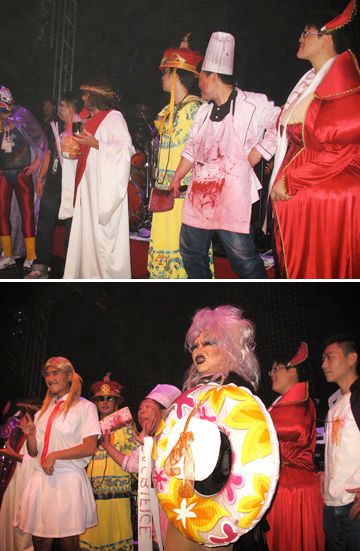 Holy Jesus Christ! A Monkey Flasher!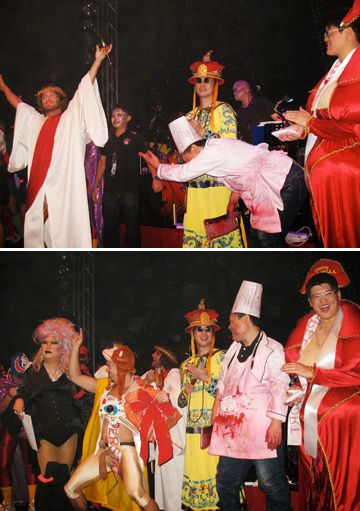 By the loudest cheering from the crowd, the final winner was picked & apparently, drunken clubbers preferred worshipping a Monkey Flasher than to Jesus Christ! Must be the big donk of Monkey Flasher which made the difference. Size does matter after all! LOL! =P
Monkey Flasher, The Overall Winner... Blasphemy! xD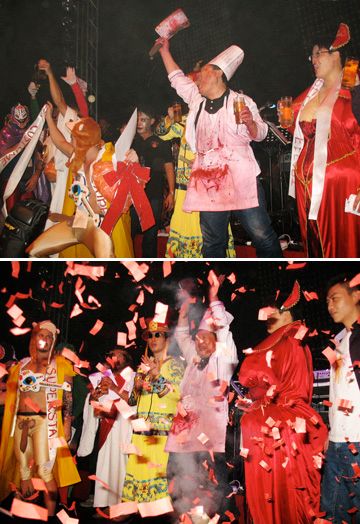 As a consolation, Jorge won a bottle of champagne. However, he wasn't really satisfied with the final result. The Bloody Mad Butcher pledged to chop up Monkey Flasher next time he see it. Monkey sausage, anyone? LOL! =P
Chopper Wielding Bloody Mad Butcher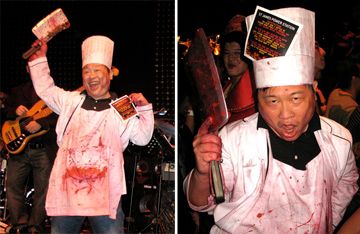 Not so bad for a 1st timer after all. Jorge's effort & creativity in making his costume won him many female fans, making him 1 of the most favorite guys to take pic with @Boiler Room that evening.
Fans of The Bloody Mad Butcher xD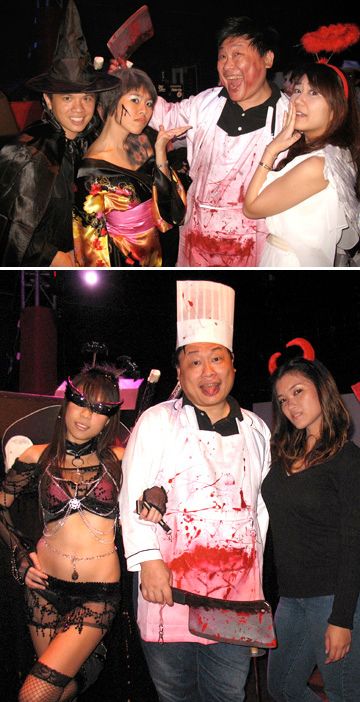 All of us had a wonderful party fun time on Halloween! How's yours? In closing, the PsychoBat say...
Cya U Next Halloween!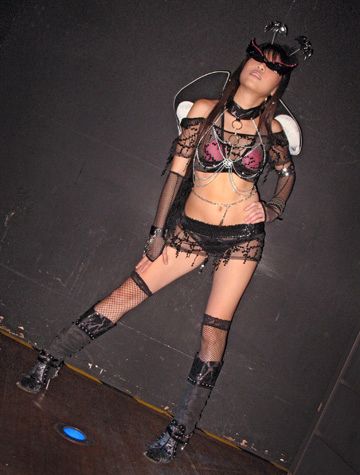 Labels: Event