GCA - Games Convention Asia
20th Sept, Sunday ~ GCA - Games Convention Asia is here again & I went for a visit. How could I resist it anyway. =P
The event was held at the same location as last year, Convention Hall at Suntec City.
Me @GCA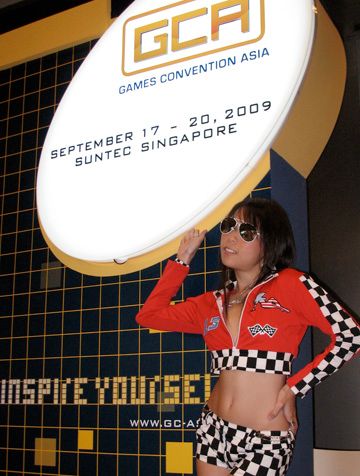 What will you find at GCA? Games, of course, silly! xD
Gamer Girl! =P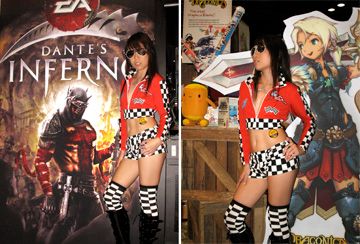 As I am in a Formula One Racing outfit, surely I will look for racing games to pose for pics & I'm a fast pace girl, right? xD
My Need For Speed!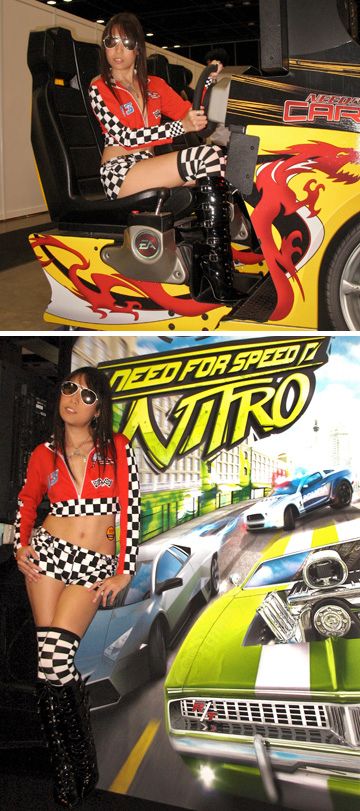 Oh... there are lots of other games around too.
Lets Play!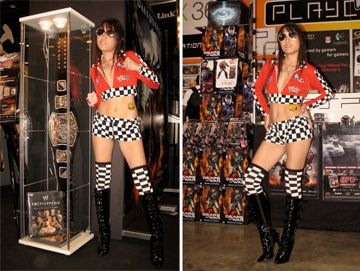 Am I a good gamer? Answer: Even though I had played online FPS games such as Unreal Tournament or Battlefield 1942 & used to be a member of a local gaming clan, honestly speaking, I'm not very good with computer games. The acceptance my former clanmates graced me was due to my soulmate who is quite a good gamer & was one of their War Captain in matches against other clans. My forte is more towards posing for pics, a camhog & I might be a champion in this sort of thingie! LOL! xD
Champion Camhog! =P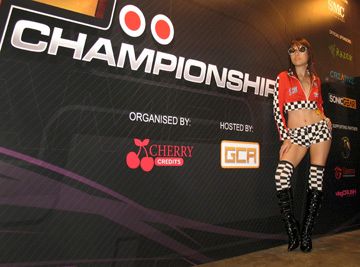 Well... action speaks louder than words cos whenever I'm at such events, I was stopped countless times by photographers who want shots of me. When one start shooting, a swarm will inevitable formed in a semi-circle around me, cameras clicking, flashes firing till I was always nearly blinded!
At GCA, a booth owner spotted me & asked me to pose in front of his booth. A crowd soon gathered. What a dirty trick to draw crowd to his booth! I have to charge for such thing in future! LOL! xD
Crowd-drawer Me! =P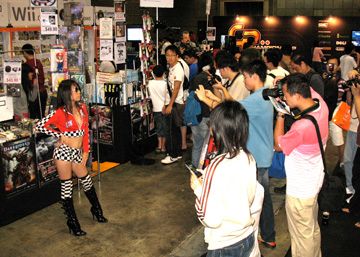 This year's event was much smaller & visitors were lesser than last year. Perhaps that was why that booth owner resort to such trickery. =P
Not so crowded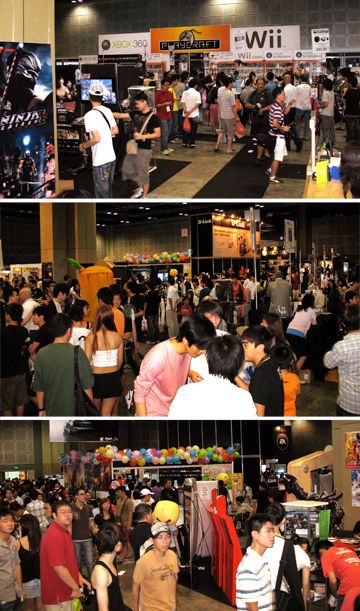 What I really love about such events are not the games, but the dress-up cosplaying characters who are always around on such occasions. Not withstanding a few lame, unfriendly, prideful, humorless & unsporting ones, wanting attention yet unwilling to interact with the public, sticking to themselves at corners unnoticed by most, there are always many who are the complete opposite from those emo kids. These friendlies are the ones who are such fun to pose with. And obviously, they will be the ones who get the most attention & achieved greater popularity.
Beauties & Beasties
Usually, I preferred to pose with lovelies like the Army Girl from a game, 2 sexy Ghostbusters, 2 gorgeous footballers from a virtual soccer game & I dunno what game character is the last one from, but it's a cutie! =P
Cuties! xD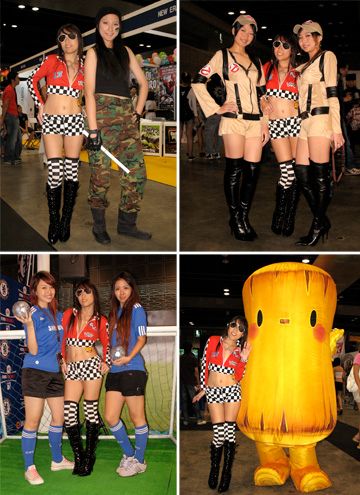 Well... there are some cool dudes who I love to pose with too. xD
My favorites are the ever present Star Wars Stormtrooper & tough Ironman with 2 unidentified characters.
Cool Dudes!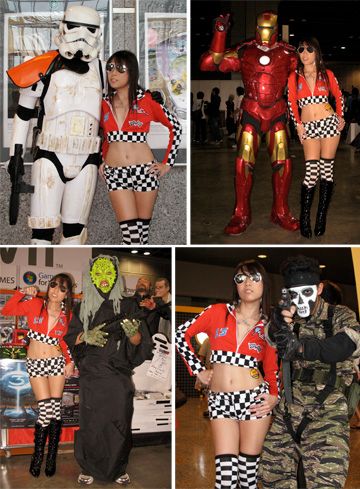 Among the lovelies & cool dudes were quarrelsome pairs. I had to coaxed Make Love, Not War to a growling Alien & a snarling predator, pacified a fiery couple to Kiss & Make-up and negotiated a peace treaty between the Empire & the rebellious Jedi. Ok, it's just an imaginary storyline! =P
PeaceMaker Hengbok! xD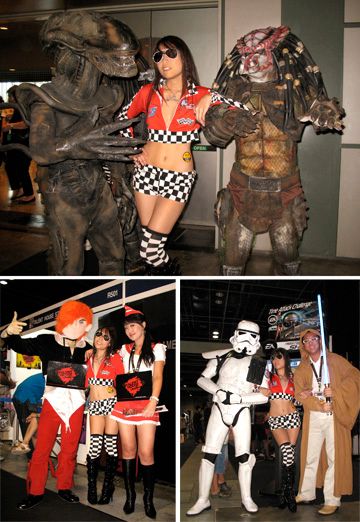 Also visited
MovieMania
booth & took some pics of their fabulous displays.
MovieMania booth displays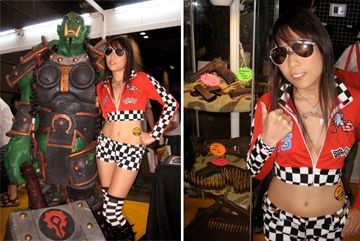 Guns? Did anyone mentioned guns? Oh-ho, I love guns! And light saber of course! xD
Shooter Girl of the Jedi! =P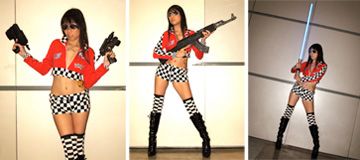 Note:

The weapons used for my above poses were borrowed with permission from their respective owners.
I would like to thanks MovieMania for the loan of those finely crafted display guns & also my thanks to the Jedi who lend me his light saber.
Then came cosplay contest time!
Cosplay contestants on stage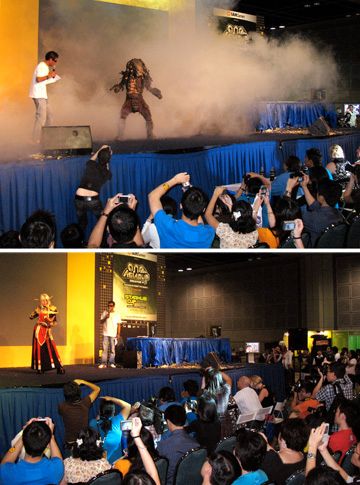 Contestants of the individual category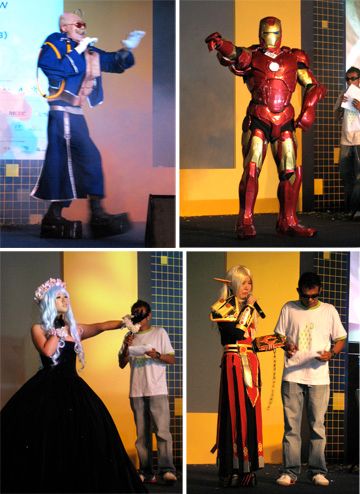 Team category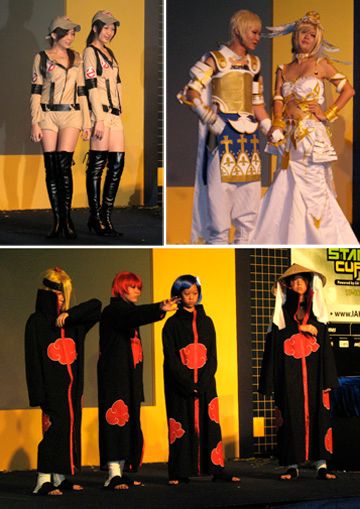 Now to wait for the results after the show & dance.
The complete line-up of cosplay contestants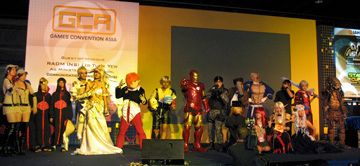 And the 1st prize winner is...
Ironman!
Congratulations to Reno, the guy inside the Ironman suit!
Here's a pic of the rest of the winners. From left to right, winners of the team category & the 1st prize winner, Ironman. The 2 other prizes went to the characters, Armstrong & Sheryl Nome from Macross Frontier.
Winners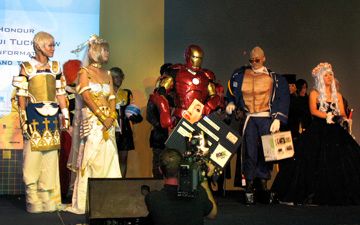 That concluded my visit to GCA.
When passing by the Wealth Fountain at Suntec City, I noticed there's a dance competition going on. So I stayed & watched.
Suntec Dance 2009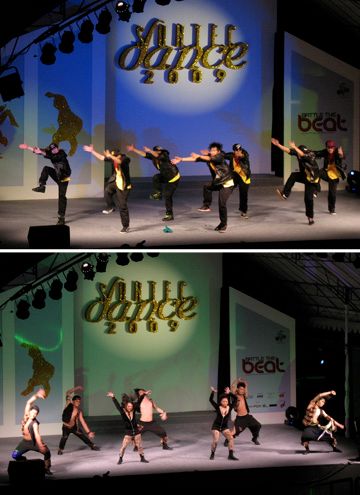 The junior category contestants are so cute & full of spirit too! xD
Dancing Kids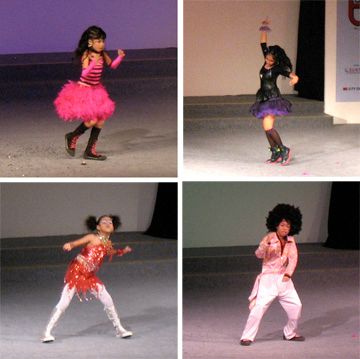 The open category performances pulled off a few surprising moves.
Contestants showing off their moves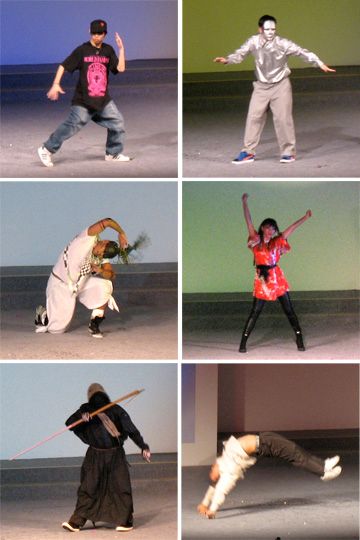 What I enjoyed most is the team category which contestants really hyped fore some spectacular dancing & costumes.
Dance for Fame!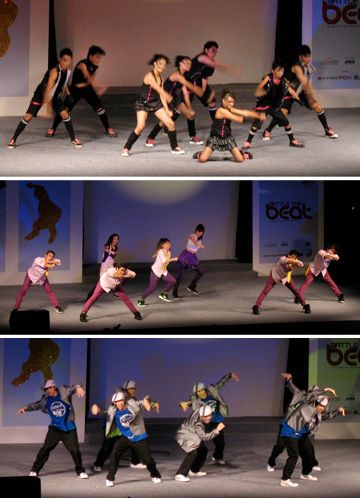 Dance Spectacular!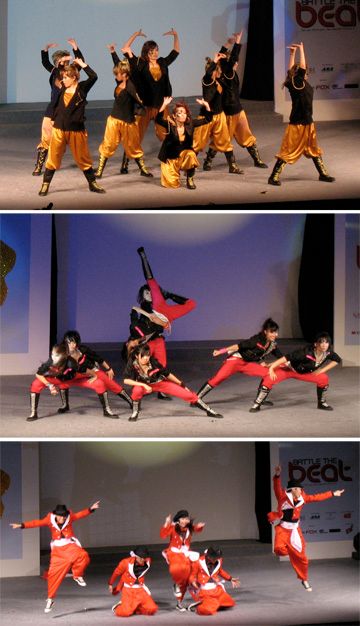 I didn't watch the end of the contest cos I'm feeling hungry & we went for dinner, hence, I dunno the full results of the dance contest. However, as much as I dunno about dancing, but I predicted the winner for the team category after watching their performance & I'm right. It was the 'If You Happy And You Know It Clap Your Hands' team that walked away with the 1st prize. I got this news from a friend who was watching from the VIP stand.
The '
If You Happy And You Know It Clap Your Hands'
team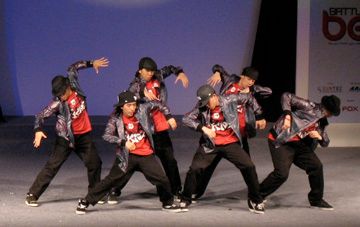 My oh my... I'm so happy. It's been such an enjoyable day! From games to cosplay to dancing! Cya at the next event! xD
Note:
More & bigger photos will be uploaded to my

Flickr

.
Labels: Event