Tricks or Treats?
Night of 27th Oct. Saturday. A dark & gloomy night with a full moon in the cloudy sky. Weird aura was in the air. Something bad is happening. Strange sensations began to possess us & we started to change...
from nice little girls to creepy freaks...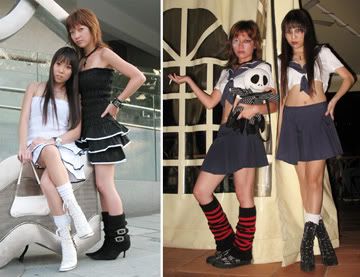 from sunny smiles to evil sneers...
Oh yeah! It's Halloween & we're going to the Halloween Party@Zouk! We(Melly & me) bought identical saucy school girl uniform just for this night & hell yeah, we are sooo going! Had so much fun making up, painting our faces & the effects looks truly frightening.
Halloween@Zouk

Arrived at about 11 pm. Oh boy! The queues were so long like snakes without end! There were 2 queues, one for the non-costume & one for those who wear costume. Luckily, a couple of friends were already in the queue & we joined them. Full costumed people like us get in for free! Erm... we are serial killer school girls. The bouncers took one look at us, fearing for their lives, quickly waved us in. =P
The crowd outside Zouk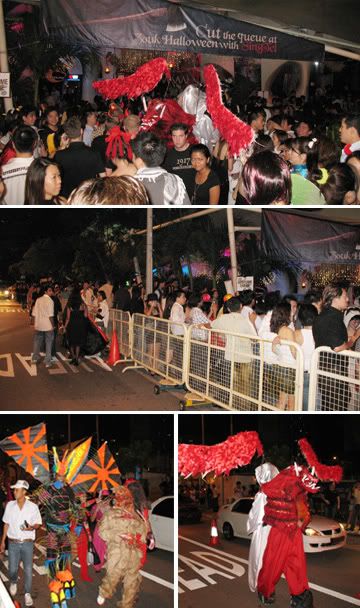 Inside, it's was fully pack, jammed & we can barely walk around.
Inside Zouk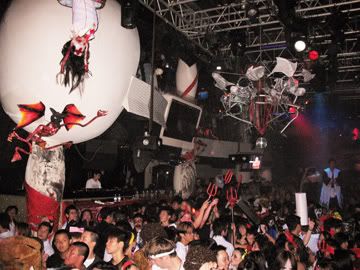 Reveler pack like sardines!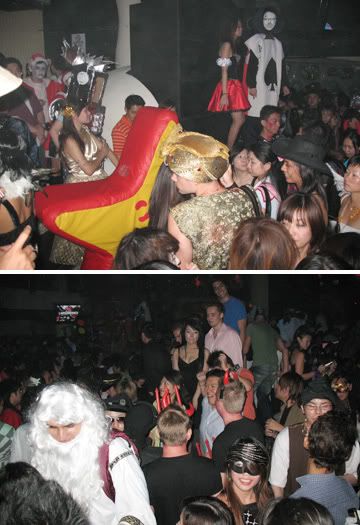 We were constantly surrounded by horrors... monsters, ghosts, ghouls, zombies & all sort of spooky freaks.
Monsters & Zombies!
Melly attacked by a ghoul!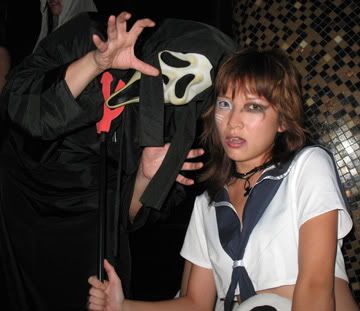 To defend ourselves, we had our our trusty mascot & a pair of 'borrowed' swords. Who come, who die! We're freaky serial killers! xD
Our cutie mascot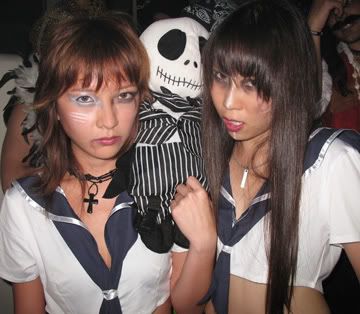 Tricks or Treats?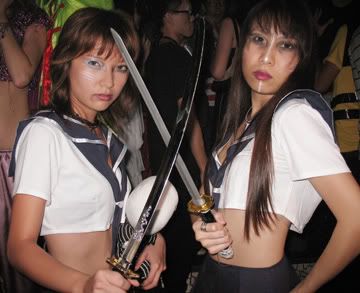 Among the creeps, we found some nice friendly souls.
Pirate, samurai & kimono Japanese girls

It's was so fun! Music blasting, lights flashing, smoky spooky effects, beauties & beasts swaying on the floor, on mini stages, partying all night long.
Partying the night away
Roman soldiers humping modern girls =P

We met a number of friends at the party & frightened an ex-classmate coz she can't recognize us in our scary make up. xD
Friends@Zouk

A funny incident happened when we returned home. At the lift lobby, a couple of guys turned a corner, saw us walking towards them & were so stunned by our freaky effects that they took a step backward in shock. Their wide-eyes frighten expressions were so priceless! I wonder if we have fangs & growl at them, will they pee in their pants? What a fright night for them! xD
Be afraid, be very afraid...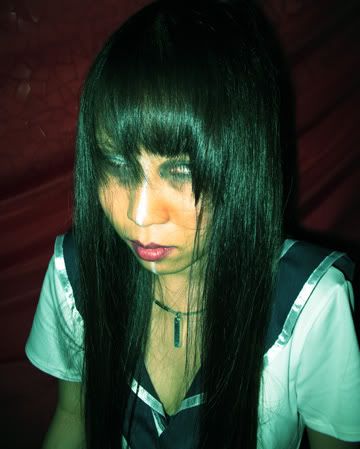 For more pics of us at Halloween Party @ Zouk, click on my album link at the right. Then click on the set titled 'Halloween@Zouk'.