Halloween '08
31th Oct. ~ So sexcited that Halloween is here again! Woowoo, costume party time! Last year, Got into Zouk for free & thought I try my luck again this year. Arrived at about 8.30pm. The entry queue was as horrid as last year.

Queuing to get in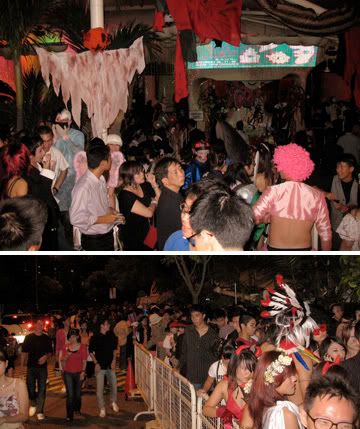 Part of the crowd at Zouk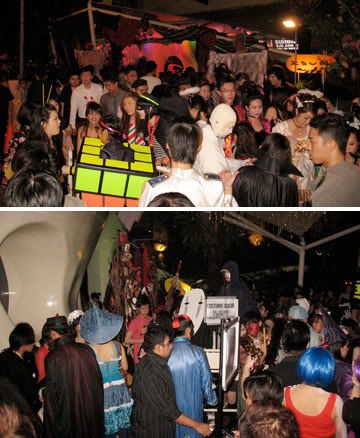 I joined the queue & Nath arrived later.

Nath, the Love Nurse & Me, the Tough Laws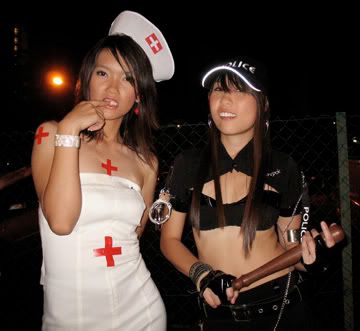 Bored while queuing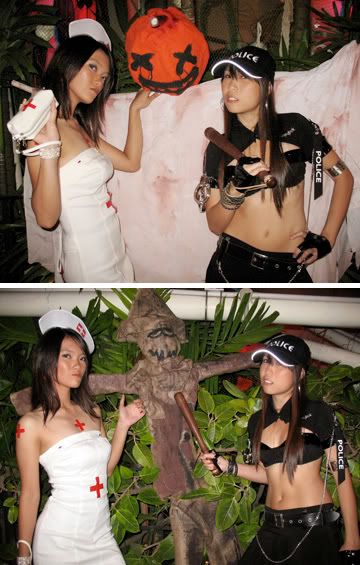 Our turn arrived to be judge for free entry & we ain't qualify! The judge said our costumes were too simple! WTF's TOO SIMPLE?!? A guy in full Aladdin colorful outfit told me he bombed too & I'd also seen many with more elaborate costumes faced the same disappointment! It's absurd! I got in last year with just a simple schoolgirl's uniform! This time they are more strict or out to make more money? It's a sham! Ok, to the hell with Zouk! Anyway, a lot of the costumers failed & one took it too seriously...

Suicide by Lamborghini =P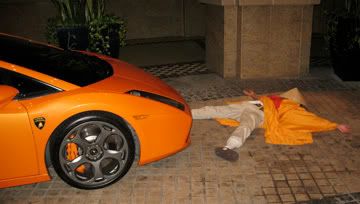 Police, doctor & nurse were called...

Hospitality & The Laws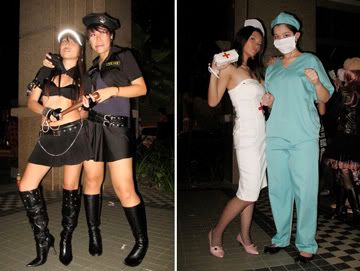 We left Zouk & adjoined to Clarke Quay where we got a warm welcome.

At Clarke Quay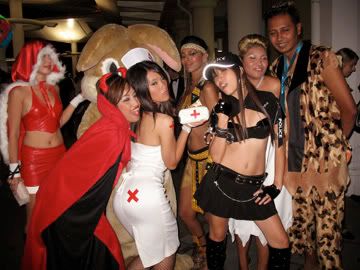 Lucky Bunny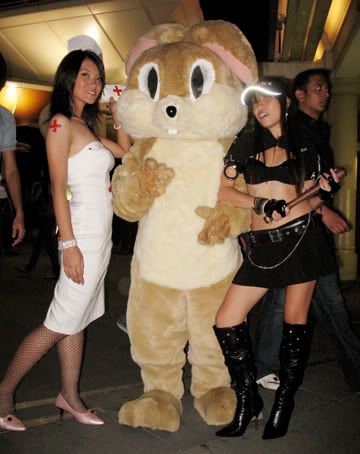 Clarke Quay were also crowded with clubbing costumers.

Jam pack clubs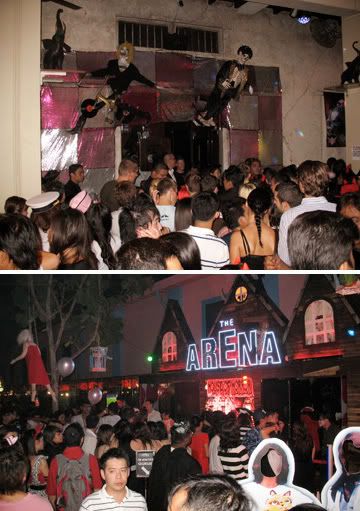 We were shanghaied by pirates & rescued by an angel.

Pirates & Angel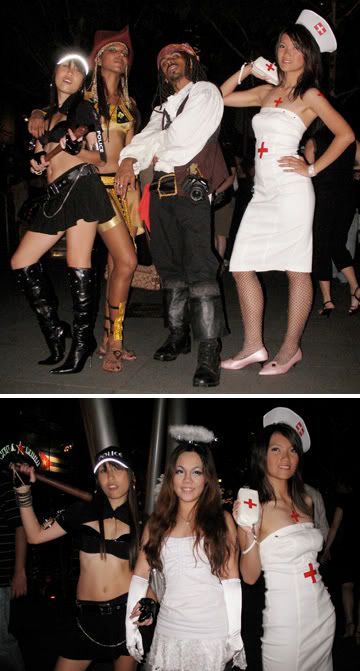 Before we got far, more horrors pounced on us. A couple of ghouls seized us. One of them upon seeing my authentic police baton, want to trade his scythe for it, in exchange for letting us go free. Eh... that baton belongs to my dad who is in the police force. I convinced the ghoul that I will just lend it to him for a photo shoot only & luckily he agreed. =P

Trading Weapon

And he's happy now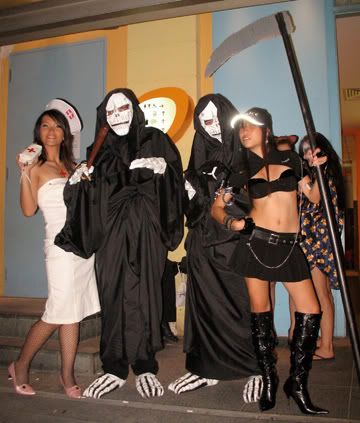 We escaped from the ghouls & ran into a team of GhostBusters who asked us "Did you girls see any ghost?"

GhostBusters!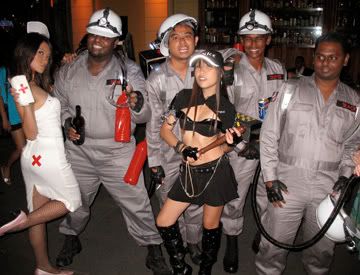 Hmmm... no ghost, but how about having some fun with hot babes? xD

Hot Babes!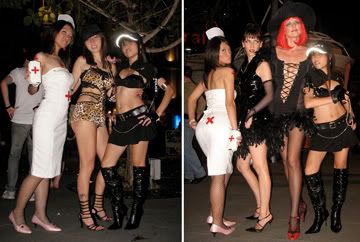 Cheeky Zorro, Pouting General & Nasty Nazi took up the challenge...

Participants for fun with hot babes xD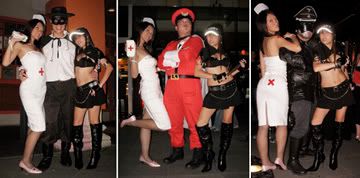 Along also came...

Piggies & Moomoo Cow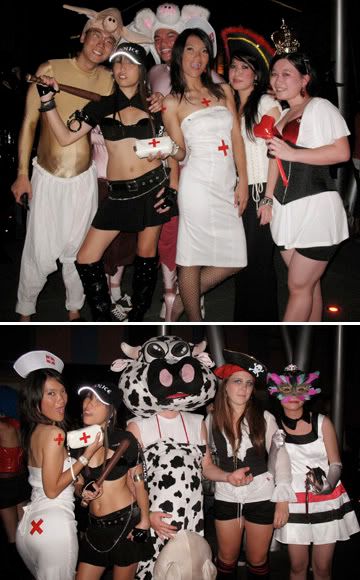 Star Wars & Star Gate characters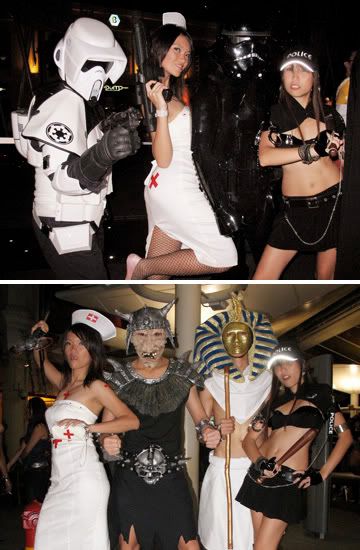 A Hilarious Green Mask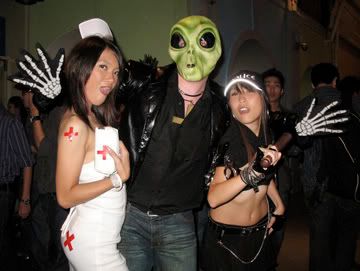 Even cross-dressers took us to deeds! =P

Cross-dressing for fun
We all ended up in a tangled mess!

Halloween Octopus! xD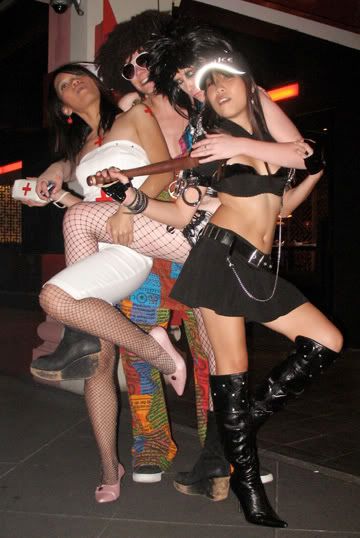 Nath gets frustrated without a chance to practice her nursing skills...

and she bandaged an old tree... =P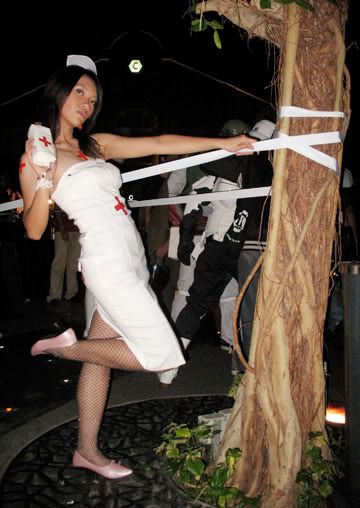 Soon, along came a victim...

Nath's Mummy! LOL!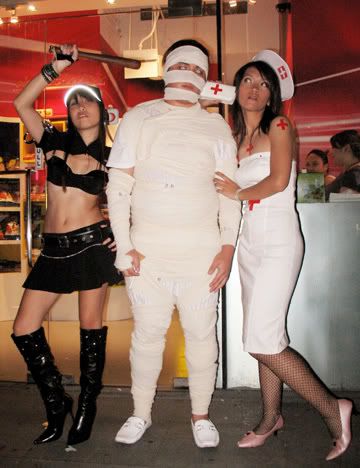 But the mummy weaken from having too much fun...

Opps... poor fellow... xD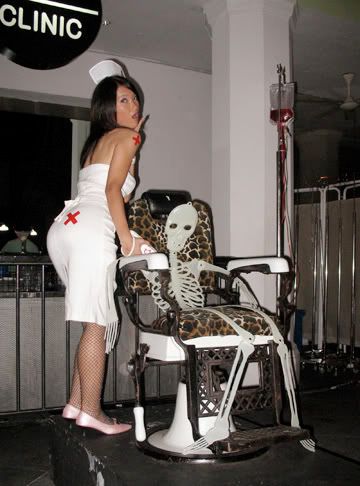 Ambulance were called, with more police & nurses reinforcements...

Ambulance arrived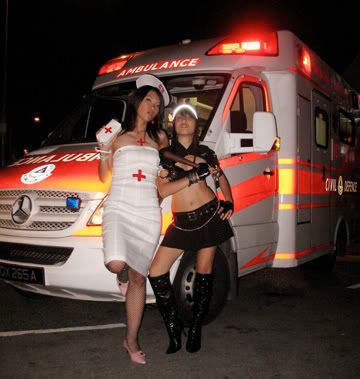 The Laws of Love with a very tall Russian Policewoman!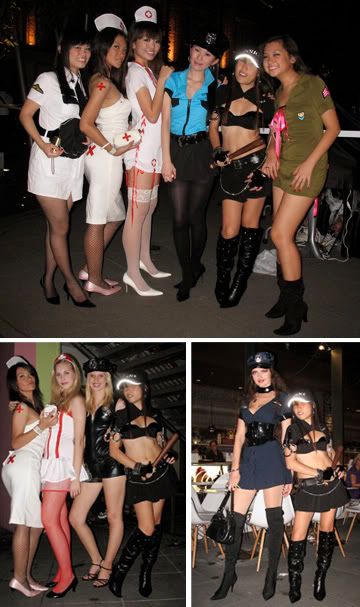 Despite the absurdity at Zouk that night, we really enjoyed Halloween to a point that Nath collapsed from fatigue. =P

From having too much fun! xD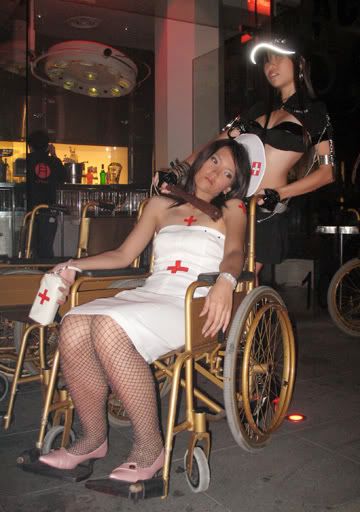 Can't wait for Halloween to comes around again!
Cheerio! *Wink & Smuckz!* xD