Dunk The Girl Again!
2nd Aug. 2008 ~ Was asked to be a dunking girl by a friend who work in an event company. Different event company from the last time, but same girl they want to dunk. Am I getting popular as a dunking girl?!? LOL! =P
Event was organized for IDA at DownTown East. It's the company's family day called the Great Olympian IDA Family Day. No price for guessing where they got the idea from. Beijing Olympic 2008? xD
IDA Family Day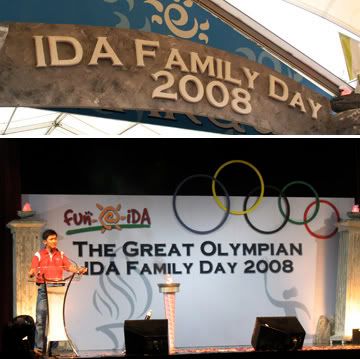 IDA's staffs had form themselves into teams called 'House'. Red House, Green House, Black House... just like in school. Those Houses challenged each other for the title of being the grant champion of the year. The tournament consisted of sporting games like giant version of table soccer, Gladiator Game Fight, TeleMatch Relay & even dunking!
Contest of the Houses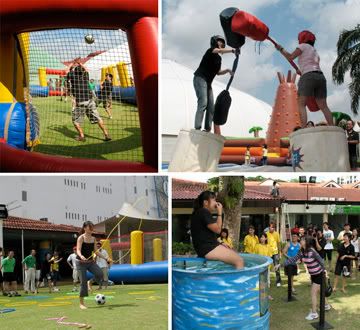 My friend was there as a MC & organizer for the tournament. His thunderous voice, can be heard everywhere, screaming into his mic, coaxing the participants into blind fighting fury. Using encouragements, sweet flatteries & sometime witty sarcasm... anything, just to get a good fight out of a batch of gentle IT office workers whose everyday fighting skills involved no more than fighting the keyboard at their computer. =P
My friend, the Friendly Giant, Grant Master of Tournaments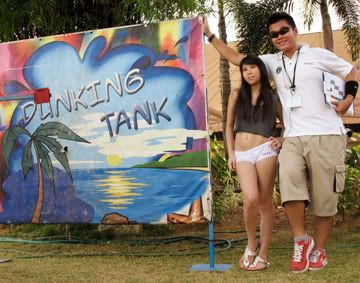 Personally, I think the best & the funniest part of the tournament was the Gladiator Game Fight. It involved 2 players standing on inflatable platform. The fighters bash at each other with giant double-ends rubber mallet, trying to knock their opponent down. Time limit is 2 minute for each match.
The Gladiators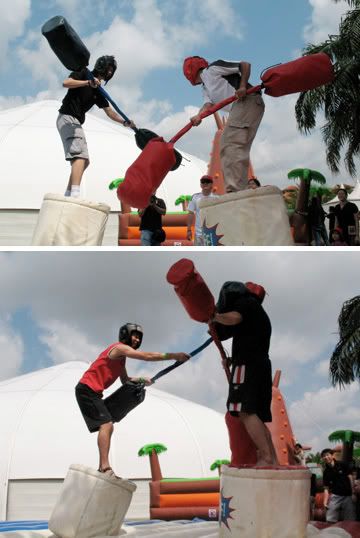 Those rubber mallets are heavy! I know as I'd try them & swinging them continuously for 2 minute is exhausting! Yah... damn strenuous for office worker like me. =P
Armchair gladiators, furiously bashing, knee weakening, arms tired, eye blurring. Somebody have to give way sooner or later.
The Victors & the Vanquished!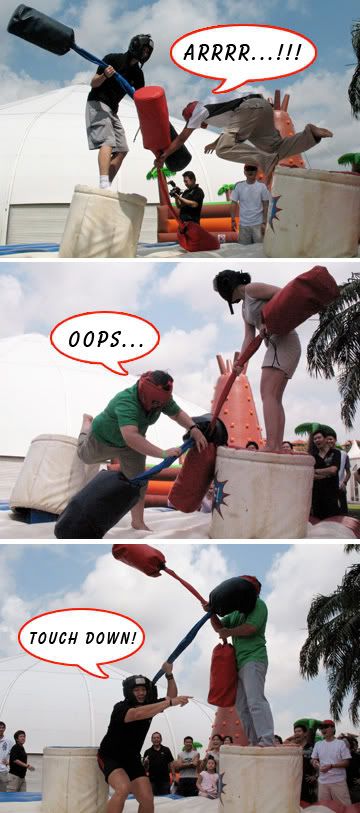 With adrenaline running through veins, fury not satiated, looking for someone to victimize? Friendly dunking girl at your service. =P
Dunking Victim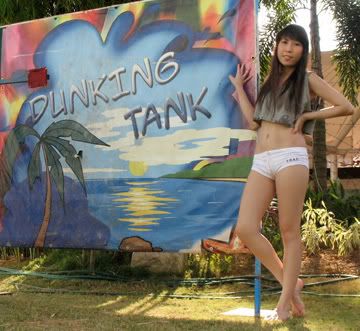 Come one, come all! Aim at the red square!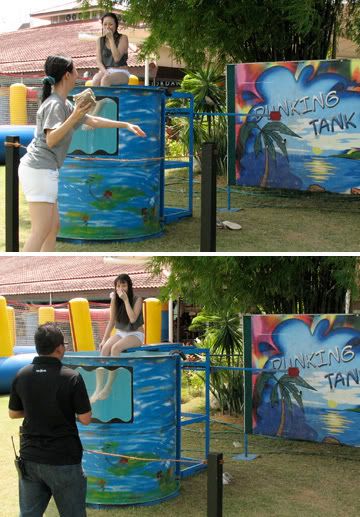 It's a hot blazing day & I welcome the dunking.
Dunk The Girl!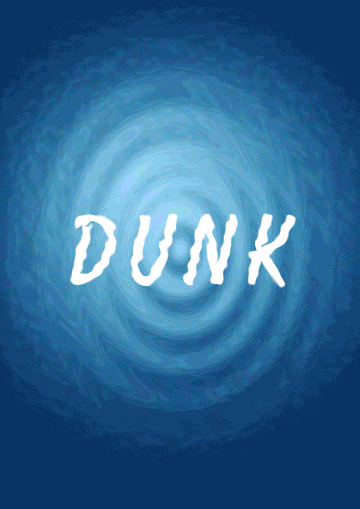 Hamster transform to Mermaid?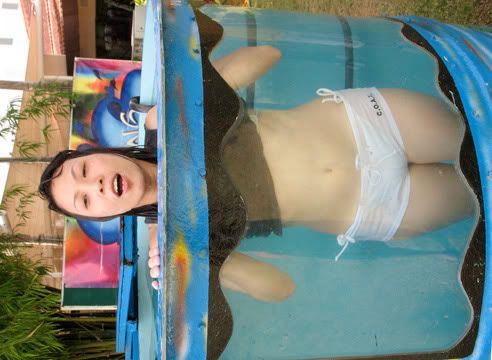 Being a dunking girl is less glamourous than an event showgirl, but better pay than most, shorter hours, no need to stand & it's fun. Hahaha... xD
Water showgirl or water ballerina?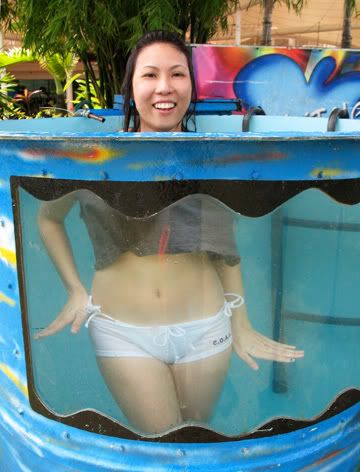 Note:

Some trolls from a certain forum who bear grudges against me, flamed me for being a slut after seeing pics from my previous dunking entry. They thought I worn white undies under my clothes. It's a white BIKINI! Never see a bikini before? Narrow & shallow minded fools!
Peace Out!